Hypetrak: Steve Aoki – A Decade to Wonderland
Steve Aoki's album Wonderland took 10 years to come to fruition. The end result is a lineup that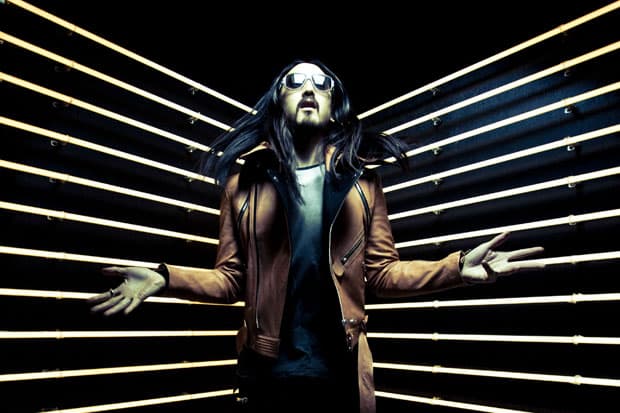 Steve Aoki's album Wonderland took 10 years to come to fruition. The end result is a lineup that boasts the likes of Kid Cudi, Rivers Cuomo, Lil Jon, Travis Barker and LMFAO. HYPETRAK recently caught up with the DJ as he readied for a European tour to talk about a range of topics. While choice excerpts appear below, we urge you to head to HYPETRAK to read the interview with Steve Aoki in its entirety.
You have a new album Wonderland out that was 10 years in the making. Can you give us some background on it?
I look at my album as an eclectic labor of work as every song gets a unique push since every song is unique and important to me. I'm also planning to drop a video for each single on the album. The next visual that will be unveiled is for "Cudi the Kid" – my collaboration with KiD CuDi and Travis Barker. We have completed the shoot, so expect it to drop real soon.
Quite an ambitious undertaking?
Yes. Soon after we'll have something for "Control Freak" with Kay and Blaqstarr and one video for my song with Tiësto. The vocals for this tune are done, so I intend to release it by April along with the visual. And that's really big for me, given his stature in the game. So with this album we had a lot of fun, and we were always filming on the road.
You mentioned some of the featured artists on your Wonderland album, and they're quite diverse musically. How were you able to gather everyone and make it work cohesively?
The majority of the people, well actually all the people I know personally and they're all old friends of mine. So it's a very personal album for me, I didn't like get a manager to shout at an artist or something. I've known CuDi for years when he started out, and I've known will.i.am for a long time. He's been coming to my parties to support Dim Mak for years. LMFAO as well, they grew up in my parties during the DJ AM and Dim Mak parties back in the day. I've known dudes for a long time and they're very close friends of mines.
So we have to ask, 10 years deep into the game, what made you release your first album now?
I actually started the process of putting the album together 18 years ago. Although the album took three to four years to be perfected to my liking, I really made a warranted effort to get it all done in 2010. In 2011, I spent almost the whole year off working on this album, and before then, it was just kind of like "I'll work on it when I work on it." When you only have so much time, it's sporadic and it's hard. In my life it's what's current and what's eclectic, and this album showcases more of the eclectic side of my songwriting instead of the usual bangers.
Outside the studio, how's your touring coming along?
I'm wrapping my tour in three weeks, and will be doing Ultra at SXSW and then heading out to Europe for five weeks to push my album. When I come back it'll be summer, and that's when lots of festivals take place. So it's quite likely that I will be playing in those as well.
What influences who you are and what you do?
Everything influences me. When I was a kid growing up, I was listening to punk and hardcore, playing in bands, playing guitar doing songs. I'm influenced by all kinds of people who come into my life.
Source: HYPETRAK