Air Jordan 2012: Tom Luedecke and Tinker Hatfield
This week Jordan Brand invited us out to New York for the official launch of its Air Jordan 2012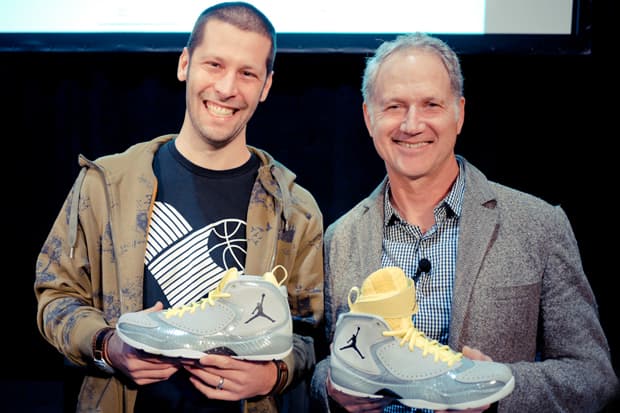 This week Jordan Brand invited us out to New York for the official launch of its Air Jordan 2012 flagship model. A welcomed opportunity, the occasion allowed us to highlight various facets of the design process between the collaborative effort of Senior Jordan Brand designer Tom Luedecke and iconic Nike designer Tinker Hatfield, some seen here. Inspired by Jump Town, an old Portland neighborhood known for its infatuation with zoot suits and jazz, the wingtip-influenced Air Jordan 2012 continues MJ's legacy with a sneaker that not only brings a whole new level of performance aesthetics to the table, but also pays homage to the past.
The Inspiration for the Air Jordan 2012.
Tinker: In general terms, my job is to start thinking about inspiration, design, art and I guess you could say, the romantic side of our product process.
I'm a bit of an urban planner and architect on the side. I was working with the city of Portland on rejuvenating an old entertainment district that was sometimes referred to as Jump Town. It was the place where you would go to listen to jazz music in the 1920s, '30s, '40s… almost until the '60s. It was predominately a black district where people would congregate and have a great time. There were neighborhoods like that all over the United States, in all the major cities and even smaller ones. We know about Harlem, of course, and different neighborhoods like that in Chicago and LA.
There was a style of clothing that was developed, more outlandish… big huge shoulder pads and hats, fedoras and wilder shoes. Shoes might have still been wingtips or saddle shoes, but what I was sort of amped up about them was the color. I thought about that as a jumping off point in terms of inspiration. I drew a stylistic vision of a guy in a zoot suit. This was drawn on an iPad as a first sketch, trying to find a way to figure out how to design the shoe. I took everything that I knew regarding what Tom (Ledecke) was working on in terms of modularity and what I thought about in terms of cushioning and modern basketball shoe design, for performance reasons, and then combined those two things. So you can imagine… a basketball shoe combined with a black and white saddle shoe that you might wear to go out dancing.
One of the cool things about this design is that because of the various panels, when you color the shoe up it really changes its character a lot. What does a wingtip look like on a basketball shoe? Well who knows. I didn't know, so I just started sketching. Some of it was historically driven and some of it was just me thinking how I would convert this sort of style into the shape of a basketball shoe.
At that point, we knew component-wise what we were trying to do, we knew how we were trying to improve performance for basketball shoes but now we actually had a design direction which encompasses some inspiration. From there it switches into this blended process.. blending art and science together.
Utilizing Nike technologies.
Tom: We used some of the big brother Nike technologies, but not in a way that's anywhere close to what you'd expect. We were really trying to bring the beauty, the soulfulness, and the craft that Tinker and MJ (Jordan) focus on to the forefront, and let technology subside and be in the background. This was based on knowing that our consumers are athletes and trust that we deliver top-notch technological performance product but never in a way where that's the only story we're telling, and definitely not the first story we're telling. I think the story behind it to me is a lot more important at times because we have such a tremendous backlog of technologies to rely upon.
The Concept of Modularity.
Tom: We have three different flight systems, with various cushioning properties. It becomes very interesting once you buy a second pair because now you have multiple color possibilities, with choices that you can switch back and forth. We really pay a lot of attention to materials, Jordan always has. On this product we introduce a whole new carbon weave that is proprietary to Jordan. That really inspired the traction pattern and some of the other details on the product that you're about to see when you take it apart. That's something that to me is really, really interesting because you get a lot more out of the product, things that only Jordan Brand can offer.
Michael Jordan's role with the Air Jordan 2012.
Tinker: Michael has been a great partner over the years, not by just inspiring us with his wonderful play on the court, but believe it or not, he's a true active partner in the design process. We try to work with him on a regular basis to show some of our ideas and then he carries back toward us with some of his ideas. He really does engage with us through this unique relationship. Without him pushing us, I don't think any of the shoes would be as good are they are.
It's not that easy to try and replicate some sort of historical design feature, like a wingtip on a wingtip shoe and then try to retrofit it to something that isn't shaped the least bit like a wingtip shoe. Yet he helped us get there and we looked at this numerous times. As Tom (Luedecke) spoke about, details are so important. The spacing of the perforations, getting Michael's feedback on the collar and making sure things fit properly. It's definitely not only trying to understand how things should not only work but how they should look and then on top of that, how you can modify that look.
Tom: He's (Michael Jordan) fantastic to work with. Somebody as iconic as he is, to get his feedback and input is great. He's not the only one that pushes, Tinker is definitely the culprit of a lot of pushing as well [laughs].
Michael Jordan's Biggest Concern.
Tinker: His biggest concern I think is, does the shoe work? When he was playing, if the shoe did not perform at the best level, that could potentially hinder his game and even though he's not playing anymore he still wants us to continue on with that priority. The priority is, do these shoes work really well for the best players in the world? I think that's the number one concern. On the other side of the coin, we know a lot of people come into the store, walk up to a shoe and choose it because of what it looks like, so we hope we find the right balance and that it still performs the best that we can make it perform. We all know MJ was, and still is, a stylish guy [laughs]. He's an extremely stylish person and he's always been interested in the fact that if you look good you feel good, and if you feel good, you play better, but I don't think that there is any question we're all most concerned about how well these shoes work on the basketball court.
The Discreet Design Process.
Tinker: These shoes don't really come together until the very last second. That's an actual strategy for two reasons. One, it just takes that long and two, we don't really want anybody to knock us off and steal our ideas for Jordan product, even internally. Nike is such a huge company, there are many, many different divisions at Nike, lots of people working on lots of designs and once you put something out there it influences everyone. We really try not to show this shoe very early, partly because it's not done yet but also because we really don't want too many people to know about it until its really, really well done and too late to knock off. Jordan is a basketball brand that's like no other and we have a lot to live up to every time we put out one of these shoes.
The Considered Philosophy.
Tinker: Everything we do is Considered. When we did the Jordan 23, that was a real considered effort to try and actually figure out if we could lower our carbon footprint and make things more recyclable and use less harmful chemicals. We went through this process and it was a very difficult process because I don't think anyone in the basketball world had gone after it like we did. We learned a lot from that process, so everything that we do now has a Considered component. We made a big deal out of that one because it was the first.
Even though you see three midsoles (in the Air Jordan 2012), they're made out of materials that are less harmful to the environment or maybe not even harmful at all. Part of the trick with Considered is considering the process all along the way. What about the people that actually put the shoes together in the factory? What about the fumes? Are they going to make somebody sick? All of that goes into this process now, which wasn't the case 4, 5 or 6 years old. We're learning more about how to do that for everything we do. It should be expected by everyone that our shoes are becoming more and more safe for the environment and more responsible as it pertains to our world.
Tom: Jordan Brand is one of the most Considered businesses inside the Nike portfolio. It may not be something we talk about very loudly and it's not something that we showcase on specific products but throughout our line, including our apparel we have very high standards regarding our footprint.
Reducing Weight.
Tinker: It (Air Jordan 2012) does pose some weigh challenges but it's amazing how with proper material choices and just putting everything on a diet, it all fits together and it ends up not weighing much more than a traditionally built shoe. I think that design and life in general, is all about tradeoffs and we're willing to trade off a few grams to make sure this shoe fits better for particular individuals so that they can be more comfortable and hopefully play better. I'm pretty amazed at Tom (Luedeck) and his team as to how they could fully develop this project and you still have what I would consider a lightweight basketball shoe, even though it's actually two shoes in one.
Tom: You can actually wear the liner as a karate slipper [laughs]. Josh Herd and I were tied at the hip to make sure that every single component, every single material, every layer of the product was Considered in terms of weight and its footprint on the world. I think the low cut bootie, we really focused in on making it the lightest weight we could make it on that, that really is a very minimal product. On the flip side of that, the high cut bootie we didn't shy back to add a few extra grams so it feels more protected. There's more foam in there, there's more material around the ankle so that a bigger player, or somebody that's recently been injured, or coming back from injury, still feels really protected. At the end of the day, you've got to feel confident out on the court with the product on.
Photography: HYPEBEAST