ASOS Black: Breaking Down the Brand with John Mooney
In a bid to understand ASOS' sub collection, ASOS Black — including a collaborative effort with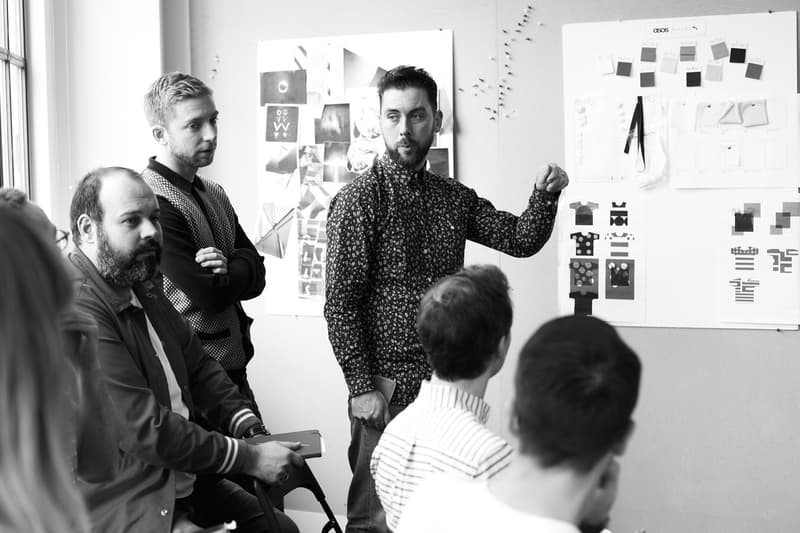 In a bid to understand ASOS' sub collection, ASOS Black — including a collaborative effort with PUMA — as well as the processes behind the line's designs and executions, we sat down with menswear head designer John Mooney to tell us all about it. ASOS Black, a fresh division that began two years ago, it has become an opportunity for the design team to branch outside of the original ASOS direction, cultivating and sharing personal inspiration for the sake of the more cat-walk inspired audience. In this segment, Mooney reveals the inspirations behind the new line, the type of team assembled for it and what makes it different from its parent brand.
Can you introduce yourself and your role at ASOS & ASOS Black?
John Mooney, Head of Menswear Design at ASOS and responsible for curating design and the design team for the ASOS Black x PUMA collaboration.
What are your day-to-day duties?
My main role is to support the design team to ensure our product is designed and aligned to our business strategies and the market/customer we want to appeal to. To ensure that all our product is considered, that we maintain quality of design, and that we are as reactionary as a business as possible.
What was the reason behind launching ASOS Black?
We established ASOS Black in 2010 for the autumn/winter season… Since then it has been developed/altered and appeared in many different guises; always with the ambition of pushing: print, shape, graphic technique, etc…. More than anything it was an opportunity to reach out to a different consumer…. Possibly someone who was interested in catwalk fashion, detail and 'the new.' ASOS Black x PUMA came about through natural conversation internally at ASOS and the opportunity to bind the two sides of our business together… Our ASOS brand and our branded portfolio…
What are some of the difficulties that ASOS faces in regards to the general fashion landscape?
At ASOS we're very good at breaking down boundaries… There's many established businesses out there that have also created an 'established' way of working… ASOS is a very young brand and in its infancy has pulled together a team with a vast amount of knowledge from many different business. This knowledge has formed a team all willing/capable of bringing a different argument to the table, a different angle to take, and hence we constantly challenge what is the norm… Hopefully this shines through in our offer, our approach and our global appeal.
How do fast fashion retailers balance quality and pricing?
The reality is that some don't… Price is price and profit is profit… Consumers these days are very aware of price and competitiveness… As an online business with reduced overheads (i.e. no stores) we have the ability to put more emphasis on product quality whilst expecting minimal markup.
How does ASOS Black fit within the current roster of brands?
ASOS Black, although a sub collection is still in the top 20 of all of our brands and extremely successful. By collaborating with PUMA, we hope to continue this success and also attract a new customer to the range.
What is the overall design aesthetic of ASOS Black?
With ASOS Black we have always had the luxury of being able to adapt it from season to season… Possibly in the past we were confusing the customer as we hadn't created an identity, now with PUMA our efforts have been focused on creating a truly balanced range with flow of fabrication and color… ASOS Black x PUMA is a smaller collection with more synergy between the product than ever before… Working with PUMA showed us a new methodology, a new process which we have embraced with open arms… Again, willing to adapt. In short though ASOS Black x PUMA should always evoke the style of the moment, be as reactionary as possible and embody the principals of our 20-something consumer.
Where do your inspirations come for the line?
Multiple resources but we try to keep it simple… Simple shapes and simple lines… We start with a wide reproach base and then hone in on specific details, color and trims… It can be that one image leads the entire collection. ASOS Black x PUMA was heavily influenced by post-war German architecture, its structure, and how light effects shadows and the perceived shapes of these buildings… Sounds pretty pretentious, we [design team] generally just share things we like and are influenced by outside of the standard ASOS direction… The task is to then align it to ASOS as a business.
What would you say are the predominate differences between ASOS vs. ASOS Black?
Core element is that ASOS Black x PUMA is a capsule range. Color, fabric, and detail is shared and far more refined. ASOS core line is far bigger and segmented as trend but also by key stories within product categories… The aim with both is to create desirable product but the approach is slightly tweaked.
How does the common consumer perceive the two lines and how does ASOS look to differentiate them?
In an ideal world, as our consumer does with brands and the ASOS core line, we'd like our consumer to buy ASOS Black x PUMA and ASOS core line together… Honestly, for ASOS Black x PUMA [with PR and marketing backing] to draw new consumers to our site and find the offer we have in our portfolio, we're very aware of the 20-something's ability to style and clothe themselves; they are more trend-aware than ever before. They take the lead.
What are your goals for ASOS Black moving forward?
To refine and make the internal process and external perception as slick as possible.