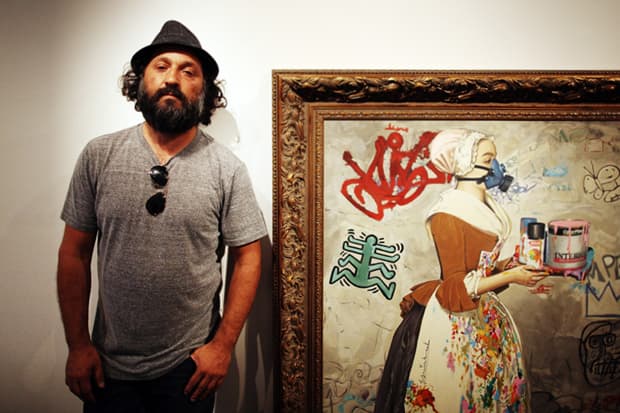 The Talks: Mr. Brainwash
Mr. Brainwash aka Thierry Guetta burst onto the scene through the film Exit Through The Gift Shop
---
Mr. Brainwash aka Thierry Guetta burst onto the scene through the film Exit Through The Gift Shop and has become quite a force within the art world. Since his first show "Life Is Beautiful" in 2008, Mr. Brainwash has gone on to work with both Madonna and the Red Hot Chili Peppers, culminating in his most recent solo exhibition in Los Angeles on December 22. The Talks recently caught up with the videographer-cum-artist, touching on everything from Banksy to money to his own goals as an artist. Choice excerpts can be seen below, while the interview can be read in its entirety here.
Mr. Brainwash, are you an art piece by Banksy?
What's an art piece? Maybe I am. If you think about it, why not? I'm real; I am who I am. I'm continuing. What you see now is mine, Banksy has nothing to do with it. I'm here, it's me. My life is my life; nobody's going to take that from me. His life is his life. I mean, we have a connection, we have something that connected us for a movie, but life goes on.
Do you introduce yourself as Mr. Brainwash or Thierry Guetta?
Both names are the same – Mr. Brainwash a.k.a. Thierry Guetta. People know me as both names. It's the same person.
What is the most important thing you've learned from Bansky?
If I learned anything from him, it would be passion. You know, two people meet each other and they connect. That's why there is a movie about it because there was a connection from him to me and me to him. There is this connection that made something.
Were you ever tempted to tell people who he really is? A lot of people are interested in that and would pay a lot of money.
I don't get bought out. I'm a real person with real trust and that's how it is. You don't need to know; it's not going to make a difference if you know. It's just going to serve a little problem in your head but it doesn't make a difference.
But without money you wouldn't be able to put on the exhibitions you do. You don't actually make the art pieces yourself, you have people doing them for you, correct?
Not really the art, but some installations that's for sure. I have a mind that is bigger than what people think. Sometimes I want something that is 20 feet high and it's a television and I'm not going to be the one putting it together. It would take me the whole show to do it. So hiring some people to have what I have in my mind – it's whatever it is. I get things done the way that I want it. So it doesn't matter. Like, somebody who built the Eiffel tower, it's not the artist who is going to build it. He's going to have some other people that are going to build it for him and he's going to be there to see the evolution of it and I guess everything else too. Like building a building, you know? Some people have it in their mind, they design it, and some people help to create it.