The HYPEBEAST Review: adidas adiZero f50 miCoach
The so-called arms race in the soccer boot world began almost 15 years ago when Nike set the world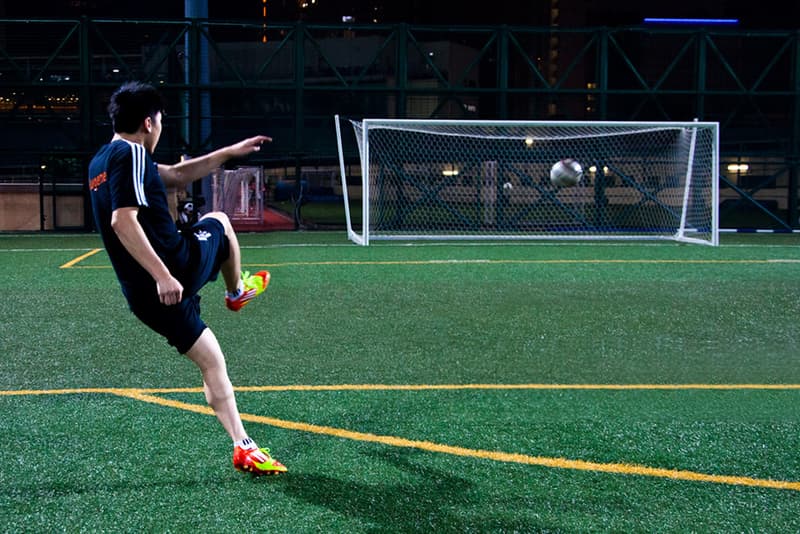 1 of 8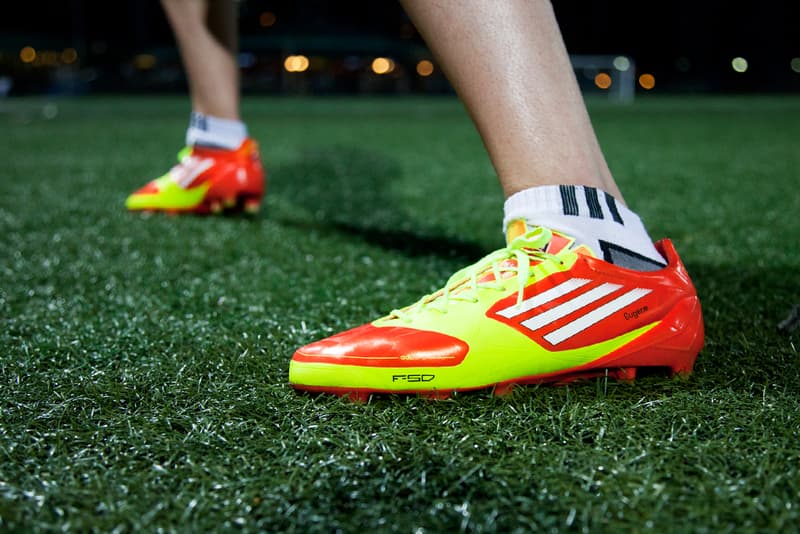 2 of 8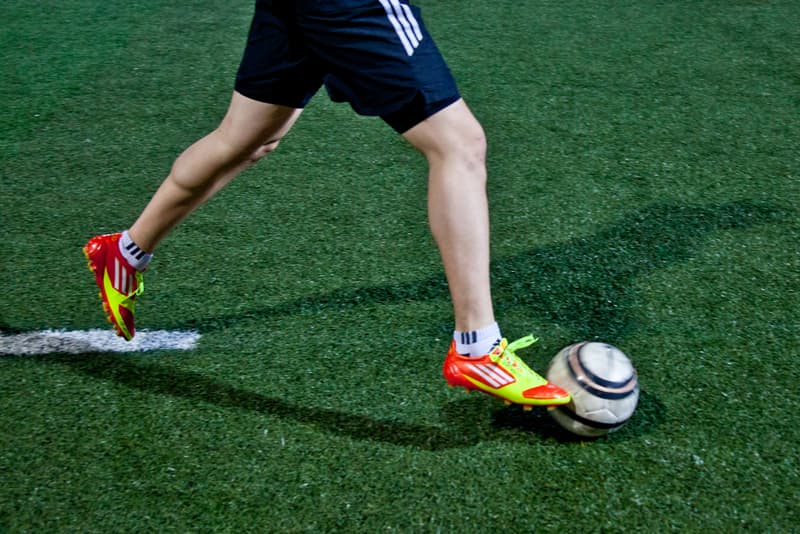 3 of 8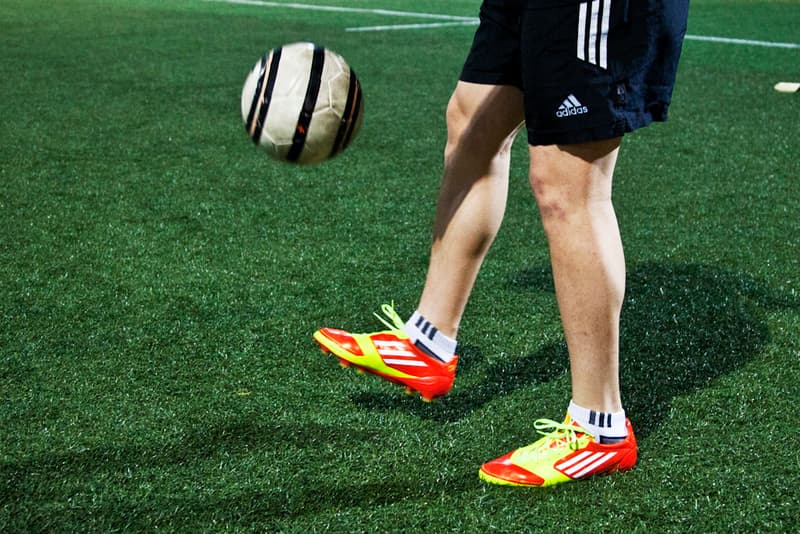 4 of 8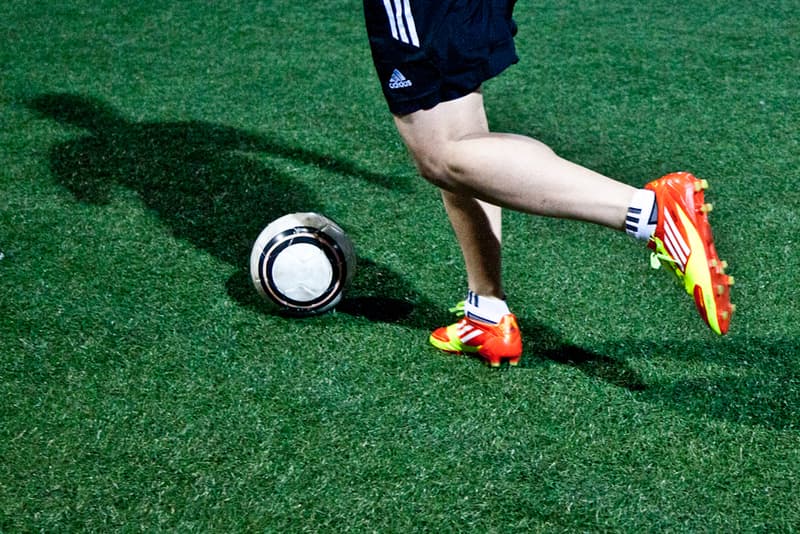 5 of 8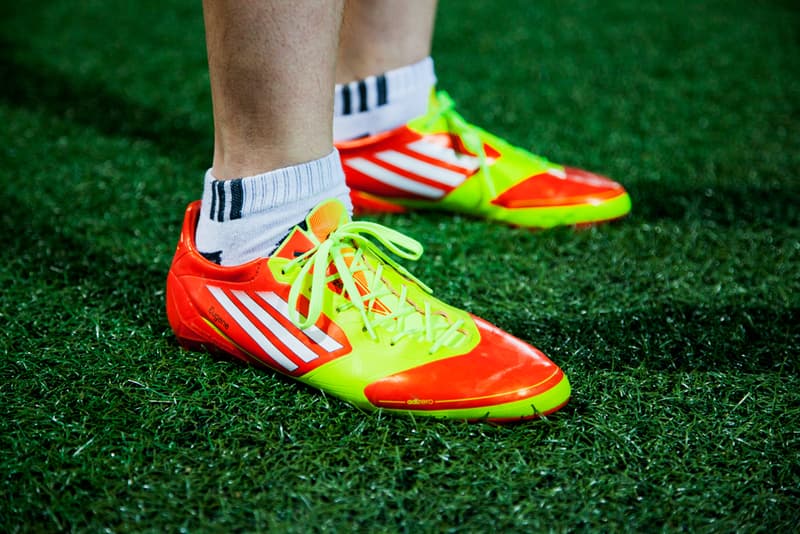 6 of 8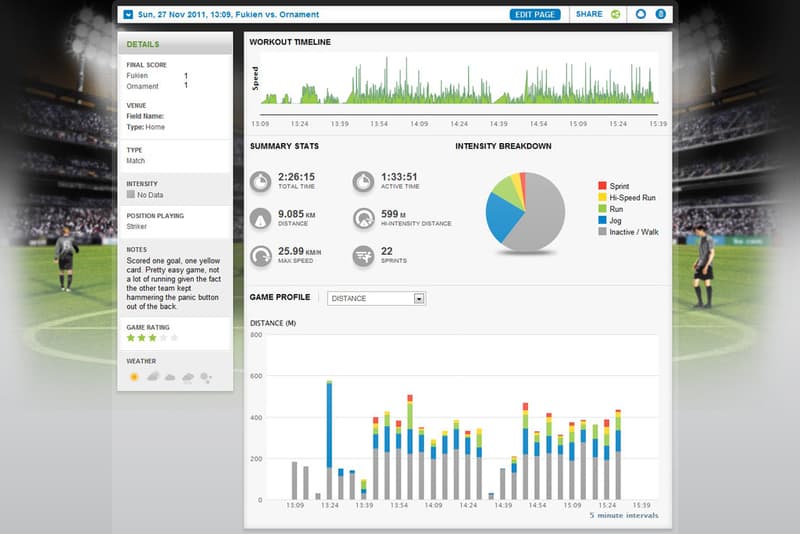 7 of 8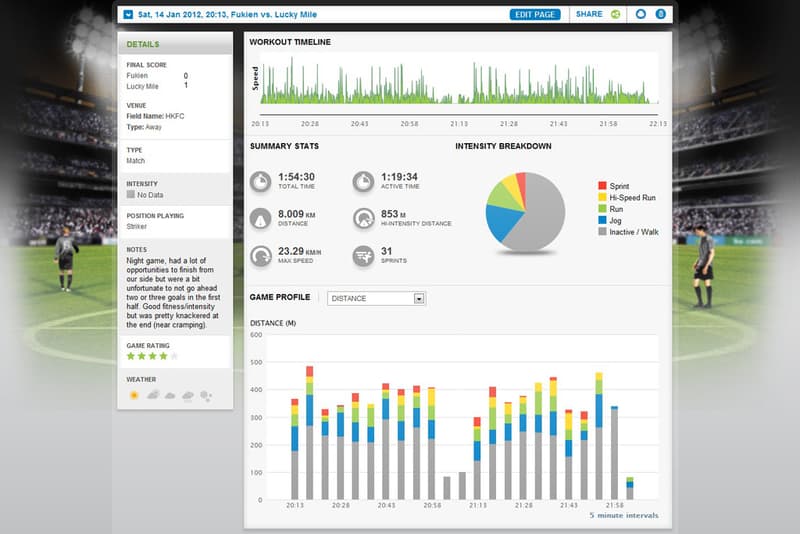 8 of 8
The so-called arms race in the soccer boot world began almost 15 years ago when Nike set the world ablaze with the release of its Nike Mercurial in tandem with OG Ronaldo. Since then, the so-called speed boot in soccer has exploded and arguably created further silos along the way. This shouldn't really come as any surprise, with few quantifiable characteristics available in the marketing of soccer boots, weight is something easily understood and thoroughly embraced by brands. In addition to the creation of the speed segment, boots of different characteristics including power, touch, and of course legacy for the old reliable joints such as the Copa Mundial were seen slotted into the proper marketing silo.
Throughout the years, the Nike Mercurial Vapor line was a dominant force in the speed segment which seemed untouchable until the release of the current iteration of the adidas f50 adiZero. After a less than stellar run with the TUNIT f50, the f50 adiZero was able to wrangle away the title of the world's lightest (which has since been conceded to Pele Sports's new The Fathom 3E) which now enters its third iteration. Fit has long been a contentious issue with speed boots so it was a welcome addition when both synthetic and leather versions of the adiZero f50 were released without any discernible differences in weight (the Mercurial Vapor has seen kangaroo leather releases in the past as well). With Messi ripping apart defenses week-in and week-out and fresh off receiving his third straight FIFA Ballon d'Or award, adidas couldn't have had a better player at the forefront of its adiZero f50 marketing campaign.
Despite the general perception that adidas has always been reactive rather than proactive in innovation relative to Nike in the arena of innovation, adidas was first to the punch for measurable performance in soccer when they debuted a showy version of its brand new adiZero f50 miCoach back in November. Introducing both an all-new model and its SPEED_CELL technology, adidas looked to add a quantifiable element to the game through real-time performance tracking. But mind you Nike did release the Nike Plus concept alongside Apple several years earlier with rumors of their own performance tracker for soccer and other sports on the horizon. Personal performance tracking thanks to a number of readily accessible tools has redefined the performance landscape.
For a game that often looked no further than goals, soccer only began recording assists at the end of the 20th century – it has rarely been a numbers game. But thanks to a Moneyball mentality of management that has taken over all sports, linear regression has become just as important as practicing set pieces on the pitch. Despite many purists arguing that absolute numbers are certainly no answer to the immeasurable skills required to play the beautiful game, the statistical aspect of soccer isn't going away any time soon. People will continue to obsess over the number of kilometers a player has sprinted over 90 minutes or the number of completed passes. So it all seems to tie together at an appropriate time in the market. This penchant for statistics is now something most serious players are probably aware of with fitness stats becoming an understandable measurement they can compare with against pros.
After an extensive run out, I've had the opportunity to put together a review that touches on both the performance aspects of the boot itself as well as the new miCoach SPEED_CELL system.
Fit
It still boggles my mind how light the boot is. With the SPEED_CELL, the boot weighs in at a paltry 6.1 oz or 5.8 oz without the SPEED_CELL and despite this I feel the construction quality has been solid, in a different sense. Albeit the boot is virtually seamless on the upper and simply bonded, it doesn't have that quality you get when you pick up a heavy duty leather jacket but more on a sleek and cleanly bonded technical tip. It must also be noted that the SPEED_CELL can work outside the boot and attach to any pair of running shoes thanks to a provided plastic clip.
The initial experience with any boot is the fit. After wearing an adiZero f50 Prime in US size 9, working with another synthetic version of the adiZero f50 in the test model I was skeptical as I had a less than pleasurable experience in the past, albeit it may have been a sizing issue as well. However, slipping my foot into the miCoach, I found a pleasant change. Even though I sized up to a US 9.5, the upper seemed wider than the past. Having worn almost exclusively leather boots up until the last few 2 years, I've never really had a great synthetic experience. However the adiZero f50 miCoach certainly changed my perception. I'd rate the f50's SPRINTSKIN over Nike's Kanga-lite for both touch and feel. Aside from the thin upper, I felt the material had a certain amount of stretch in the appropriate areas and provided a solid fit.
Many people worry about the protection that speed boots don't offer, but to be frank, if I get caught with studs hard enough, they will hurt whether I'm wearing a pair of leather boots that are the thinnest of thin synthetic boots. Same goes for tackles, if somebody goes in hard enough studs up, no boot will spare you a trip off in a stretcher.
The f50 also comes with two different insole options including a ultralight and comfort options. The standard is the ultralight and while I found it was OK, replacing it with the comfort gave a better fit rather than any substantial difference in cushioning. Since the insole is itself thicker, the boot's upper is closer and tighter to the foot.
The upper also includes textured panels seen in yellow that are meant to offer greater resistance against abrasion. It's a little early to call how effective the panels serve but I'm sure I'll put the toecaps through their paces as we play on some pretty terrible and rocky pitches, if not FieldTurf.
Unseen from the outside, the inner SPRINTSKIN has a laminated SPRINTWEB on the inner that is meant to provide support. Together with the lock-down fit, I didn't really have any issues with my feet sliding around when cutting and it generally felt very secure. However I think this is more to do with a wider last at the outsole rather than the SPRINTWEB having any appreciable effect.
The traditional style lacing is still something I wish brands would move away from on contemporary boots. Getting a lock-down fit towards the forefoot is usually a struggle 'cause tightening the laces often requires you to pull at the middle rather than at the end of the laces; resulting in unsustained tension. Internal lacing (where eyelets are affixed on the sides of the boot throat) is one of the simplest design elements with the greatest benefits in my opinion and I wish that it would be incorporated into the design. The fit while very good could move into the realm of excellent for me with this incorporated feature.
Grip
Moving onto the SPRINTFRAME and outsole, the controversy of bladed outsoles causing excess grip and subsequent ligament damage in both academy and top flight soccer has me suspect that some brands are changing up their stud patterns. adidas has increasingly moved away from its original bladed TRAXION format (the next Predator series after the adiPower will move to conical studs) into a modified format featuring triangular studs. Together with the external heel counter, the ability to change direction on a dime is hardly an issue. I would assume the semi-conical studs offer a nice compromise without the high torque stressing joints with traditional blades. But in all honesty, I can't remember the last pair of boots that did have poor grip so not sure if this is actually something that factors heavily into anybody's buying decision these days.
miCoach
Now onto the defining factor of the adiZero f50 miCoach, the actual miCoach implementation. The brains of the operation is the SPEED_CELL chip which can be placed in a cavity on the left boot. For some reason, the right boot features the same bulge in the outsole but you can only use the SPEED_CELL on the left side. Each session is recorded for performance data including speed, maximum speed, number of sprints, distance, distance at high intensity levels, and finally time of the session. Offloading the data comes in the form of a small USB attachment for Windows/PCs and an iOS compatible plug-in for the iPhone/iPad/iPod.
My first experiences using the SPEED_CELL weren't exactly positive. I had issues with the recording of data and odd circumstances resulted in my walk to training recorded, but my actual session omitted. There's no method to replicate why it didn't work, it just chooses to record at any particular moment in time. I looked around for help on the miCoach forums and got a few replies but there wasn't a definitive fix.
However, when the miCoach did work, it was a simple process. As I explain the PC method, it was as simple as opening the miCoach sync manager you need to download and clicking sync. From there you're directed to the miCoach website where you can trim and localize the necessary part of the "workout." The charts are clean and well-designed offering an easy to read breakdown of the information. As you meet certain criteria, you're awarded with badges and the gamification will certainly be a welcome approach to a younger generation who have embraced this angle. The miCoach site itself is quite comprehensive as there's a lot of information on hand and it also serves as a quasi-social network. You're able to schedule workouts, share your progress as well as track others, but the closed nature of the network means that only those on miCoach (and with the appropriate privacy settings you grant them) can see all your different updates and achievements. True to the miCoach program, you're able to follow different programs to improve performance based several goals and measurable by either pace (SPEED_CELL/Pacer) or heart rate (CONNECT Heart Rate Monitor/Pacer). This part of it I wasn't really able to test out as I'm usually in the gym lifting if I'm not on the pitch.
So after seven (recorded) workouts, 11 some hours logged, 48.27 kilometres run and 3108 calories burned (seems low?), what can I say about the miCoach. From a performance perspective, it does what it says… most of the time. I'm willing to chalk up missed workouts as early product release headaches because otherwise it works quite well and intuitively. If you're somewhat serious about your performance on the soccer pitch (and I'm sure this will spill over into other sports like basketball and maybe American football?), it's definitely something interesting to measure and track your performance stats.
miCoach Analysis
However, the stats can often be very deceiving, not so much from an absolute but from an analytical standpoint. As a game of 11 players, your team's style of play seems to really dictate your readings. My team likes to press early and fast which will obviously make me look more valuable on the pitch than say a lethargic but not necessarily tactically inferior player like the out of favor Berbatov at Manchester United. As much as I personally would like to justify hard work with grass stains, getting stuck in on 50-50 balls and huffing and puffing, soccer is much more than a game of physicality where finesse and grace are arguably more important than the physical attributes. It seems very much a North American and British way of thinking to come off the pitch ready to puke but as The Secret Footballer so eloquently communicates, the English game's obsession with tackling and hardness is something almost entirely unnecessary. My highest speed was 25.99 km/h (surely achieved sprinting onto a long ball or closing down a defender rather than the ball at my feet) which seems respectable enough given all this blogger weight I'm carrying around, but what does this really say?
Messi and his ~27 km/h top speed (according to ads plastered across Hong Kong) seems rather human but how important are metrics in the grand scheme of things? Lets not forget that the beauty of Barca requires that he never need to get on his horse and latch onto a long ball since they've managed to tiki-taka the ball into the opponent's six yard box. So it comes down to the more important and difficult to calculate measure of acceleration which I feel would make miCoach an even more valuable tool. I'm sure Messi would break my ankles in a 1 v 1 situation merely by looking in the opposite direction and this is his greatest asset rather than a relatively human 27 km/h. You don't need insane foot speed to be the world's greatest. If somehow you could calculate g-forces as well as seconds it takes to predetermined speeds in increments of 5 km/h, I could see some much greater value relative to just average speed and the number of sprints.
Don't get me wrong, there is still interest in the measurements, but to what effect it has on your game, I'm not too sure. The game is obviously very fast these days and even if you play a slower style knowing you've gotten faster and sustained fitness from minute 10 through minute 90, it's a good thing. Unfortunately the SPEED_CELL tracks speeds only every 5 seconds which may result in some oversights. Right now, I would say the most important elements to take into account are the graphs towards the end of the session/game to see how you stack up. If your speed and intensity is maintained during the latter stages of the game, you're in good hands. The SPEED_CELL is better for tracking the improvement of speed endurance than performance measures pertaining to acceleration and agility which are arguably much more important.
Conclusion
Aside from all this, I do admit knowing your stats are constantly being monitored does add some greater incentive to increase your work rate during training. Even after customary shooting drills, I felt the need to sprint back into line to pad my stats which isn't really a bad thing. I think I'll have a better idea of progress in the second half of my season as I can track stats each week and will hopefully have a more regular training schedule.
The SPEED_CELL comes in at approximately $70 USD which relative to the almost six-year-old $29 USD Nike Plus Sensor is more than two times more expensive. I haven't used the Nike Plus Sensor extensively but I'm unsure why the SPEED_CELL comes in more than two times the cost of the Nike Plus Sensor. While tracking with the Nike Plus Sensor is currently relegated to only running shoes, German brand beMeister offers similar soccer-relevant metrics via insole tracking as well as watches and balls. While the sensor might require people to think twice before buying, the adiZero f50 miCoach as a boot itself is something I can definitely recommend.