A Conversation With Yigal Azrouël
Yigal Azrouël launched his debut collection in NYC in 1998 and has since captured the fashion world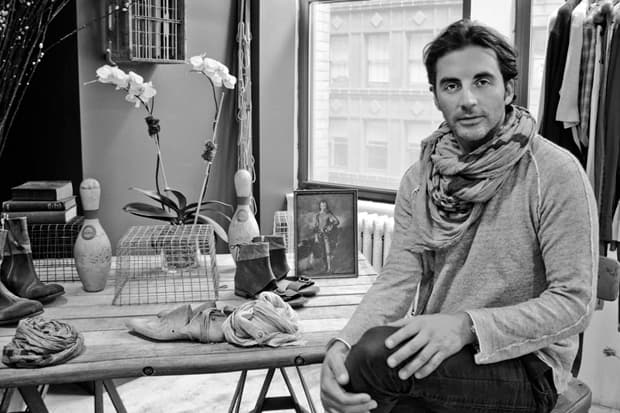 Yigal Azrouël launched his debut collection in NYC in 1998 and has since captured the fashion world internationally with his classic design aesthetics and penchant for artful draping. In 2003 he opened his first boutique in the Manhattan Meatpacking District, an iconic freestanding store designed by Dror Benshetrit that captured all of the inspirations of the Israeli American designer. Since then, his collection has evolved to encompass several different segments including womenswear, menswear and the younger label Cut25. We pick his brain about design and the fashion industry.
Men that design womenswear… are able to design from an outside perspective and influence style and fashion from a different point of view. I believe a woman looks her best when she doesn't try too hard—effortless and chic, I always say.
The pressure season to season… can be tough, having to design three collections almost every season can get hectic. But, I really enjoy seeing the evolution of my designs from one season to the next.
The current high fashion industry… is growing and changing faster than ever with online and social media being such a huge part of the industry now. The international markets are changing just as quickly, I've made a few trips to China and Hong Kong this past year and got to experience the incredible growth and evolution of the market.
My ethnic heritage… due to being born in Israel has really influenced my design aesthetic because it gives me an alternative perspective and added cultural element which go into creating my collections.
The parallels and differences between my men's and women's collections… are subtle. My women's ready-to-wear collection aims to be effortless and elegant but maintains a masculine edge. For example, the suiting pieces and masculine textures. My menswear collection reflects the designs in my womenswear looks through the use of layering and texture. In my Fall 2011 collections I included a lot of menswear-inspired pieces—even a jacket design that appeared in the menswear runway show—but my Spring 2012 was very ethereal and feminine—but I made sure to include some tailored suiting for a masculine edge. When I design my menswear collections my personal style has a big effect on my designs.
The concept for Cut25… was to offer my design aesthetic and quality to women at a lower price point. Cut25 also lets me design for a more youthful and free-spirited customer. The Cut25 girl is young and whimsical. Cut25 was launched in 2010 and has been really successful—we're opening up our first Cut25 flagship boutique in NYC's SoHo in February 2012.
E-commerce… is something we ventured into in 2010. We offer all the styles available in my NYC, Meatpacking District boutique. Our e-commerce website lets us personally reach out to a broader customer other than those here in the city. I think e-commerce should be interactive and engaging – my site lets visitors easily shop runway looks or curated looks. All three collections are available on our e-commerce: women's, men's and Cut25.
Born and raised in Israel of French-Moroccan background… and living in New York City I have a strong understanding for the importance of culture and heritage.
The journey to Art Basel Miami 2011… was a breath of fresh air. I'm in the middle of pulling together three collections so the weekend trip to Miami was perfectly timed. I've been going to Art Basel for the past 10 years now and it's pretty incredible to see how much it has progressed. Art Basel also gives me the opportunity for even more sources of inspiration. It's also great to interact with all of the creative minds that go every year.