Cool Cats x Lacoste L!VE 2011 Capsule Collection
Lacoste's contemporary line Lacoste L!VE teams up with cutting-edge creatives, the Cool Cats for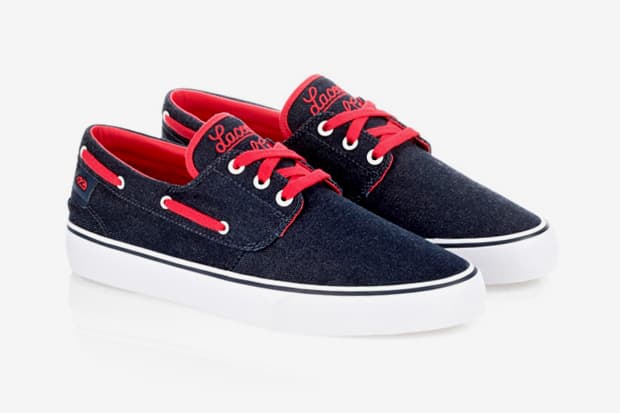 Lacoste's contemporary line Lacoste L!VE teams up with cutting-edge creatives, the Cool Cats for collaborative range this season. The collective structure of Cool Cats is composed of three longtime friends, each prominent to their own field of expertise. They are Pedro Winter (aka DJ Busy P), founder of French dance music label Ed Banger Records; So-Me, art director for the likes of Justice, MGMT, Kanye West; and Michael Dupouy, founder of the communication agency La MJC. For the capsule collection, the joint venture between the two brands showcases nine pieces designed by Cool Cats. In addition to the footwear shown here, a series of polos, tees, a varsity leather jacket, a cardigan, a crew-neck pullover, and accessories will be available in exclusive colorways. Additionally, the collaboration pieces will sport the exclusive logos of two brands, combining the respective themes of both brands. Expect the range to drop in November at Lacoste L!VE shops, Cool Cats website and select retailers worldwide. Below is also a Q+A with the Cool Cats crew.
Why did Cool Cats want to collaborate with LACOSTE L!VE?
Pedro: We are French, so LACOSTE means so much for us. Now with the L!VE line it's speaking even more to what we are doing in our life. Music, art, it is all about creating and inventing new ways to enjoy life.
Michael: In terms of French legacy brands, LACOSTE has always been one of my favorites. The new L!VE collection looks really exciting and matches perfectly with the Cool Cats followers and affiliates. It just makes perfect sense to us.
What is your first memory of LACOSTE?
Pedro: My first communion outfit! I have a photo if you want! All dressed in LACOSTE, PINK, don't ask me why… ask my mum!
Michael: For me, LACOSTE will always be associated to Roland-Garros French open. Every year, as a kid, I was waiting for the games in front of the TV and I remember the crocodile was everywhere and influenced me and my friends for life. It was all about style, success, elegance and coolness.
What LACOSTE product have you most admired or appreciated?
Pedro: I'll say the classic white tennis short. I played tennis when i was a kid in the early 90's. It was all about flashy and mullet hair… But LACOSTE class beat them all!
Michael: It's all about the L.12.12 polo shirt. A genuine legend and timeless classic.
What inspired your designs for this capsule collection?
Michael: The main inspiration is fusion between Ivy League and preppy clothing with So-Me's unique style.
So-Me: We wanted to stay in touch with what we've always loved about LACOSTE: its classiness. That said, it was fun to see what we could do by trying to be creative the way we usually like to approach clothes with our own brand. I think the result speaks for itself: a mix of graphic and preppy pieces.
Where did the illustrations come from?
So-Me: On one side we wanted to embrace the classy look of LACOSTE, our input being in the crossing of the classic French brand aesthetics with American school references, which we admit to be a little obsessed with. On the other side because this is L!VE, we allowed ourselves to have fun along the iconic crocodile topic. We created this playful relationship between the crocodile and the cat, the crocodile being wild, with his mouth open ready to bite and the cat contrasting it by being lazy and sleepy.
What kind of guy would you like to see wearing the capsule?
Pedro: I hope we will bring people together. You can be a hip hop head, an cute indie girl or a metal head fan of George Michael inside. This collection is for you!
Michael: The capsule is for everybody who is looking for a bit of swag! All cool guys welcome.
So-Me: You mean "what kind of girl"? I hope the cool kids will wear it and their dads will steal it.
Which pieces do each of you three want the most?
Pedro: The jacket seems to be the one for me! A way to shine Back to School!
Michael: It's so hard to choose ! The whole collection is killer. It's easy to say the stadium jacket is insane, but did you see lately a tee as cool as our crocodile candy? I'm a collector guy, so I would love seeing people trying to get most of the pieces.
So-Me: I want all the polos. I've been a LACOSTE polo lover for ever, and I'm very honored for having been able to add my touch to this historical and timeless piece.
Source: Providermag