A Conversation with Donwan Harrell of PRPS
We recently spoke with Donwan Harrell, founder of PRPS, to pick his brain about a range of topics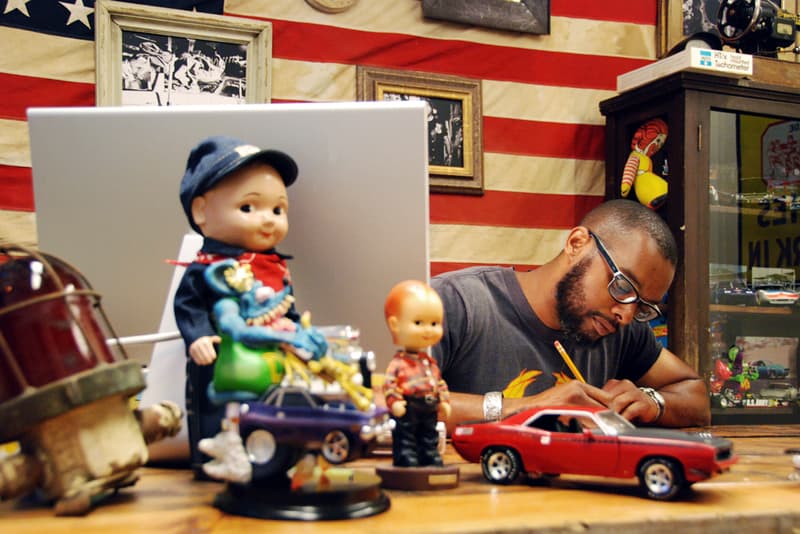 We recently spoke with Donwan Harrell, founder of PRPS, to pick his brain about a range of topics spanning from the inspirations for his collections as well as his past experiences at Nike. Harrell elaborates on his passion for why Japanese denim is simply superior, and why he thinks a small business model affords more quality than that of large corporations.
Purple means… bravery and dedication. U.S. military personnel are awarded the Purple Heart when they've been wounded or killed while defending America from its enemies.
Growing up in Virginia Beach exposed me to the military early on and left a lasting impression. Classmates came and went as their parents were deployed to different cities and countries. As a child, I remember visiting my dad in the Naval Ship Yard where he worked and being in awe of the enormous ships. Inevitably, I developed into a war buff, spending many an afternoon glued to television marathons of war documentaries. Today, those experiences serve as part of my inspiration for Prps.
While drafting the details for Prps 10 years ago, the color purple was my initial choice. America is my home and I wanted to pay homage to the best and bravest among us.
King Krash is for… actually, that's a funny story… Eight years ago I bought my first muscle car and by word of mouth I happened to meet one of the best automobile restorers in Passaic, New Jersey. Through my new acquaintance, I met a few guys who adopted me into a car club that's existed since the '70s. On weekends we all hang out, talk about cars and the "good ole' times." One of the cars in my collection, my favorite in fact, has a very low drip pan and every time I drive it, it makes a loud crashing sound. So far, no one in the group has been able to fix the problem so when I drive around the corner with my powerful engine roaring, I greet my car buddies with a loud crash each and every time. They all laugh and say, "Here's King Krash!"
Denim should be… the cornerstone of every man's wardrobe; it's been a staple in American workwear since the 1800s. Denim went from workwear to casual wear and now it's claimed a place in the luxury market. Denim has transcended traditional social and economic barriers and is now coveted and attainable around the world.
Selvedge has become… the benchmark for all denim purists. A selvedge jean is to a denim enthusiast what a blank canvas is to a painter; the denim records the markings of your daily life. Even the "wiskering" behind the knee is distinctive to each wearer's body type and height. A painter would never wash or clean their canvas; neither should a denim connoisseur. Wearing your denim daily without washing takes dedication and patience but the end result is always worth it!
The quality of cotton… is best measured by its strength, the color after dyeing and how the denim wears. Zimbabwe cotton meets all of these requirements and is now widely recognized as the best in the world.
Family-owned independent businesses are… always more reliable and consistent. Local farmers and their families protected by the fair trade agreement harvest Zimbabwe cotton. A small family living in Okayama, Japan produces our Japanese denim. The company has been passed down from generation to generation and everything they produce is meticulously crafted and of the highest possible quality. Prps could never achieve a mass production business model out of Japan. The quantities of each style I design max out at hundreds of units, not thousands and we wouldn't have it any other way.
The time at Donna Karan and Nike… was an essential part of my understanding of the fundamentals of design; it helped me to pinpoint my strengths and weaknesses. Both companies have a distinct look and purpose and have become American fashion staples. I admire their successes and aspire to, one day soon, head an equally successful brand.
The development of denim is… always challenging. Fashion is not as individualistic as it once was. Although denim has been around since the 1800s, I've made it a point to continue to experiment with new techniques and to remain innovative. Conversely, whenever I introduce a new idea, competitors adopt the concepts almost immediately. The larger the company, the faster they're able to imitate, produce and show up on shelves before us. It's a never-ending battle of mass commercialism but it also fuels me to continue to push the envelope. I'm proud to say I was a pioneer. I was the first American to produce denim in Japan and to introduce it to America and Europe.
Japanese craftsmanship on denim… is far superior to the U.S., China and Europe. Their unending quest for perfection never ceases to amaze me. It's unusual to find inaccuracies and their quality is unquestionable. They pay close attention to every stitch and detail I specify in my designs.
Black cars are… dominating my garage. My most prized possession is a black Hemi Road Runner, a rare four-speed Hemi car. Last summer I attended Carlisle, an unfailing tradition of mine for the last eight years. While there, a fellow attendee asked me if I was 'Black Bird.' At first, I thought his inquiry was a racist epithet but he quickly realized how his comment might have been interpreted and apologized. The gentleman then clarified that the moniker 'Black Bird' was a reference to my car. He went on to explain that my Hemi had become a topic for discussion in the circuit and for that reason, I had been given a new name. All of my black cars get the most attention and admiration.