The Rumble Around Tumblr
Thomas J. Watson, the historic president of IBM and namesake of the company's latest,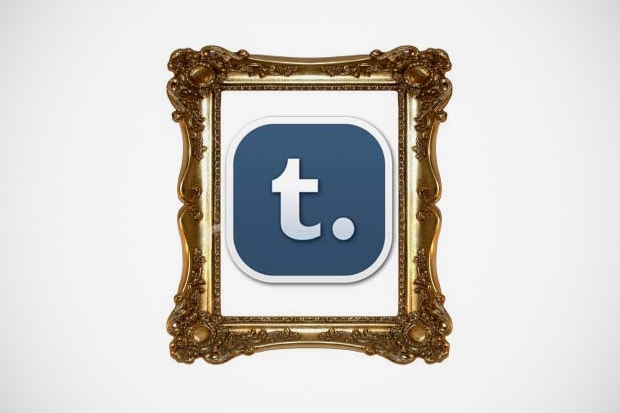 Thomas J. Watson, the historic president of IBM and namesake of the company's latest, borderline-Orwellian artificial intelligence program, once said: "design must reflect the practical and aesthetic in business but above all… good design must primarily serve people." No modern technology serves people as well as social media, and no social media platform better encapsulates Watson's philosophy than Tumblr.
There is an aesthetic movement occurring in the digital world right now, and Tumblr is at its forefront. Facebook and Twitter have both excelled due to an embrace of simplicity and ease of use. Tumblr has proven to be a breakout star, however, because of its emphasis on merging the practical and the beautiful, establishing itself as the go-to microblogging platform for the art and fashion communities along the way.
For those in need a brief brush-up course in social media, Tumblr is a bit like a trendy bastard child of Wordpress and Twitter. The platform is designed for short, visual posting but offers so many theme customization options that it can also support overly loquacious, copy-heavy projects. Critics often complain about the restrictions that come along with Tumblr, including the fact that widget options are limited to specific themes. Naysayers also note that Tumblr can encourage a lack of identity due to an emphasis on photos overshadowing sharing of personal information. These people loudly wonder how it can ever make Facebook-style money. While all of their points are valid, the critics linger on the "how?" and "when?" while I contend that the "why?" of Tumblr – its reason for existence and the way users interact over it – is what makes it remarkable. Simply put, Tumblr is the most stylish social media platform online. Both the strictness of its interface and its focus on imagery are positive traits. Tumblr is not designed for lifestreaming – something that Facebook is intending to bring to the mainstream with their new "timeline" layout. It is a portal for streamlined, creative self-expression.
If a picture paints a thousand words, then Tumblr is the greatest story-telling medium available in the social space.
With no attempt at humility, I'd like to use two examples that are near and dear to my heart to demonstrate this point: HYPEBEAST and Team Epiphany. Both brands are niche, sophisticated and fashionable, making them ideal for the microblogging world. One is an editorial entity, while the other works on the brand side in lifestyle marketing and PR. The attempts taken by both couldn't be more dissimilar.
HYPEBEAST's layout is sleek, dark and completely visual. It serves as a digital curator, selecting content from its own archives and other tastemakers around the web and catering it to you, the HYPEBEAST reader.
Team Epiphany, on the other hand, chooses to highlight its role as an agency by posting original editorial content from employees alongside of relevant images from Instagram (another important player in the aesthetic movement of social media).
The magazine is completely free of copy. The marketing agency dictates its own creative terms. Where else but Tumblr could such phenomena occur? Will the two brands make more money because of their embrace of the platform? Maybe not. Yet they increase their subjective value. They garner followers, engage users, promote sharing and, most importantly, express something about themselves in the social sphere that's hard to pinpoint exactly, but that's sure to be important.
One reason why it has taken Tumblr so long to become a formidable player in social media is because it's difficult to verbalize exactly what its benefits are. Tumblr is a bastion of intangible value. It's persuasive, it's intuitive and it engages aesthetically without sacrificing functionality. It has been embraced by trendsetters in the fashion and art communities – people who are notorious for knowing that a new way to express oneself, even if not immediately monetized, will always hold cultural clout. Tumblr has the unique ability to establish a distinct digital brand of users' beliefs, attitudes and values, and that's powerful.
We browse Facebook to see what our friends are up to. We use Twitter to catch up on the latest news. We use Foursquare so everyone can know when we're somewhere special. We use Tumblr because it allows us to express ourselves. Like Thomas J. Watson said so many years ago, Tumblr is a huge success because it serves people, despite (and perhaps in spite of) not yet possessing a completely unique service offering like Twitter or Facebook.
Tumblr is romantic – it places emotion over logic. That's what makes it magical. And that's why, even if you don't care about it yet, you will soon.
For more on intangible (or subjective) value, please read Rory Sutherland's excellent piece in Port Magazine.

For more on how Tumblr created a design community while employing only one actual designer, check out this blog post from Fast Company.
Douglas Brundage is a born-and-bred New Yorker and aesthete who has been writing and editing in one form or another for most of his life. Douglas' interests in food, travel, hip-hop, fashion and marketing have allowed him to garner the unique ability to discuss everything from Woody Allen to Kanye West. He curates and writes original content for two of his own Tumblr blogs, one on trends in mixology and another regarding branding and design. If you liked his piece, make sure to follow him on Twitter! Douglas currently works in social media at Team Epiphany in NYC.