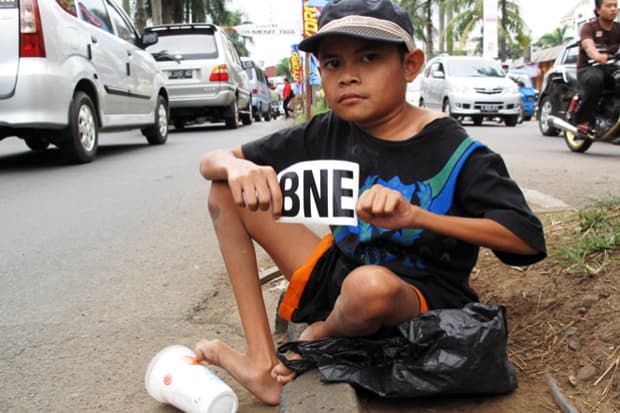 1 of 3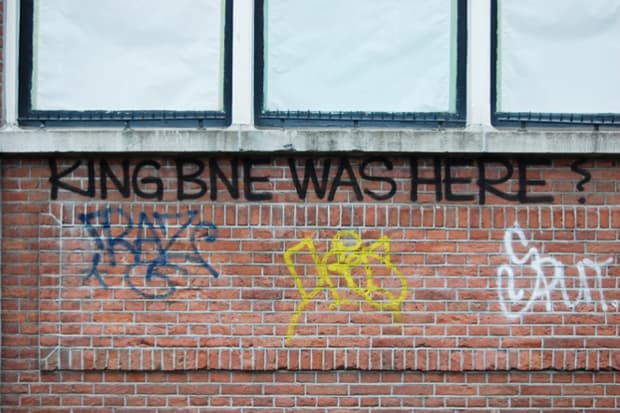 2 of 3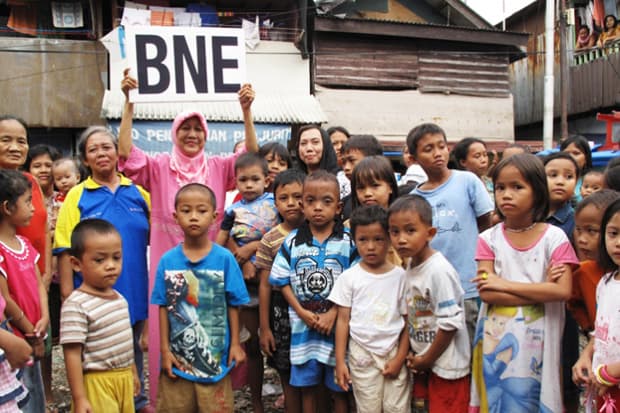 3 of 3
12oz: BNE Talks About the BNE Water Foundation
BNE is considered one of the most prolific street artists of all time. Since the early '90s the
---
BNE is considered one of the most prolific street artists of all time. Since the early '90s the artist has left his mark in various countries around the world, and to this day BNE's identity still remains a mystery. Alongside the rise to fame came the approaches by media and corporations which ultimately led to BNE's despise of the greed of advertising. BNE admittedly cites this disgust as a catalyst for the realization of his true calling in using his work for social change. 12oz was able to interview BNE to talk about the BNE water foundation and his inspiration and goals for this movement. Be sure to check out the full interview at 12oz.
What inspired the sticker campaign? Stickers have been around for a long time, but the way you used them completely changed the game.
I have always thought that stickers were an effective tool but never had the time or patience to do thousands of tags on stickers by hand. I started going hard on stickers because I was in Tokyo catching tags and I thought that there were probably only a couple hundred people in the whole country that could read those tags. I figured if I simplified it into something very legible, I could capture the attention of millions of people instead of hundreds or thousands. Since I was a young kid I have always been attracted to block letters and legible graffiti. The stickers were designed to catch the maximum amount of attention but once I got going I wasn't doing it for fame. It became addictive and I enjoyed walking. Putting up 400 stickers for me is like walking a dog or doing yoga. It relaxes me and I like being out in the streets. Even though the whole sticker thing developed naturally and they didn't really influence me to do it, I do have to give props to Cost and Revs. They were the first to go hard with Helvetica font labels on a local level in the 90's. Mad props to those guys.
So lets talk quantities, how many BNE stickers have been put up around the world and in how many different countries?
Hundreds of cities. Thousands of neighborhoods. Hundreds of thousands of stickers.
Has the attention your stickers received always been positive?
No, they seem to anger some people. I overheard someone in a bar talking about BNE stickers so I asked him what was up with them, for some reason he really hated them. He said they were everywhere and were destroying the city. That particular city was flooded with Pepsi stickers and posters. I asked him what he thought of the Pepsi labels being everywhere advertising unhealthy products to children. Strangely the Pepsi stickers didn't seem to bother him. I think the anger comes from people's minds being penetrated by a logo that they do not understand. I don't think it's always about it being "vandalism". People are assaulted by so much corporate advertising that they have grown numb to it. The corporate logos are still very effective and make their way into our subconscious but they do not stay on your mind or make you angry. The fact that BNE can create such an emotional reaction and capture so much attention is what has fascinated the advertising world.
How were you first introduced to graffiti?
Just seeing it on the walls when I was young and wondering, "who did that?"
That "Who did that?" mystery can leave a strong impression. Was trying to get everyone to ask, "What is BNE?" one of your strategies?
No. As strange as it may sound, even though I designed my graffiti to reach a large amount of people, I never actually thought about how people perceived it. It was all very selfish and there was no big plan, I was just doing my thing. The first time I heard "What is BNE?" was on the news. I was seeing "What is BNE?" so much that I started to ask myself the same question. Eventually I realized that it could mean whatever I wanted it to mean, and that not to use it for something more would be a waste. Now I know that I can use graffiti to communicate with millions of people and advocate important issues as well. Graffiti truly is the voice of the people.
And this eventually led to the idea for BNE Water? What is the main purpose of the foundation?
Yes. BNE Water Foundation's primary objective is to provide people living in poverty with access to clean water and sanitation. There is a huge difference between charity and social justice and flicking a coin at someone in need changes nothing in the big picture. That is why we are also attacking the root of the problem and educating people on the real reasons why poverty even exists. This project is designed to function like a Swiss army knife and achieve multiple objectives from a single platform. Provide people with clean water, wake up brain dead consumers, unite artists, promote peace and positivity, fight ignorance and racism, protest war, inspire people to start caring, promote independent business and social entrepreneurship, the list goes on and on.
The number one thing BNE Water Foundation stands for is the TRUTH. Individuals and companies use all kinds of marketing schemes to sell their ideas, products and services. Most brands are in the business of selling dreams and fantasies. We are in the business of reality, so our marketing strategy is to simply tell the truth about everything. This is going to piss off a lot off people but it has to be done. I haven't spent thousands of hours on the streets creating a name for it to be used as some bullshit "charity".
How do you think the BNE Water Foundation will affect the graffiti world?
I have always thought it was a shame that due to egos and stuff, graff writers had never united and all worked together to use our form of media to say something together. Something meaningful. Then I thought, never mind just writers, it would be amazing if all artists around the world united to not only say something, but to make a change. BNE and our online gallery is a platform to make that happen. As far as having an effect on the graffiti world, this project was also designed with the intention of pumping a little realness back into our culture. Graffiti has been commercialized an diluted to the point that its become a joke. I can't standby and watch this any longer.