Star Wars x adidas Originals 2010 Spring/Summer Annoucement
adidas Originals and Star Wars are set to link up for an upcoming 2010 spring/summer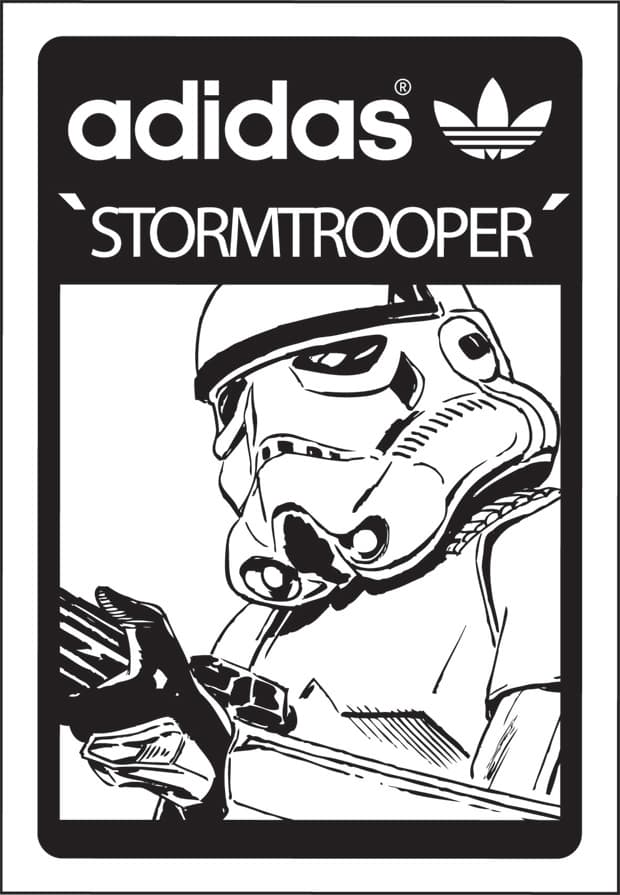 adidas Originals and Star Wars are set to link up for an upcoming 2010 spring/summer collection. Bringing together two brands with great visibility and history, the collection should prove to be an interesting one as it encompasses footwear, apparel and accessories for men, women and children. Expect some of adidas' most iconic Originals models to get the full Force/Dark Side treatment. Awhile back, adidas created a pack of Star Wars-inspired Superstars as part of the Consortium range. Conceived by Andy Chiu, the concept will now see itself developed in a more official light. The collection will debut in January of 2010 with a subsequent fall/winter collection also in the works. The press release can be seen below.

Herzogenaurach, June 17th, 2009 – Global streetwear icon adidas Originals is proud to announce a unique collaboration with one of the world's best known and loved brand marks: STAR WARS™. This stellar Spring/Summer 2010 collection fuses iconic STAR WARS™ characters and scenes with classic adidas Originals footwear and apparel silhouettes.
This collaboration between adidas Originals and Lucasfilm Ltd. "has been an exciting process," according to Ben Pruess, adidas Originals VP of Product Marketing. "To work with Lucasfilm in bringing a timeless story to life on our products is great. Like adidas Originals, the STAR WARS™ brand has a long and rich history of being a leader, leaving an indelible mark on pop culture. For fans of the films, sneaker heads or those that love fun and fresh designs, the collection gives you the chance to find the force or join the dark side."
Inspired by the galactic saga, the STAR WARS™ collection consists of limited edition as well as mass distribution footwear, apparel and accessories for men, women and kids. Classic adidas Originals track tops and several legendary sneaker styles are represented with characters and scenes from the epic saga in reinterpreted versions.
Expect to see Darth Vader and Stormtrooper graphics on select iconic Originals styles. Other key STAR WARS™ characters and memorable moments from the films will also be represented in innovative, cool ways.
The Spring/Summer STAR WARS™ collection will be introduced at retail beginning January 2010. Select retailers as well as adidas Originals Stores worldwide will carry the collection. The collaboration will also include a Fall/Winter 2010 line with an exciting new assortment of footwear and apparel.