MEGA: From Nine to Five
The man behind Black Scale shares his philosophical views on streetwear culture including the context behind his designs.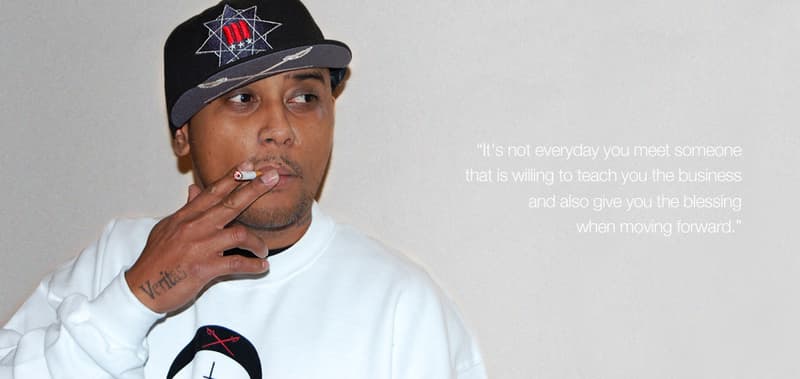 1 of 3

2 of 3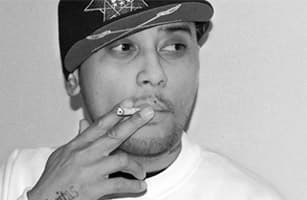 3 of 3
Parked within the industrial outskirts of downtown Los Angeles, I find myself surrounded by an unfamiliar scenery, barely reflecting the stereotypical vision of LA. I catch a glimpse of Black Scale's Michael Yabut aka MEGA and Alfred De Tagle around the corner of Elm Company headquarters, proudly paying tribute to their well received label with Black Scale gear and a HUF 5-panel, of course.
An integral part of HUF's growth within San Francisco's streetwear scene, MEGA quickly reflects an inviting personality shared through his experiences in the retail industry and love for the culture.
"I love sneakers, I was always hunting for the rare sneaks since 1995. When HUF first opened up in SF it was a shoe boutique releasing all the rare and hard to find sneakers at that time. I was a customer standing in line and calling the shop bugging the boys about the new sneaks that will be coming out. The sneaker scene in the Bay Area is huge and having HUF as one of those outlets to get our sneaks made our lives easier. Being a customer lead to being friends with the HUF crew and that eventually transcended into working at the shop. I would always stop by and see what was going on and one day I asked Kyle Demers and Nao Nogata which were the managers at that time about job openings and both guided me to talk to Keith Hufnagel. Keith and I spoke and he kept me in mind and when Kyle left to New York I got my chance to work at the store."
An understudy, of sorts, to professional skateboarder and HUF owner Keith Hufnagel, MEGA speaks of Keith's massive influence:
"Watching Keith make moves was inspiring. He definitely taught us a lot about the business and being independent within the industry. I feel he made it easy for us to understand the business and industry as a whole. He influenced me in many ways but the main thing I will always take with me is he really cared not just about the business but his team that worked under him. The man's drive is amazing and being around that makes me push harder. It's not everyday you meet someone that is willing to teach you the business and also give you the blessing when moving forward. He definitely trusted us with the stores and that in itself made us work harder because he made us feel that we were a part of HUF as a whole."
Sharing an apparent love for fashion and design with his close friend and business partner, MEGA's graphic integration of unnoticed issues relating to religion, government, identity and death, serve as the template for everything that represents Black Scale as a lifestyle more so than a brand:
"The whole aesthetic behind Black Scale has deep meaning that is expressed through simple and classic designs based on our life experiences. We always dreamed about having a clothing line. We never really planned on it till one day my partner Alfred and I thought it was the right time to push out a couple tees. The response we got from our first season was so strong and inspirational that we knew we had a great responsibility on our shoulders to share our experiences with the people."
Of course with any brand comes the integrity involved within the quality of the product that's engineered. "I feel the materials you use for garments are very important. The quality control and how pieces are constructed are things we are learning now before we release more pieces in the future. We have been searching for quality materials that we feel will go with our future collections. Keeping the classic look with the quality still attached to it."
Sky's on Pico Street seems like the proper location to continue MEGA's penchant for philosophical views on just about any subject. A preview of Black Scales upcoming material furthermore exemplifies a strong appreciation for how each of their previous five seasons have come to fruition. "We design with the philosophy that every detail has meaning within the design.


Every image, every word & every shape used has meaning." Focusing on material quality, the scene of exclusivity takes a back seat as MEGA concedes "although die hard customers that love the limited lifestyle disagree with new consumers having accessibility to the brands that were once hard to find, I see more people getting into this lifestyle even in these tough times for stores and brands".
While the scene has steadily slowed down due to over-saturation, cookie-cutter labels, and mainly economic downfalls, it still remains the brainchild of a generation that's seen tremendous success by a multitude of youthful entrepreneurs whether it be clothiers, artists or media outlets. "It's great to see the industry grow and I am confident it will grow even larger in the years to come. It's also great to see the brands grow and become power houses that can compete with the larger brands that have already put a stamp on the marketplace. It's not the greatest times economically right now but if we ride the wave for a couple years I think the marketplace will boom harder than ever. I feel it's great to see more customers support what we love and seeing more people on the streets get into what was once a super tight knit circle in every city that represented "in the know" limited lifestyle. "I get inspired by many designers from high end to contemporary to street. It's amazing to see the big fashion houses look to street artists and vice versa. Our new generation of artists and designers get it, I think everyone is trying to figure out what separates them from others and still keeping it relevant. It's so many people to name and so many brands to consider I think I will say in the end I like many but I will only wear a few."
With the day coming to a close we arrive at a location nestled away in a Hollywood community shared with some well known personalities, the pad plays host to stacks of HUF fitted's well into the triple digits and a welcoming environment, reflective of the fellas character. Developed organically with time, Black Scale may owe a portion of its success to the contributers involved in the brands manifestation, but mainly the two head honchos in charge of every aspect of the brand. "All of the designs stem from the original inspirations of the brand. We decide on how each particular design relates to our ideals & how that design is meant to represent our way of thinking. We're always pushing each other to create new ways to express our collected knowledge to the public. It's amazing."
Entering their seventh season, 2009 seems like the appropriate time to engage into further aspects of the brand. The focus remains steadily on Black Scale's vision for a new approach to the unknown.
Text: Luis Ruano
Photography: Luis Ruano