Nike+ x A-Trak "Running Man"
With Nike+'s up comming event "The Nike+ Human Race" set to take place on August 31st, they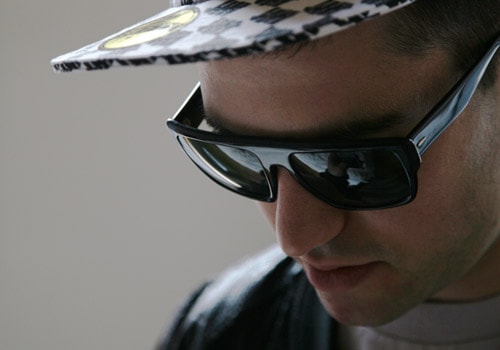 With Nike+'s up comming event "The Nike+ Human Race" set to take place on August 31st, they have collaborated with Montreal native DJ/Producer A-Trak to create the "Running Man: Nike+ Original Run" record to be released on August 25th at Nike Sport Music on iTunes. The new website features a few videos about A-Trak and the project itself, a download link of the official single "Say Whoa", and a 2 minute sample of the album.
Beaverton, OR – Hot on the heels of critically acclaimed original releases by The Crystal Method, LCD Soundsystem and Aesop Rock, DJ/producer A-Trak joins forces with Nike to launch his debut record Running Man: Nike+ Original Run as the next release for the Nike+ Original Run Series on June 24th, 2008. The Montreal native produced this 45-minute composition specifically for runners, gradually building from a warm-up period, incorporating an extended middle section that finds a pavement-pounding groove, and ending with a downtempo closure for cooling down. A highlight from the beginning segment, "Say Whoa," will serve as A-Trak's inaugural artist single, offered exclusively by Nike Sport Music. The mix also features a show-stopping appearance by recently hyped Fool's Gold signee Kid Cudi.
The music on Running Man: Nike+ Original Run – a mix of electro and hip-hop – is ideal for a workout, but could certainly find popularity in clubland with its synth-heavy loops, deep bass, and thumping beats.  A new approach to producing music, constructing the record around a long track for running, offered a unique challenge for A-Trak: "Making a 45-minute piece was interesting in terms of arrangement," he says. "Here, a guy is running and it's all about pacing. You want to keep him in the zone, you want to keep his attention, but at the same time there's much more room to spread out than on a record I might produce for a club."
 
"I've been mostly working on up-tempo electro tracks as of late, but my background is hip-hop and I think you can hear it in my choice of sounds," continues A-Trak. "I wanted this record to showcase my current style, but I also didn't want to stray away from hip-hop completely. That's why you find guest rap verses, plenty of chopped and screwed vocals, and a hefty dose of drum breaks that are surely more block party than Ibiza."
 
The original mix is part of the run-up to The Nike+ Human Race, the world's largest one-day running event. On August 31, 2008, an expected one million runners in 25 cities across the globe will partake in a 10k that combines the power of running and music through sport and also gives participants the chance to run for a cause and support charities who have a positive impact on the world. At 45 minutes long, Running Man: Nike+ Original Run is ideal background music for runners looking to mix things up while training for the event.
 
The fourth installment of the Nike+ Original Run series, A-Trak's Running Man: Nike+ Original Run is available exclusively in the Nike Sport Music section of the iTunes Store for $9.99.
About Nike Sport Music
Launched on June 29, 2006 by Nike, the Nike Sport Music store on iTunes is the definitive source of musical inspiration and audio coaching for athletes.  It's more than music. Nike+ Coaching Workouts feature star athletes like Lance Armstrong, Serena Williams, and artists like OKGO guiding you through a run or an exercise session while engineered powersongs rev you up. Nike+ Original Runs are fresh, drive-you-forward original music crafted exclusively for Nike.
 
About Nike+
With Nike+, runners never have train alone again.  Nike+ enables footwear to talk to an iPod Nano or Nike+ Sportsband, giving instant performance information and real-time feedback during a run. Like a personal coach or training partner, Nike+ has put this information at runners' fingertips, in the process creating a Nike+ revolution.  As of February, 2008, Nike+ members have run over 40,000,000 miles, logged over 12,000,000 and issued over 300,000 challenges. Nike+ has also created the world's largest running club at nikeplus.com, a global running community where Nike+ members can log their run data, track their progress, utilize training tools, and connect with other members all over the world.
About A-Trak
From his astonishing early days as a DMC world champ by age 15 to his acclaimed DVD Sunglasses Is A Must to releasing 2007's monumental Dirty South Dance mix (Obey), Montreal-born and New York-based DJ A-Trak has consistently exceeded all expectations of a traditional DJ. He launched his own record label, Fool's Gold Records, toured the world non-stop as a solo artist and as Kanye West's DJ, produced and helped develop the career of much hyped Downtown Records recording artist Kid Sister, and remixed tracks for prominent artists such as Bonde do Role, Boys Noize, Simian Mobile Disco, Kanye West, and Digitalism. Recently garnering many rave reviews for his performances during SXSW and WMC, A-Trak has also been tapped by Jay-Z to act as musical director for his current tour.