NASA's Webb Space Telescope Snaps Photo of First Asteroid Belt Found Beyond Our Solar System
Offering potential proof of hidden planets surrounding a young star.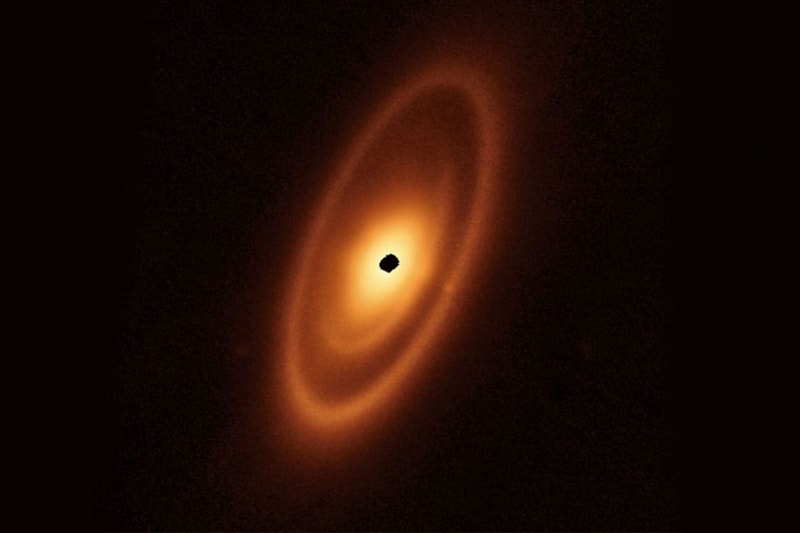 NASA astronomers learned more than they anticipated when studying the bright, nearby star of Fomalhaut, located about 25 light years from Earth. Using the James Webb Telescope to look closer at the dust surrounding the young star, researchers realized that its dust belts are far more complex than the asteroid belts of our own solar system.
The belts are formed by collisions between larger bodies. Fomalhaut has three nested belts, which expand for 14 billion miles (23 billion km) from the star. While the outer belt is about twice the size of the Kuiper Belt of our own solar system, scientists were able to use the telescope's infrared light to view the inner belts for the first time ever.
They deduced that the inner belts were most likely caused by planets we didn't know existed prior. Within our own solar system, Neptune sculpted the Kuiper Belt. It's likely that Fomalhaut has a planet or two embedded somewhere within its dust belts.
"The belts around Fomalhaut are kind of a mystery novel: Where are the planets?" scientist George Rieke said. "I think it's not a very big leap to say there's probably a really interesting planetary system around the star."
"By looking at the patterns in these rings, we can actually start to make a little sketch of what a planetary system ought to look like —  if we could actually take a deep enough picture to see the suspected planets," András Gáspár of the University of Arizona, who authored a study on the findings, added.
Future studies of Fomalhaut and other stars will continue to reveal more about how planets move through these disks.
In other tech news, Unbox Therapy shared an Apple iPhone 15 Ultra mockup.