Jaeger-LeCoultre Names Lenny Kravitz Its Newest Global Ambassador
Expressing a shared spirit of style and creativity.
1 of 2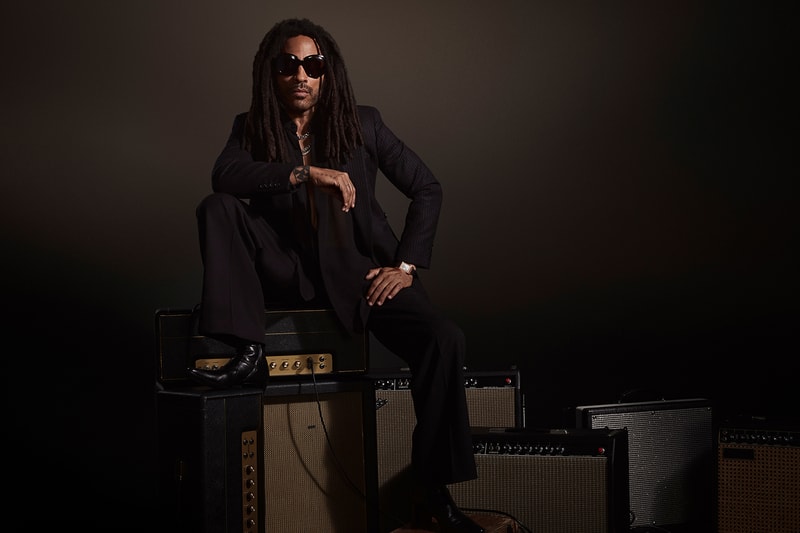 2 of 2
Following its ambassador announcement with Anya Taylor-Joy, Jaeger-LeCoultre has returned to name Lenny Kravitz as its newest global ambassador. Expressing a shared spirit of style and creativity, the placement sees the Swiss luxury watch manufacturer celebrate one of the preeminent rock musicians of our time.
Since the start of his career as a singer-songwriter in the late '80s blending inspirations from rock, blues, funk, and soul, Kravitz has proven himself as the archetype of the modern Renaissance man defining himself as an accomplished producer, multi-instrumentalist, actor, designer, and photographer. The defiantly original creative has always followed his own path, forging his artistic vision, a creative sensibility that has naturally led to his relationship with Jaeger-LeCoultre. "For creators, the most important thing is finding their voice, knowing what they represent, and being true to their vision – while always staying open to new ways of thinking," said Kravitz.
Fascinated by his father's chronographs, Lenny Kravitz has been a watch enthusiast since childhood, "I feel very drawn to Jaeger-LeCoultre. The way they combine such a high level of craftsmanship, design, and function in their watches – that really resonates with me." Most recently, during his performance at the 2023 Oscars ceremony, Kravitz wore one of his favorite watches, the Reverso, paired with a black silk jumpsuit and layered jewelry. "Beyond the function of a watch, style is very important – how it looks and the way it fits on your wrist. You have to really connect with it," he adds. "My Jaeger-LeCoultre pieces feel like they have always been there – they blend with me and their style is absolutely timeless. You can really make these watches your own and when you want to change the mood, change the vibe, they always fit. It's as if they become one with you."
"With his artistry, inventiveness, and ability to transcend genres, Lenny epitomizes Jaeger-LeCoultre's values and style," said Catherine Rénier, the CEO of Jaeger-LeCoultre. "We are delighted to have him represent our Maison."
Ahead of Jaeger-LeCoultre's upcoming campaign featuring Lenny Kravitz coming in May, HYPEBEAST spoke to the artist about his relationship with the Maison and his love of watches. Catch our exclusive interview with the new Jaeger-LeCoultre global ambassador below.
Can you please share some details about your personal watch collection and how you became interested in the world of horology?
I have a collection of different things from the late 1960s, functional watches and dress watches. As for Jaeger-LeCoultre, my favorite model is the Reverso, which is now my daily choice. My father collected watches. When I was a kid, I picked up my father's watches to appreciate and found out how fascinating watches were. Watches were something only for adults, so I was very curious to understand more (because I was not supposed to touch). That was how I became interested in watches.
Jaeger-LeCoultre is renowned for its long-standing reputation in the watch industry. What drew you towards the Maison?
The classiness, the design, and the identification of the brand. The design is so unique and timeless. You know it the second you see its watches.
When selecting a watch, what are some key features that you consider in terms of both style and functionality?
For me, everything starts in style. The style should melt into me. The color and the size. I must feel comfortable with the watch on my wrist.
For performances or public appearances, how do you choose a watch that complements your outfit and suits the occasion? What factors do you take into account when making your selection?
I don't really wear watches on stage, but I wear watches in daily life. The watches must be elegant on me. For instance, at the Oscars, I wore a Reverso with a leather strap, which blended beautifully with my outfit and was sophisticated.
Do you have any particularly meaningful experiences involving a watch?
I received a watch from a singer in New York City. Someone I admired a lot with his music and performance. It means a lot to me. Another watch I kept for a long time was from my father, a watch from the 1970s.
View this post on Instagram

In case you missed it, Conor McGregor teases an upcoming collaboration with Jacob & Co.