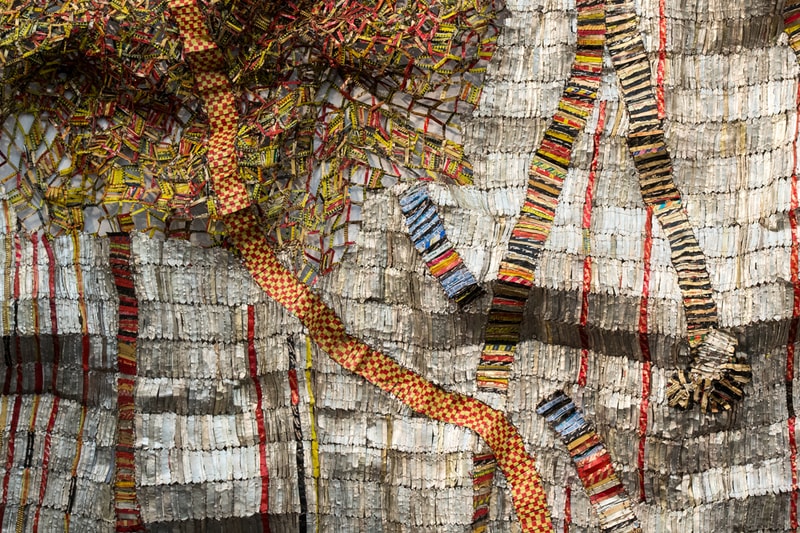 Ghanaian Artist El Anatsui Selected to Create Work for Tate Modern's Turbine Hall
The installation will go on view in October.
---
Amidst its expansive galleries, the Turbine Hall remains one of the focal points to London's Tate Modern. In the past, Olafur Eliasson and Tania Bruguera are amongst the many artists who've utilized the space to comment on a range of topics pertaining climate change and institutional power. Following Cecilia Vicuña's Brain Forest Quipu installation currently on display, Ghanaian Artist El Anatsui has been selected to be the next in line.
Anatsui started his career as a professor of sculpture at the University of Nigeria in 1975. His approach to teaching, emblematic of his own art today, was highly conceptual in the way he encouraged people to use materials available in the natural and built environment. Fast forward to the 2000's, Anatsui began creating his signature bottle-cap sculptures as a commentary on how alcohol was used as barter during colonial trade across Africa.
In 2007, the artist stole the show at the Venice Biennale for his Fresh and Fading Memories tapestry, a towering artwork made of copper and liquor bottle caps, which symbolically hung atop the façade of the 15th Century Palazzo Fortuny. Eight years later, Anatsui was the recipient of the Venice Biennale's Golden Lion for Lifetime Achievement.
"My work has freedom as its watchword, the idea of freedom being able to shape itself or get shaped in different ways," said the artist in a past interview. "Each time it is an opportunity to do something new. This has been my principle leading up to the bottle cap series," Anatsui added.
Presented in collaboration with Hyundai since 2015, Anatsui's installation will go on view in the Turbine Hall of the Tate Modern from October 10 to April 14, 2024.
For more on art, Frieze and Felix return to the City of Angels.
Tate Modern
Bankside
London SE1 9TG