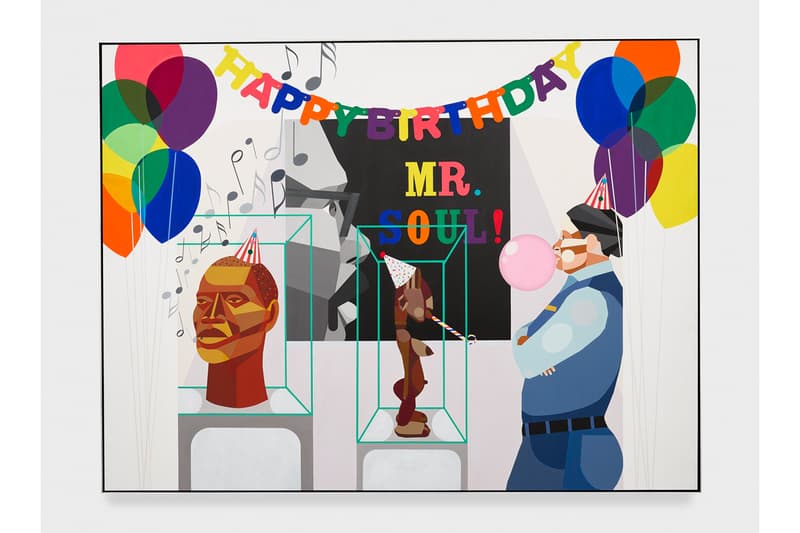 Derrick Adams Presents 'I Can Show You Better Than I Can Tell You'
Celebrating the richness and vibrancy of Black culture and community.
---
After debuting a sculptural playground of FUNTIME UNICORNS late last year, American visual artist Derrick Adams returns to a gallery setting in a new solo exhibition opening tomorrow at The FLAG Art Foundation in New York.
I Can Show You Better Than I Can Tell You is centered at the intersection of film, television and media, as the Baltimore-born, Brooklyn-based artist presents 16 large-scale works from his new series, Motion Picture Paintings, 2020-22. "Black life is a movie," said Adams in a statement, "a psychological thriller, situational comedy, romance, adventure drama, suspense, and horror all rolled into one."
Known for his cubist portraits, Adams created these paintings by referencing the many stages in the process of movie-making — from movie trailers, billboards, lobby cards, and subtitles, along with cinematic tropes, such as the close-up shot or a cinematic pose. Each painting can be viewed in the same light as a storyboard, where the artist depicts moments of joy, fear and fantasy that are partially inspired by daily life observations, family photographs, African culture, along with film and music.
In Onward and Upward, 2021, Adams showcases people as they walk past the movie poster from Soul Plane, the 2004 comedy about a black-owned airline — the painting's horizontal dimension's being inspired by the film's promotional poster. Similarly, So Much to Celebrate, 2021 references the PBS television series Soul! (1968–1973) — America's first Black variety show — and the recent documentary on the show's host and producer, Ellis Haizlip, where Adams depicts a security guard amidst a celebratory scene that seeks to spotlight the vibrancy and richness of Black life, culture and community.
The exhibition will be on view at The FLAG Art Foundation from January 13 to March 11.
For more on art, Arsenal FC set to present new artwork on the Emirates Stadium.
The FLAG Art Foundation
545 West 25th Street
9th Floor, New York, NY 10001