Bombay Sapphire® Celebrates Expression With Saw This, Made This Immersive Gallery at HBX
Honoring unbridled creative expression, Bombay will host a found art gallery at HBX featuring Brian Downey and Casen Sullivan.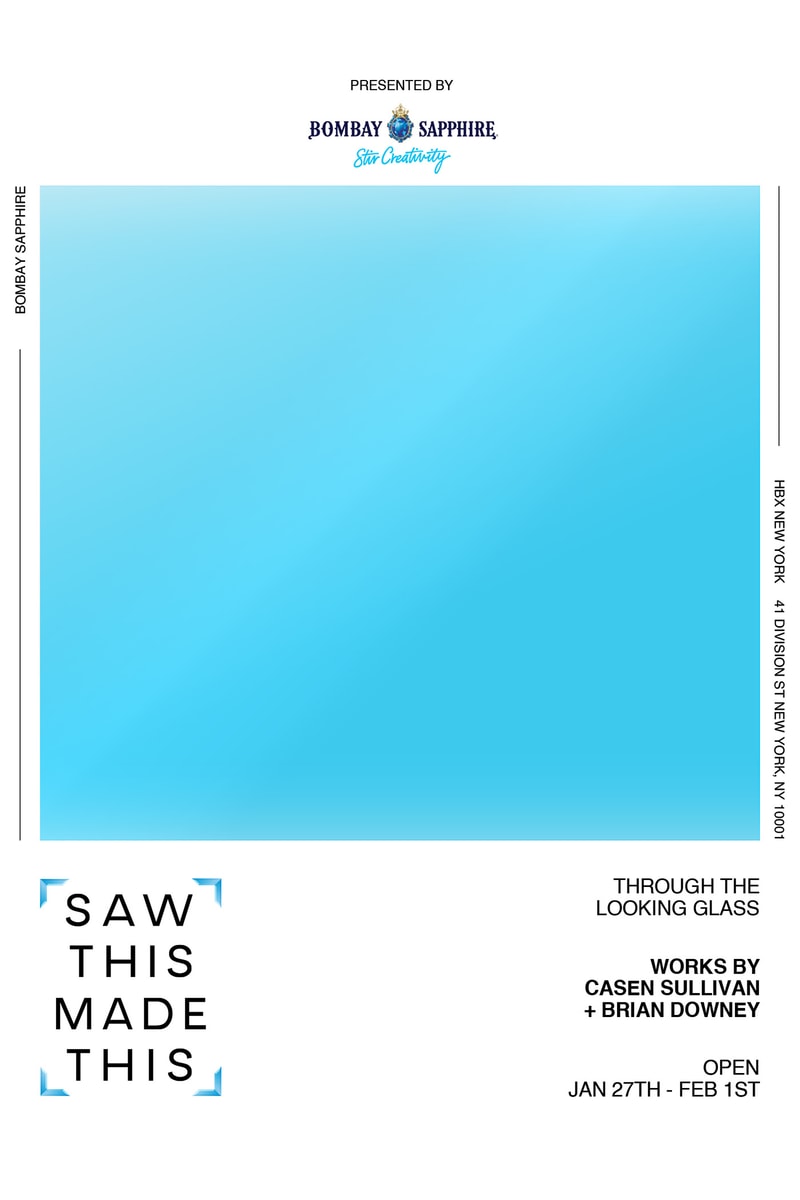 Bombay Sapphire®  embodies the ethos of innovation and constant inspiration, as its rich, botanical flavor is informed by the beauty of nature. The brand is not only committed to practicing self-expression, but to sharing it with its audiences as well.
Lighting the spark for a new generation of artists and creatives, Bombay will host a found art gallery at HBX New York starting on January 27. Inviting the masses to see the creative potential of the mundane, the Saw This, Made This gallery will feature the original works of artists Brian Downey and Casen Sullivan, who turn everyday objects into something extraordinary.
Creatives from all over New York City will be able to interact with the exhibit over light bites, music by DJ Svpply (Andrew Goss), and customized cocktails, bringing the ingenious artists' work to life. Viewers will not only be able to see each artist's work but also the processes that went into creating their displays, as behind-the-scenes elements such as mood boards and original sketches will be showcased as well. Participants are invited to put their imagination to the test by adding their own elements to some of the featured artists' unfinished works, with interactive stations installed throughout the exhibit.
Putting an inventive spin on the bar selections, each drink will be inspired by iconic furniture pieces and their creators' visions. The Parentesi Suspension Lamp will be honored with a timeless play on a gin and tonic, the structured and practical George Nelson x Herman Miller Platform Bench will be represented by an Apple Martini combined with an Angel Face, and a bold mule will stand in for the Tom Sachs Natural Wood Shop chair.
The exhibition will be on display from January 27 to February 1 on the third floor of HBX.
HBX New York
41 Division St
New York, NY 10002
BE BRILLIANT AND INSPIRED. DRINK RESPONSIBLY!
WWW.RESPONSIBLEDRINKING.ORG
©2022. BOMBAY SAPPHIRE AND ITS TRADE DRESS ARE TRADEMARKS.
IMPORTED BY THE BOMBAY SPIRITS COMPANY U.S.A., CORAL GABLES, FL. GIN – 47% ALC. BY VOL.