Best New Tracks: A$AP Rocky, Kali Uchis, Kelela and More
10 music projects to dive into this weekend.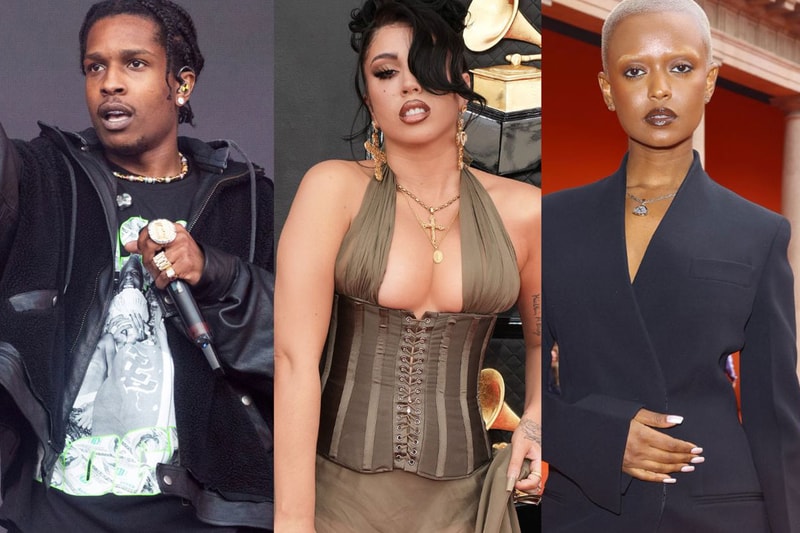 As the week in music comes to a close, HYPEBEAST has rounded up the best projects for the latest installment of Best New Tracks.
This week's lineup is led by A$AP Rocky, who delivered a moving tribute to rappers that have lost their lives over the years on the song "Same Problems." Kelela has continued the rollout of her upcoming album RAVEN with the new dance track "Contact," while Fall Out Boy shared the lead single from their first album in five years. Also in the mix are contributions from Kali Uchis, boygenius, London-based rapper Wesley Joseph, as well as songs from Yaeji, Headie One, CAMO and McKinley Dixon.
A$AP Rocky – "Same Problems"
After performing the track on his livestreamed Amazon Music show last month, A$AP Rocky has finally shared "Same Problems" on streaming services. The song, which debuted on the eighth anniversary of his close friend and affiliate A$AP Yams' death, hears Rocky pay homage to rappers who have lost their lives over the years in a moving, ballad-like tribute.
Listen: Spotify | Apple Music
Kelela – "Contact"
On "Contact," Kelela is inviting everyone to come out to party. The pulsating dance beat keeps up the same energy that the singer has carried throughout her RAVEN album rollout. "'Contact' has a little bit of something for every part of the night. It's a soundtrack for pre-gaming," Kelela said. "It's also the interior club experience: the heat that envelops you when you walk into a packed rave. All this culminates in a very naughty, psychedelic moment in the back of the club with a lover."
Listen: Spotify | Apple Music
Fall Out Boy – "Love From The Other Side"
Fall Out Boy will be dropping their first album since 2018. "Love From The Other Side," the lead single from the upcoming So Much For) Stardust LP, sees the group reunite with producer Neal Avron, with whom they've collaborated with on three previous albums.
Listen: Spotify | Apple Music
Wesley Joseph – "HIATUS"
Wesley Joseph's new single "HIATUS" arrived in tandem with a COLORS live performance session. The genre-bending ULTRAMARINE artist will soon be heading on tour throughout Europe in support of Loyle Carter.
Listen: Spotify | Apple Music
McKinley Dixon – "Tyler, Forever"
Chicago-by-way-of-Richmond rapper McKinley Dixon has dropped a new song and music video called "Tyler, Forever." The promising young talent flexes his vocals over layers of jazz instrumentals, blending grittiness, melancholy and appreciation in a single honoring his late friend Tyler.
Listen: Spotify | Apple Music
Headie One – "Martin's Sofa"
U.K. drill artist Headie One celebrates his old friend Martin on this touching new song. True to the single's title, it's about Headie linking up with Martin, who has stood by him through tough times, to gift his friend a sofa. "Martin's Sofa" was produced by M1OnTheBeat and samples the song "Palm Trees" An accompanying visual was directed by Nathan Tetty.
Listen: Spotify | Apple Music
Kali Uchis – "I Wish You Roses"
Following the release of "No Hay Ley," Kali Uchis has resurfaced with the melodic "I Wish You Roses," which may mark the impending announcement of another album. "This song is about being able to release people with love," Uchis said. "It could be a friend, a lover, or someone else, but the point is to celebrate releasing people from your life without being resentful or bitter."
Listen: Spotify | Apple Music
boygenius – "True Blue"
After a five year hiatus, indie supergroup boygenius of Phoebe Bridgers, Lucy Dacus and Julien Baker has made their long-awaited return. Not only did the trio share three new songs but they also shared that the tracks come off of their first album, entitled the record. Each song, "True Blue" included, flexes the members' dexterity with sound, lyrics and meticulous instrumentation.
Listen: Spotify | Apple Music
Yaeji – "For Granted"
Yaeji is a one-of-a-kind talent in the realm of house and experimental pop music. The Brooklyn-based artist has now unveiled the lead track from her upcoming album, With a Hammer. While this may be her first full-length studio project, Yaeji has accrued somewhat of a cult following over the years in her native NYC and beyond.
Listen: Spotify | Apple Music
CAMO – "Mapsi"
South Korean rapper CAMO has given fans a preview of what's to come on her forthcoming debut LP. On "Mapsi," which translates to "being stylish" in Korean, CAMO flexes her success and fires back at those who have ever doubted her. The song arrived alongside a high-production music video that features an exciting opening on the rapper wielding a blowtorch in each hand.
Listen: Spotify | Apple Music