Best New Tracks: Smino x J. Cole, Freddie Gibbs, Kid Cudi
10 music projects to dive into this weekend.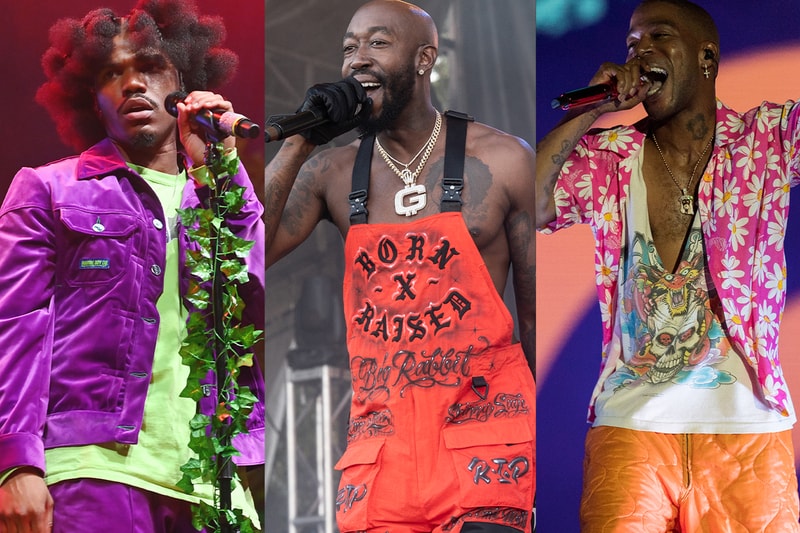 As the week in music comes to a close, HYPEBEAST has rounded up the best projects for the latest installment of Best New Tracks.
This week's list is led by Smino x J. Cole, Freddie Gibbs and Kid Cudi, who released the single "90 Proof" and the albums $oul $old $eparately and ENTERGALACTIC respectively. Also joining this week's list are a variety of offerings from Honey Dijon with Channel Tres and Sadie Walker, Charlotte Dos Santos, Baby Tate, Burna Boy, Shygirl, Trippie Redd and Tee Grizzley.
Smino x J. Cole – "90 Proof"
Smino and J. Cole reunite for the latest track, "90 Proof." A catchy and relaxing offering with simple yet exquisite production work from Groove and monte booker, the track is expected to appear on Smino's upcoming record Luv 4 Rent, which is yet to receive an official release date.
Listen: Spotify
Freddie Gibbs - $oul $old $eparately
Freddie Gibbs delivers his first solo studio album in four years, $oul $old $eparately. The 16-track record is his first solo effort since 2018's Freddie and follows the stunning 2020 collab album Alfredo with The Alchemist, who also contributes to the new project alongside the likes of Price, Offset, Moneybagg Yo, Rick Ross, Anderson .Paak, Raekwon, DJ Paul, Pusha T, Musiq Souldchild, Scarface, Madlib, James Blake, KAYTRANADA, Boi-1da, DJ Dahi, Jahaan Sweet and more.
Listen: Spotify | Apple Music
Kid Cudi - ENTERGALACTIC
Kid Cudi marks a special day with the release of ENTERGALACTIC, a new album accompanying his Netflix TV series he co-produced with Kenya Barris. The music side of the whole project features Ty Dolla $ign, 2 Chainz and Don Toliver, plus production work from Steve Aoki, Dot Da Genius, Take A Daytrip, Plain Pat and more.
Listen: Spotify | Apple Music
Burna Boy – "It's Plenty"
Burna Boy returns to his latest studio album LOVE, DAMINI with the music video of "It's Plenty." Helmed by Troy Roscoe, the visual is almost a tour diary of sorts but also celebrates community as the artist celebrates his success with the people who loves his music and those he holds closest to his heart.
Watch: YouTube
Charlotte Dos Santos – "Angel in Disguise"
Charlotte Dos Santos preps for the release of her debut album MORFO on October 14 with the new single "Angel in Disguise." The cut arrives with a live video filmed at Angel Studio in Abbey Road Studios and is described as confessional by the artist. "It's almost a confession to my listeners to say I am not perfect at all, and that I struggle with a lot of things," she said in a statement. "Life isn't always easy and especially the work we have to do on our own can be a lengthy process, and need encouragement.. It's a song about personal challenges, fights and wanting to be forgiven and loved for the person I am, flaws and all."
Listen: Spotify | Apple Music
Tee Grizzley – "Ms. Evans 1"
Tee Grizzley shares a music video for "Ms. Evans 1" as he announces his upcoming project Chapters of The Trenches, which drops October 14. The new cut tells the vivid story of Ms. Evans who becomes the subject of a bet between two students, but ends with a cliffhanger that will hopefully be resolved as the album progresses.
Listen: Spotify | Apple Music
Honey Dijon x Channel Tres x Sadie Walker – "Show Me Love"
Honey Dijon announces the upcoming sophomore album Black Girl Magic with "Show Me Love," the album's final single created with Channel Tres and Sadie Walker. "This album is dedicated to love. Love of music, community, but most of all the love of self. Being true to
who you are in spite of everything else and having the courage to love fearlessly," Dijon said about the record, which drops November 18. Channel Tres added, "I had a lot of fun working with Honey on this track, and it's been fun through each step of the process. We weren't together so it's always exciting to see where a collaborator will take the record when you send your parts over and this one was definitely special to me. It's everything I love about underground dance music confident, and sexy."
Listen: Spotify | Apple Music
Shygirl - Nymph
Shygirl shares her exciting debut studio album Nymph, showing off her prowess across 12 tracks created with the likes of Mura Masa, Sega Bodega, Karma Kid, Cosha, Arca, Noah Goldstein, Danny L Harle, BloodPop, Vegyn and Kingdom. The artist is set to close out her year with several more tour dates, including Primavera Sound in Brazil and Chile and shows in the U.K. and Europe.
Listen: Spotify | Apple Music
Trippie Redd - First Draft
Trippie Redd surprises fans with his newest two-track EP First Draft. The short project features the cuts "Save Me, Please" and "First Degree Murder," produced by Igor Mamet RRAREBEAR, BabeTruth and Jarom Su'a. The EP arrives as the artist finishes up shows in Australia, followed by college appearances back in the United States.
Listen: Spotify | Apple Music
Baby Tate - Mani/Pedi
Baby Tate delivers her latest project, Mani/Pedi. Clocking in at just over 40 minutes, the 12-track effort features 2 Chainz, Kali and Slimwave and explores the two sides of the artist — the good and the bad — that makes her who she is, effectively creating a project honoring self-love and self-acceptance but also learning to become a better person overall.
Listen: Spotify | Apple Music