Taco Bell and Milk Bar Unite to Create Scrumptious Strawberry Bell Truffles
The new dessert item is covered in strawberry milk and topped with pieces of Taco Bell's crunchy taco shell.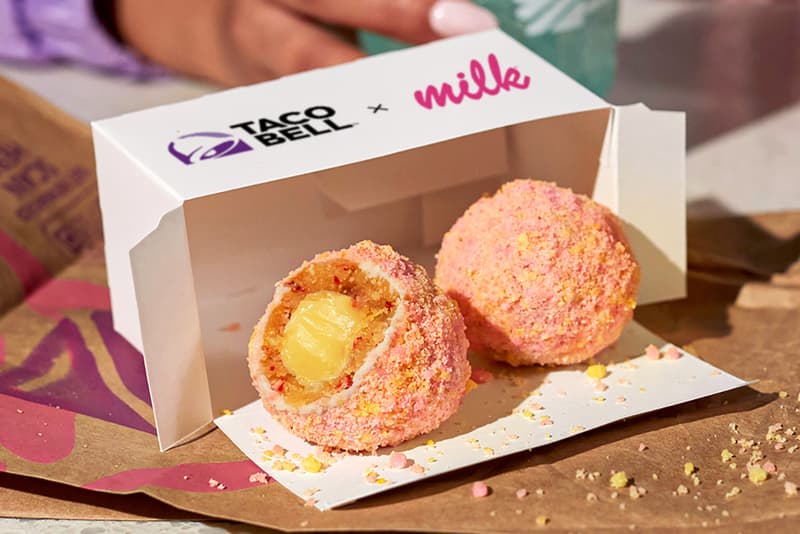 Taco Bell's always-on menu is already enough for many fast food lovers thanks to its delectable crunchy tacos, refreshing Baja Blast beverages and ultra-delicious Crunchwrap Supremes, but the chain tends to keep things interesting by occasionally adding new items to the mix. And this season, the Glen Bell-based entity is elevating its dessert arsenal by linking up with Milk Bar to cook up mouth-watering Strawberry Bell Truffles.
The bite-sized pieces are essentially miniature vanilla cake truffles that have been enveloped in strawberry milk and stuffed with a sweet corn fudge center. The exterior is coated with a strawberry and sweet corn cake coat and features shards of Taco Bell's signature Crunchy Taco Shell to create a perfect blend of salty and sweet.
"A collab with our brilliant friends at Taco Bell has been on my bucket list for some time," said Christina Tosi, Chef and Founder of Milk Bar. "We white boarded ideas and R&D'ed to seemingly no end, but then the masterminds of our culinary team, led by VP, Anna McGorman, struck sweet gold with this unique dessert that packs such delicious flavor and is a true meeting of minds who love to color outside the lines. We're pumped for you to take a bite!"
If interested, the item is available in-stores as a two truffle package for $2.99 USD until August 16 at the Taco Bell location in Orange County, CA (14042 Red Hill Ave., Tustin, CA 92780) and at two of Milk Bar's locations in the Nomad neighborhood of New York, NY (1196 Broadway at 29th Street, New York, NY 10001) and on Melrose in Los Angeles, CA (7150 Melrose Avenue, Los Angeles, CA 90046).
For other news, Snickers has launched a seasoning blend shaker.