NASA's Webb Telescope Captures Breathtaking Photo of Cartwheel Galaxy
Demonstrating the formation of stars.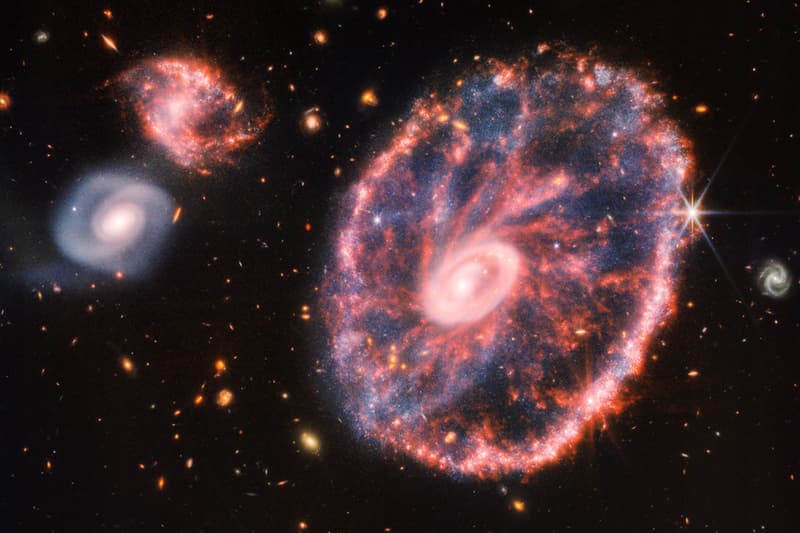 NASA's James Webb Space Telescope has taken new photographs of the Cartwheel Galaxy, located in the Sculptor constellation about 500 million light-years away from Earth.
The images provided scientists with a closer look into the galaxy's central black hole. They also give viewers an idea of star formation in the Cartwheel Galaxy and how it has evolved over billions of years.
To take the photo, which shows Cartwheel alongside two smaller galaxies against a backdrop of many galaxies, scientists utilized Webb's Near-Infrared Camera (NIRCam). The imager functions to perceive wavelengths of light, showing even more stars than would be discernible in visible light.
Scientists explained that infrared light can show young stars that are actively forming in the outer ring, as the light shows the difference between the stars and any dust that may cloud them. In the above image, NIRCam data shows up as the colors yellow, orange and blue.
"The galaxy displays many individual blue dots, which are individual stars or pockets of star formation," NASA explains. "NIRCam also reveals the difference between the smooth distribution or shape of the older star populations and dense dust in the core compared to the clumpy shapes associated with the younger star populations outside of it."
In other tech news, Elon Musk has been hit with a new class action lawsuit from Twitter investors.