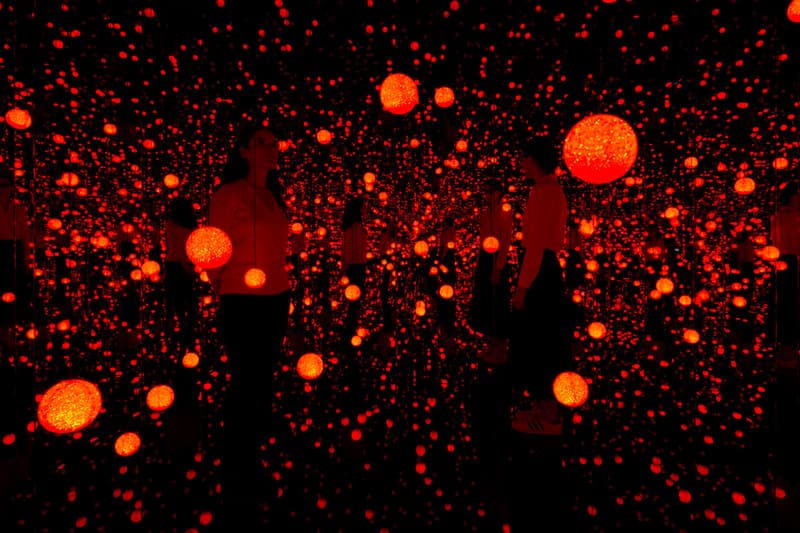 Top Art Exhibitions to See for the Rest of 2022
From rising artists such as Nadia Lee Cohen and Adam Parker Smith, to masters in Yayoi Kusama and the late-great Sam Gilliam.
---
No matter where you come from, the past few years have been stressful in too many ways to count. From lockdown to protests, elections to inflation, wars to climate change — it seems like we can't catch a break. As the world begins to open back up, consider visiting a museum. A new study by the University of Pennsylvania found that a simple visit can help reduce anxiety and depression, amongst other things.
"Art museums have great potential to positively impact people, including reducing their stress, enhancing positive emotional experiences, and helping people to feel less lonely and more connected," researcher Katherine Cotter said in an interview with Hyperallergic.
To aid you in your search, HypeArt compiled a list of current and upcoming exhibitions to keep your eyes on. Check out the list below and let us know your thoughts.
Adam Parker Smith, Crush
To kickstart the list, imagine classical Greco-Roman sculpture that has been pressed together in a trash compactor — that is what you can expect in Adam Parker Smith's latest exhibition. Housed at The Hole's new Los Angeles gallery, Crush features an array of Carrara marble sculptures that are radically reimagined to defamiliarize the eye to these canonical references, such as Apollo of Belvedere and Bernini's David.
A noticeable departure from the American artist's past work, which emphasizes vibrant colors and pop cultural references, Smith was inspired by his time living in Rome and worked with master carvers, a seven-axis reductive robot, and the digital research teams at museums like the Uffizi to create each of the sculptures in the exhibition.
Crush is on view at The Hole LA until August 20.
The Hole LA
844 N La Brea Ave,
Los Angeles, CA 90038
Human Brains: It Begins With an Idea
Going from marble to the inner workings of the brain, Fondazione Prada invites visitors to ponder on the following question: "how do we make an exhibition about ideas and knowledge?"
As part of the ongoing Venice Biennale, curators Udo Kittelmann and Taryn Simon present a series of work that spans neurobiology, philosophy, psychology, neurochemistry, linguistics, artificial intelligence and robotics. At the core of the exhibition lies an extensive history of neuroscientific knowledge, consciousness and the mysteries that still underline our understanding of our own functioning.
Human Brains: It Begins With an Idea is on view at Fondazione Prada Venice until November 27.
Fondazione Prada
Calle Corner, 2215,
30135 Venezia VE, Italy
Zineb Sedira, Dreams Have No Titles
On the topic of Venice, France's pavilion has shown to be one to watch this year as Zineb Sedira was chosen to lead the show.
It's a historic moment for several reasons — the first being that very few women have been represented by the French pavillion since the Biennale's founding in 1912. Also notable is Sedira's Algerian descent — "a great opportunity," the artist told The New York Times, "to pave the way for other artists like me."
Born to working-class immigrants in the Parisian suburb of Gennevilliers, Sedira was no stranger to racism. "I am a product of colonialism, because I was born in France but should have been born in Algeria," she told The Times.
Having moved to London to study at Central Saint Martins and the Slade School of Fine Art, Sedira showed an affinity for film and photography — inspired by the many art-house and anti-colonialist films she watched with her dad as a child.
For the French pavilion, Sedira presents Dreams Have No Titles — a 25-minute kaleidoscopic film within a film that reflects a moving reflection of her own life. The artist showcases an immersive experiences filled with archival militant film scenes from the '60s and '70s, behind-the-scenes shots of her artistic process, along with a physical recreation of her London home.
Dreams Have No Titles is on view in Venice until November 27.
Giardini della Biennale
C. Giazzo,
30122 Venezia VE, Italy
Yayoi Kusama, Dancing Lights That Flew Up To The Universe
There have been a lot of immersive exhibitions as of late — from Frida Kahlo and the Sistine Chapel to Vincent Van Gogh. Whether you consider projections on a wall as captivating is one thing, but it's hard to debate the quality and impact of Yayoi Kusama.
This summer, Montreal's PHI Foundation will celebrate its 15th anniversary by showcasing an extensive collection of work from the acclaimed Japanese artist. As her first solo exhibition in Quebec, Kusama will present three of her signature bronze pumpkin sculptures, a grid of her My Eternal Soul paintings, two infinity rooms and more.
Additionally, visitors can access a reading room to witness a thorough timeline of the artist's career. Yayoi Kusama: Dancing Lights That Flew Up To The Universe will go on view at the PHI Foundation from July 6 to January 15, 2023.
PHI Foundation
451 Rue Saint-Jean,
Montréal, QC H2Y 2R5, Canada
Matisse in the 1930's
Further south, the Philadelphia Museum of Art will be the first stop in a major retrospective on master artist, Henri Matisse.
The forthcoming exhibition will focus primarily on the French artist's work from the 1930s with over 100 drawings, paintings, prints and sculptures from public and private collections from the U.S. and Europe.
Presented in conjunction with the Musée de l'Orangerie in Paris and the Musée Matisse Nice, "Matisse in the 1930s" will first go on view at the Philadelphia Museum of Art from October 19 to January 29, 2023. The exhibition will then tour to the Musée de l'Orangerie from February 27 to May 29, 2023 and make a final stop at the Musée Matisse Nice from June 23 to September 24, 2023.
Philadelphia Museum of Art
2600 Benjamin Franklin Pkwy,
Philadelphia, PA 19130
Nadia Lee Cohen, HELLO, My Name Is
Nadia Lee Cohen may be the youngest artist on this list, but her work is no less monumental. Having shown a meteoric rise over the past 10 years, the British photographer and filmmaker has already directed videos for Kali Uchis and A$AP Rocky, along with working on global campaigns for Gucci, Balenciaga and Maison Margiela.
Housed at Jeffrey Deitch Los Angeles, Cohen presents HELLO, My Name Is — a thematic showcase of work from both her sold-out monographs Women and recent book of the same name.
Each of Cohen's fictional characters are photographed alongside a series of objects that give the viewer an idea into their world. As descriptive as her images and accompanying films are, Cohen prompts the viewer to ultimately connect the dots and imagine the very real characters that we ourselves encounter on a daily basis.
HELLO, My Name Is is on view in Los Angeles until August 13.
Jeffrey Deitch
925 N Orange Dr,
Los Angeles, CA 90038
Nicolas Party, Red Forest
Nicolas Party is another figure who has steadily cemented his name within the contemporary art scene. Well-known for his pop-surrealist aesthetic that draws on the throes of art history, Party will present a new solo exhibition at Hauser & Wirth Hong Kong, titled Red Forest.
As his first solo show in Hong Kong, the Swiss artist ruminates on five elements of the material world as his thematic base: wood, fire, earth, metal and water. Mapped across the gallery are 13 new pastel landscape paintings and portraits which seek to spotlight humankind's complex and inseparable ties to nature.
Red Forest opened yesterday and will be on view until September 24.
Hauser & Wirth
16-15/F,
80 Queen's Road Central,
Central, Hong Kong
Hong Kong: Here and Beyond
The newly opened M+ museum is another institution to keep on your radar. As the title implies, Hong Kong: Here and Beyond chronicles the city transformation from the post-colonial period to the present day.
Home to myriad artists, architects, designers and filmmakers, the exhibition is divided into four chapters — Here, Identities, Places and Beyond. Each segment seeks to showcase a visual panorama of the city and the multiple perspectives that call Hong Kong home.
Hong Kong: Here and Beyond is on view until November 26.
M+
38 Museum Drive,
West Kowloon Cultural District,
Hong Kong
Simone Leigh, Sovereignty
Arguably the highlight of this year's Venice Biennale is Simone Leigh's exhibition at the U.S. pavilion. As the first Black woman to be commissioned the honor, Leigh presents an emphatic exhibition that will captivate audiences as soon as they glimpse the entrance.
Born in Chicago and now based in New York City, Leigh's work accentuates the construction of Black femme subjectivity, particularly the female body in relation to a wealth of materials and processes — from the artistic traditions of Africa and the African diaspora, ritual performances of the Baga peoples in Guinea, early Black American material culture from South Carolina, to the historic 1931 Paris Colonial Exposition.
Sovereignty comprises of a series of sculptures that seeks to "interrogate the extraction of images and objects from across the African diaspora and their circulation as souvenirs in service of colonial narratives."
The exhibition will run in Venice until November 27.
Giardini della Biennale
C. Giazzo,
30122 Venezia VE, Italy
Fugues in Color
No art list is complete without visiting Paris. You'll be hard pressed to find a corner in the city that isn't featuring a prominent or emerging artist.
However, for those looking to escape from the hustle-and-bustle of the city, take the metro just outside Paris through a quaint park to find the monumental Fondation Louis Vuitton.
The Frank Gehry-designed space is an architectural treasure that recently hosted a melancholic and moving tribute to the late-Virgil Abloh. To follow, the museum is currently showcasing a vibrant group exhibition titled Fugues in Color.
The show brings together a cast of celebrated artists, including Steven Parrino, Niele Toroni, Katharina Grosse, Megan Rooney and the late-Sam Gilliam.
Centered around the theme of freedom, the museum presents the various ways each artist worked to liberate paint from the confines and scope of the canvas.
Fugues in Color is on view until August 29.
Fondation Louis Vuitton
8 Av. du Mahatma Gandhi,
75016 Paris