Sam Kerr Becomes First Woman to Grace 'FIFA' Global Cover
HYPEBEAST spoke with the Australian footballer on her groundbreaking achievement.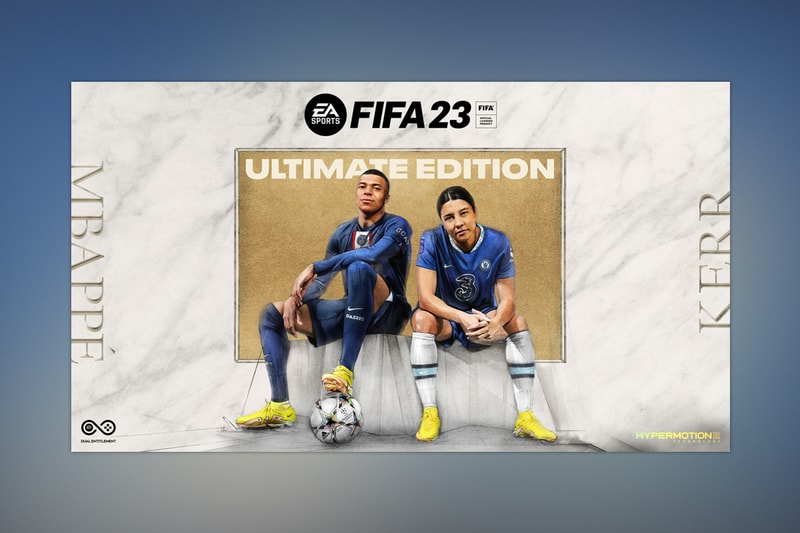 It's difficult for anyone to be the 'first' in anything. It's even rarer for one to earn that achievement on a global scale, especially for a brand with a storied 30-year history, like the FIFA franchise. That's exactly what Australian National Team and Chelsea F.C. footballer Sam Kerr did as she became the first woman to grace the global cover for EA Sports upcoming FIFA 23.
"I don't think I've wrapped my head around it," Kerr told HYPEBEAST. "I feel like everyone plays FIFA or is interested in it. So to be the first female on the global cover is incredible and to be next to Kylian [Mbappé] is amazing."
Like many of us, Kerr grew up during the prolific era dominated by Wayne Rooney and Ronaldinho. Speaking on that past decade, she recalls loving that "whole United-Sir Alex Ferguson era. I love Ronaldo still and the way he plays so consistent — absolute goal machine. That's something that I try to pride myself on is the consistency in my game and he's always someone I've looked up to model my game after."
"Representation definitely matters."
Since then, Kerr has amassed three consecutive FA Women's Super League titles, along with two top scorer honors thus far, cementing herself as a Blues legend. But more than that, Kerr is spearheading change at an interesting moment in time, when women's sports is finally getting the recognition and access it rightfully deserves.
The cover is certainly a great step in the right direction, but the "woman's game needs to keep evolving," she reiterated. "I think the most important thing is the investment into women's football as a whole — infrastructure, equal pay, all of those things that help the players produce better quality and games for people to watch — all these different types of athletes that people can relate to or fall in love with. Growing up, I only looked up to men's footballers. Kids these days are able to look up to young, amazing, strong female athletes and it's really cool to be a part of."
"I think representation definitely matters. The better the product, the more people want to promote and see it. More exposure to the game which leads to more investment — on-and-off the pitch. You've seen over the last few years, the snowball effect of people getting behind the women's game and how much it's changed and grown, along with the value now that it can give other people," Kerr added.
As for the video game itself, HYPEBEAST was invited alongside a select group of media to test-out the upcoming title at EA's Vancouver office. To say the game is incredible would be an understatement, because every iteration is basically supposed to outdo past games, but 23 feels different, maybe it has to do with it being the last in the 'FIFA' name. Nonetheless, there are loads of new features and improvements to provide endless hours of playback.
The newly minted Hypermotion2 offers over 6,000 true-to-life animations taken from millions of frames of advanced match capture to make this FIFA the most realistic in history. This technology was implemented using a sophisticated machine learning system and advanced 11v11 motion capture organized by Xsens in Zaragoza, Spain.
In terms of actual play, this translates through a new risk versus reward shooting mechanic. Starting with set pieces, players can now see a preview trajectory line for the first few feet, along with having the option to position yourself or a computer to lay down behind the line. More importantly, a new power shot system will force users to aim well and if executed properly, will translate into beautiful downward volleys, swerving shots, diving headers and backspins that will leave you feeling more than satisfied.
Additional details include AcceleRATE, which provides more variety and depth for player agility. The system operates on three levels: explosive, lengthy and controlled. Explosive players dart off right away, while lengthy athletes pick up speed as they go and controlled is somewhere in between.
For the first time ever, you will be able to play as women's club teams in-game, starting with the Barclays FA Women's Super League and Division 1 Arkema at launch. Plus, enjoy dedicated HyperMotion2 capture that powers the women's game to make female players move authentically in FIFA 23.
Last but not least, the much rumored cross-play system is here, starting with 1v1 modes — enhancing social play on current-gen systems, as well as Xbox One and PS4.
All of these updates are really just scratching the surface of what this game will offer, so keep your eyes peeled in the coming weeks for the full breakdown. As with past titles, FIFA 23 will release globally in September 2023.
More on gaming, Sony officially acquires Bungie.