Best New Tracks: Omah Lay, Beyoncé, Calvin Harris and More
Dive into the weekend with these 10 music projects.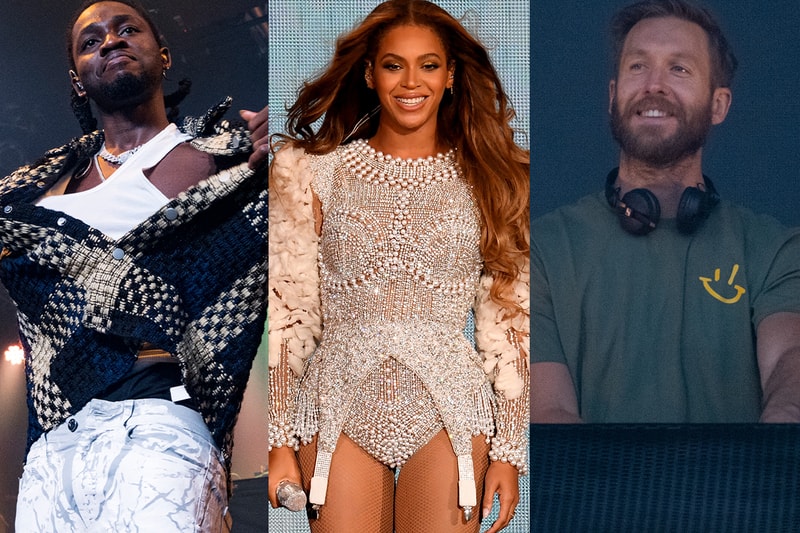 As the week in music comes to a close, HYPEBEAST has rounded up the best projects for the latest installment of Best New Tracks.
This week's list is led by Omah Lay's visual for "Take It On," which released as part of Sprite's new global music program Sprite Limelight. Meanwhile, Beyoncé and her new album RENAISSANCE and Calvin Harris with Tinashe, Normani and Offset with the single "New To You" also join this selection, along with offerings from Alex G, Maggie Rogers, Sampa the Great, ROSALÍA, NAV with Travis Scott and Lil Baby, Rod Wave and Gorillaz with Thundercat.
Omah Lay – "Take It On"
Nigerian singer-songwriter and social sensation Omah Lay continues Sprite Limelight with his new video for "Take It On," following the global music program's launch in June with Coi Leray's "The One." Sprite Limelight connects music lovers from different cultures and influences, debuting a new method of collaborative music music that celebrates the unique creativity of the individual. The global music program also enlists GRAMMY-winning producer and artist James Blake, who created the central hook that each artist in the program used to create their original tracks.
Sprite Limelight content is available now on Sprite's official YouTube channel and Spotify, with all the songs set to debut this summer.
Beyoncé - RENAISSANCE
Beyoncé returns with her first solo studio album since 2016, RENAISSANCE. The 16-track record features guest appearances from Beam on "ENERGY" and Grace Jones and Tems on "MOVE" along with contributions from the likes of Mike Dean, 070 Shake, The-Dream, Raphael Saadiq, Pharrell Williams and Chad Hugo, Sabrina Claudio, Syd, Lucky Daye, Honey Dijon, Drake, JAY-Z and more.
Listen: Spotify | Apple Music
Calvin Harris x Tinashe x Normani x Offset – "New To You"
Calvin Harris joins forces with Tinashe, Normani and Offset for his new single "New To You." The cut is set to appear on his upcoming album Funk Wav Bounces Vol. 2, which drops August 5 and is also set to feature Justin Timberlake, Halsey, Pharrell, Dua Lipa, Young Thug, 21 Savage Stefflon Don, Chlöe, Charlie Puth, Pusha T, Shenseea, Lil Durk, 6LACK, Coi Leray, Busta Rhymes, Donae'O, Latto, Swae Lee, Jorja Smith and Snoop Dogg.
Listen: Spotify | Apple Music
NAV x Travis Scott x Lil Baby – "Never Sleep"
NAV reunites with with Travis Scott and Lil Baby for "Never Sleep," produced by Tay Keith, Grayson and Mike Dean. The cut serves as the lead single off NAV's upcoming album Demons Protected By Angels, which will mark his first release since his Emergency Tsunami mixtape in November 2020 and his first full-length studio album Good Intentions, which dropped in May of the same year.
Listen: Spotify | Apple Music
Alex G – "Cross the Sea"
Alex G preps for his new album God Save the Animals with the brand new single "Cross the Sea," and arrives with an accompanying music video by artist Elliot Bech. Following the release of his album on September 23, fans can catch the artist live in the UK and Europe in Spring 2023.
Listen: Spotify | Apple Music
ROSALÍA – "DESPECHÀ"
After popular demand, ROSALÍA's new track "DESPECHÀ" is here. Her first new music since the release of her latest album MOTOMAMI, the GRAMMY winner shared, "Hay muchas formas de estar Despechá, en este tema es desde la locura o el descoco, andando sin reservas ni arrepentimiento. Este es el lugar desde el que hago música, desde donde lo hacía cuando empecé y en el que seguiré hasta que Dios diga. Doy las gracias por haber podido viajar en estos últimos años y haber aprendido de músicas de otros lugares entre ellos RD, donde artistas como Fefita La Grande, Juan Luis Guerra o Omega me han inspirado y que sin ellos esta canción no existiría." ("There are many ways to be Despechá, in this theme it is from the freeness or the craziness, moving without reservations or regrets. This is the place from where I make music, from where I did it when I first started and where I will continue to until God says so. I'm grateful for having been able to travel in recent years and have learned from music from other places including the DR, where artists like Fefita La Grande, Juan Luis Guerra and Omega have inspired me and without them this song would not exist.")
Listen: Spotify | Apple Music
Rod Wave – "Stone Rolling"
Rod Wave announces the release date of his new album Beautiful Mind, set to drop August 12, with the brand new single "Stone Rolling." The honest and heartwarming cut hears him reflect on his rise to fame and arrives with a music video that shows the artist travelling to Mexico and several cities in the US, spending time with his family, performing shows and meeting fans.
Listen: Spotify | Apple Music
Sampa The Great – "Bona"
With her album As Above, So Below scheduled for a September 9 release, Sampa The Great shares her latest single "Bona." She continues to take influence from the music she heard as a child while growing up in Bostwana and is produced by Mag44, with Sampa co-producing the cut as her first official producer credit. "I haven't yet shown the influence Botswana has had on me musically; this is the style, language and swag of Batswana youth. "Bona" is a chance for me to shine light on other elements of music that I was influenced by when growing up, outside of Zambian music," she said in a statement. "I want to bring a Southern African anthem to the mix and DJ desks, and show that not all music coming out of Africa is Afrobeats."
Listen: Spotify | Apple Music
Gorillaz x Thundercat – "Cracker Island"
Gorillaz deliver a music video for their latest single "Cracker Island" featuring bassist virtuoso Thundercat, directed by artist and Gorillaz co-creator Jamie Hewlett and Fx Goby. "Think of it as the final scene in the movie, the bit after the grand finale when the hero (me) is about to stride into the sunset, credits rolling," Murdoc shared in a statement. "That's right, we're starting at the end. Why? COS I WORK IN MYSTERIOUS WAYS."
Watch: YouTube
Maggie Rogers - Surrender
Maggie Rogers returns with her first album in three years, Surrender. Speaking to Apple Music's Zane Lowe, she opened up about the origins of the album. "I mean, generally having a very messy couple years, it leads to a great record. I was living alone in Maine for a long time and really thinking about, just in the pandemic, what I wanted from music and what I wanted to create," she said. "And I started this record there and was really drawn to big drums and distorted guitar, because I missed music that made me feel something physically. I missed the physicality of being at a festival, specifically like British and European festivals. There's something about … It's some of the best experiences I've had as a fan. Something about like it being cold and like beer drunk. "
Listen: Spotify | Apple Music