Burger King Austria's "Pride Whopper" Is Not Sitting Well With Fast Food Goers
The burger features a same-side bun.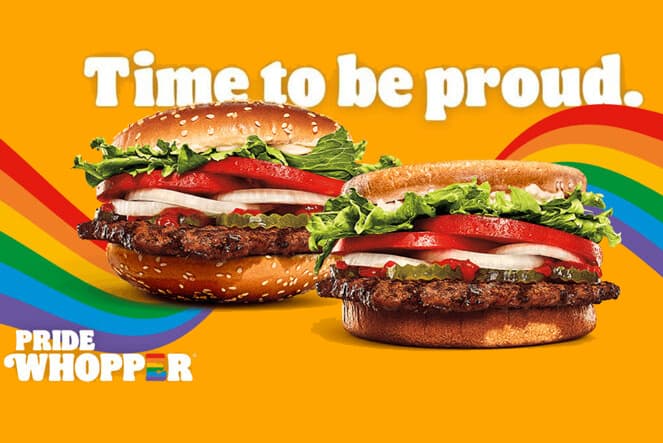 Like Walmart's decision to make ice cream for Juneteenth has shown us, not all holidays/celebrations require a marketing push.
While Burger King Austria might have had good intentions in celebrating Pride Month, with its Pride Whopper that features a same-side bun for "equal love and equal rights," the internet is not buying it. Unlike the Burger King U.S. market's Pride Month rainbow food wrapping used, this whole process in Austria will see the burger chain manually switch out each bun for matching two tops or bottoms.
As playful as the gesture is, the public is denouncing the campaign, declaring that topics like political views, religion, and sexual preference should be left out of fast food advertising. In its defense, local Austrians are commenting over Twitter saying that only half the campaign is really featured in the Pride Whopper tweet, as it is "explained better in the posters and ads" over in Austria.
Burger King has introduced a new "Pride Whopper" where you can order it with two tops or two bottoms of buns.

What a strange advertisement. I'll take my Whopper with a regular bun because ordering fast food doesn't need to be a political statement for me. pic.twitter.com/eE7fiQCTv5

— Brigitte Gabriel (@ACTBrigitte) June 5, 2022
It's explained better in the posters and ads over here in Austria. Same love, same rights, love in all combinations and constellations. Everything and everyone accepted. ?️‍? #pridewhopper ??

— Sheri ❤️ (@purposefulhabit) June 3, 2022
Another example of woke virtue-signaling that fails to impress either side.#pridewhopperhttps://t.co/iFG8XWu5R7

— RedBalloon | Free to Work (@RedBalloonWork) June 7, 2022
Why is the #PrideWhopper binary with only two bun options @BurgerKingUS?

What if I wanted a bagel on the top and a rice cake on the bottom you fucking bigots?

— @LilAbner (@EADJACK) June 6, 2022
In other food news, Jack Harlow is getting his own KFC meal.