Best New Tracks: Drake, Logic, Steve Lacy and More
Enjoy the weekend with these 10 music projects.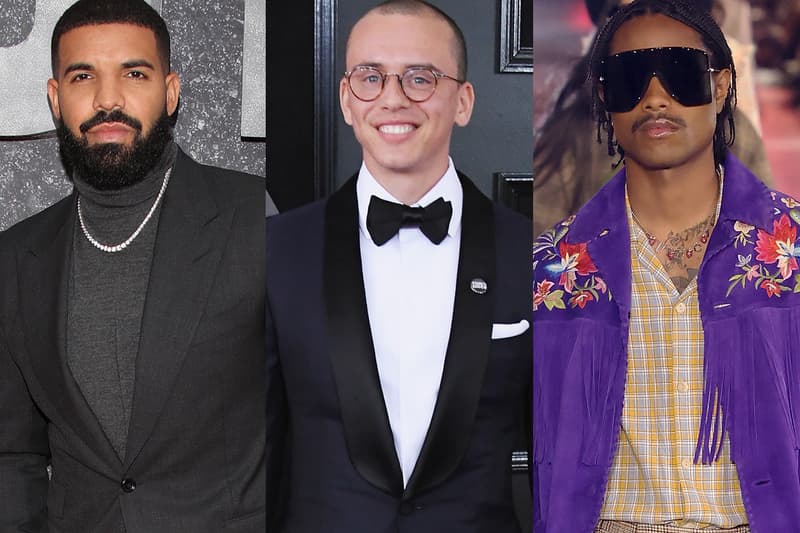 As the week in music comes to a close, HYPEBEAST has rounded up the best projects for the latest installment of Best New Tracks.
This week's list is led by Drake, Logic and Steve Lacy, who released the albums HONESTLY, NEVERMIND and Vinyl Days and the single "Mercury," respectively. Also joining this week's selections are projects from Flying Lotus and Devin Tracy, Smiley, Rico Nasty, Cautious Clay, Xavier Omär, 070 Shake and Tay Iwar.
Drake - HONESTLY, NEVERMIND
Drake surprises fans with the sudden release of his seventh studio album, HONESTLY, NEVERMIND. The 14-track project features a single guest appearance from 21 Savage on the closing cut "Jimmy Cook's" and arrives nine months after Certified Lover Boy — which featured a Damien Hirst-designed album cover portraying 12 pregnant women emojis.
Listen: Spotify | Apple Music
Logic - Vinyl Days
Logic returns with his first post-retirement studio album, Vinyl Days. Produced by the likes of 6ix, DJ Premier and Logic himself, the lengthy 30-track record features guest appearances from Action Bronson, Langston Bristol, Curren$y, Russ, Wiz Khalifa, Doc D, iamJMARS, Big Lenbo, C Dot Castro, Royce Da 5'9", RZA, Nezi Momodu, Like, Blu, Exile and The Game.
Listen: Spotify | Apple Music
Steve Lacy – "Mercury"
Steve Lacy announces his second studio album Gemini Rights with the release of the debut single "Mercury." The track fuses his influences of '60s Brazilian bossa nova and '70s funk with his own brand of pop and R&B. Gemini Rights will mark his first full-length effort since his GRAMMY-nominated 2019 debut album Apollo XXI.
Listen: Spotify | Apple Music
Flying Lotus x Devin Tracy – "The Room/You Don't Know"
Flying Lotus joins forces with Devin Tracy for the double single "The Room/You Don't Know." The emerging Los Angeles-based soul vocalist was discovered by FlyLo during a session and "the kinship was immediate,"  allowing the pair to churn out  two cuts — one of which is a rework of a track from FlyLo's YASUKE soundtrack.
Listen: Spotify | Apple Music
Rico Nasty – "Black Punk"
Rico Nasty preps for the release of her upcoming mixtape, Las Ruinas, with its third single "Black Punk." Produced by Ben10k, Danes Blood and Amon, the cut explores how there has been fear of successful young Black people and is set to join her setlist for her upcoming European dates.
Listen: Spotify | Apple Music
Smiley – "Rush Hour Freestyle"
OVO Sound's Smiley drops his latest cut "Rush Hour Freestyle," a menacing cut highlighting the bravado and swag of the rising Toronto rapper. "It's a whole vibe!," he said the Bavaro Beatz-produced track. "I was in Miami feeling great and going through beats when I came upon Bavaro's beat pack, and right away I started to punch in." Soon after hitting record, Smiley realized what he had on his hands: "I knew it would be the next single from everyone's reaction."
Listen: Spotify | Apple Music
Cautious Clay – "Puffer"
Cautious Clay follows up his debut album Deadpan Love with "Puffer," which he calls a "deeply personal" track. "I found a metaphor that feels akin to our modern world: people often behave like pufferfish, in order to appear less vulnerable. In doing so this of course often has the opposite effect, in becoming more visible. And along the way we might lose track of our authenticity, by becoming larger than life," he said in a statement.
Listen: Spotify | Apple Music
070 Shake – "Blue Velvet"
Following the release of her sophomore studio effort You Can't Kill Me, 070 Shake delivers an accompanying music video for her cut "Blue Velvet." Speaking on the album, she shared, "We're so attached to this physical world, it makes us more susceptible to being hurt. You can't kill me because I'm more than my body." Further detailing the album's genesis, she says "With each album, it's like you're being revealed more and more. You Can't Kill Me shows how dedicated I am to being free within music… Feeling is the biggest ingredient of my music."
Watch: YouTube
Xavier Omär – "Tarantino"
Xavier Omär shares his latest cut "Tarantino," produced by frequent collaborator Sango. The two-and-a-half-minute cut marks his second solo release of 2022, following May's "Feelings 4 You."
Listen: Spotify | Apple Music
Tay Iwar – "Bad4U"
GRAMMY nominee Tay Iwar finally shares his newest single "Bad4U," which he initially teased on TikTok during his birthday week and is his first release of 2022. "Love is a vice, an addiction or a virtue," he said, stating that the inspiration for the track was "the chaos that romantic union brings".
Listen: Spotify | Apple Music