Singer Cat Burns Turns Her Commute Into a Ride of Inspiration
With the new evian x MATE e-bike.
Ahead of Earth Day 2022, evian continues its sustainability journey by teaming up with MATE on a limited-edition e-bike. Aiming to encourage more sustainable ways to travel, the brands hope this partnership will inspire younger generations to swap gas guzzling car journeys for the healthier and more sustainable option of riding a bike.
evian and MATE call on free-spirited singer and songwriter Cat Burns to test out the bike in light of its forthcoming launch. Aligned in their efforts to act more sustainably, Burns has been an advocate of caring for the environment throughout her musical journey. Her unconventional edge in the scene — from conveying her LGBTQ+ story in her lyrics to releasing sustainable merchandise — is what makes her stand out from the crowd, and she isn't stopping there.
"Sustainability is about making small lifestyle changes that lead to bigger impact and reducing my environmental impact when traveling is something I'm conscious of."
Just like evian's push for carbon neutrality by 2025, Burns wants to continue making changes to her life that also reduce her carbon footprint and hopes others will follow suit. As she hops on evian's signature pink bike specially designed with a bottle holder, she explores a whole new way to travel across the city.
HYPEBEAST spoke to the artist to discuss what she loved most about her morning ride and why she is not looking back at stuffy commutes any longer.
HYPEBEAST: What does sustainability mean to you?
Cat Burns: I try to be aware of the brands I support and their attitude towards sustainability. I'm also conscious of how I commute to try and be as sustainable as possible when traveling.
You've incorporated sustainability into your music journey. How did you manage to bring it into an impenetrable industry?
Although the music industry isn't one that is known for its sustainability efforts — I've looked to bring my passion for supporting the environment into my wider role as a performer — especially in my fashion choices. I'm really into vintage pieces, recycling and reusing items, meaning fewer resources are being used to make brand new clothing. I'm aware of the impact fast fashion has and would encourage everyone to purchase less of it, and to look into their wardrobe to see what they can reuse or alter to give a new life to.
1 of 2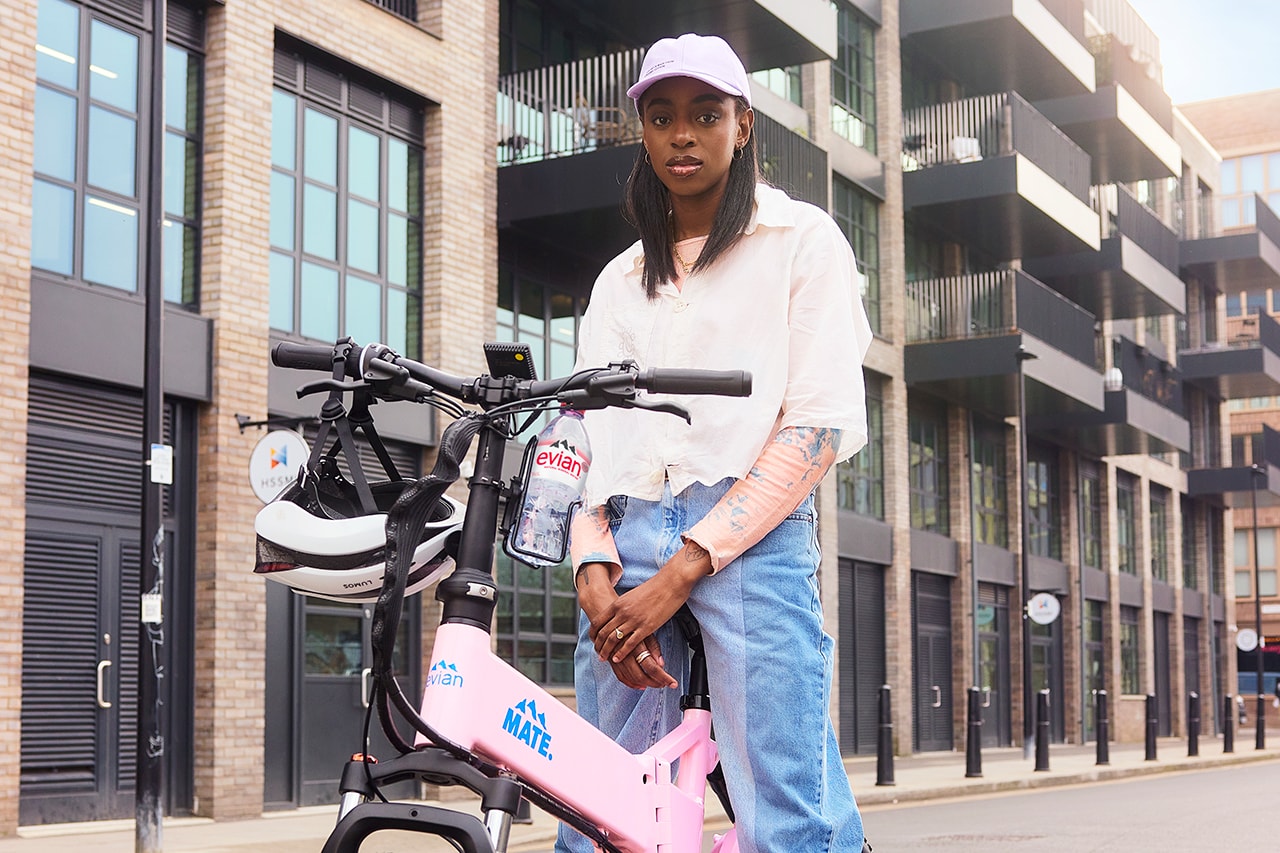 2 of 2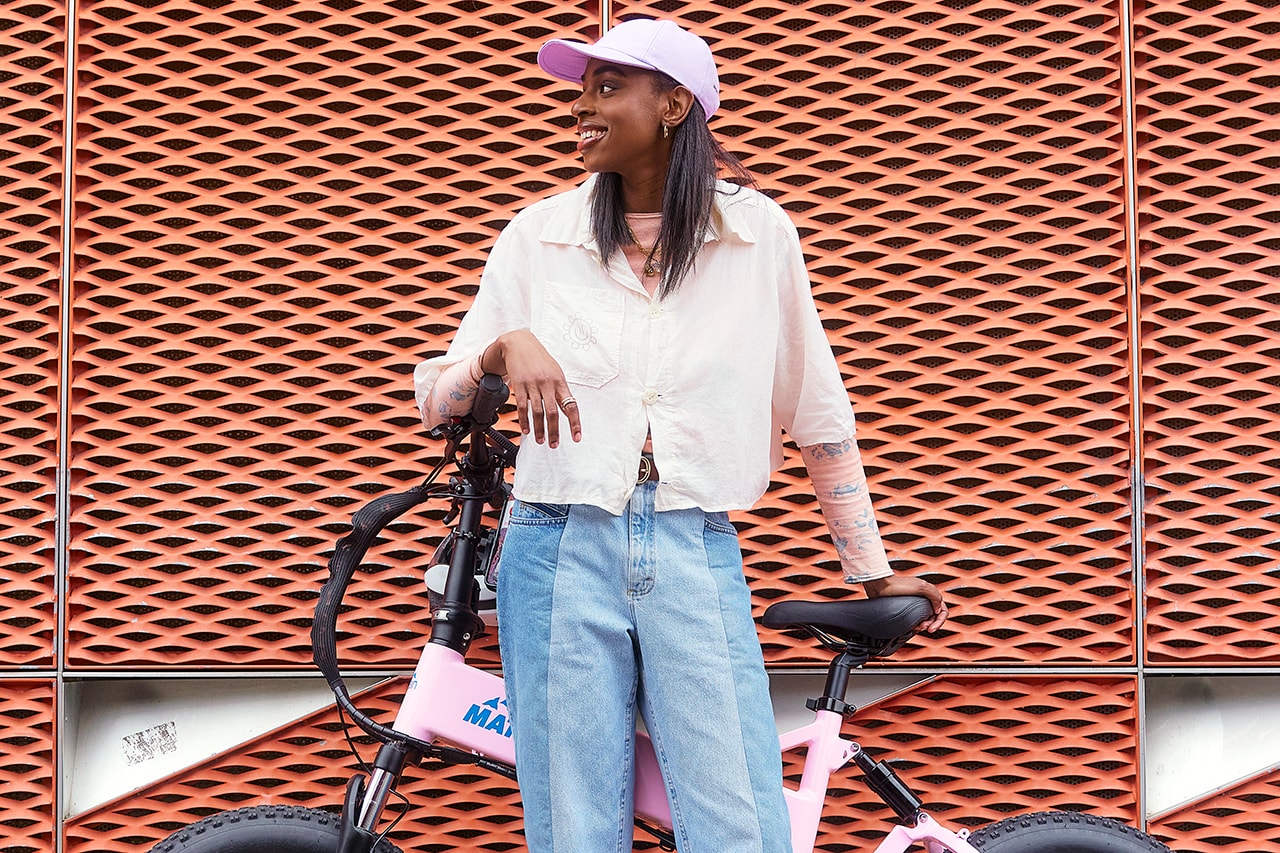 Why was this campaign important for you?
It's great to see evian and MATE working to promote more sustainable lifestyles — something that I'm passionate about and always consider in my everyday routine from simple changes in your day-to-day, right through to educating others, and especially my fans. For me, sustainability is about making small lifestyle changes that lead to bigger impact and reducing my environmental impact when traveling is something I'm really conscious of, which is why evian and MATE's partnership really resonated with me. They promote smaller changes to lead a more sustainable lifestyle and the use of recycled materials in our daily lives.
What values does evian hold that resonate with you?
As a long-term fan of evian, it's great that the brand is encouraging more sustainable lifestyles through this partnership. For me, being aware of ways to travel with reduced environmental impact is a great way to make a difference. I believe an eco-conscious daily routine goes hand in hand with looking after our wellbeing. Staying hydrated and keeping active mentally and physically are especially important for me. I love that evian has committed to become a circular brand by 2025 — it's inspiring to see the power of sustainability and I can't wait to see this journey progress.
What did you like most about the evian x MATE e-bike you rode?
The bright pop of color definitely complimented my vibe for sure! It's so cool how the e-bike is completely different to any bike I've ridden before. A true head turner! I got so many comments on the streets about how cool it looked and it was so much fun to ride! It doesn't require much pedal power, so it makes commuting an effortless dream.
1 of 3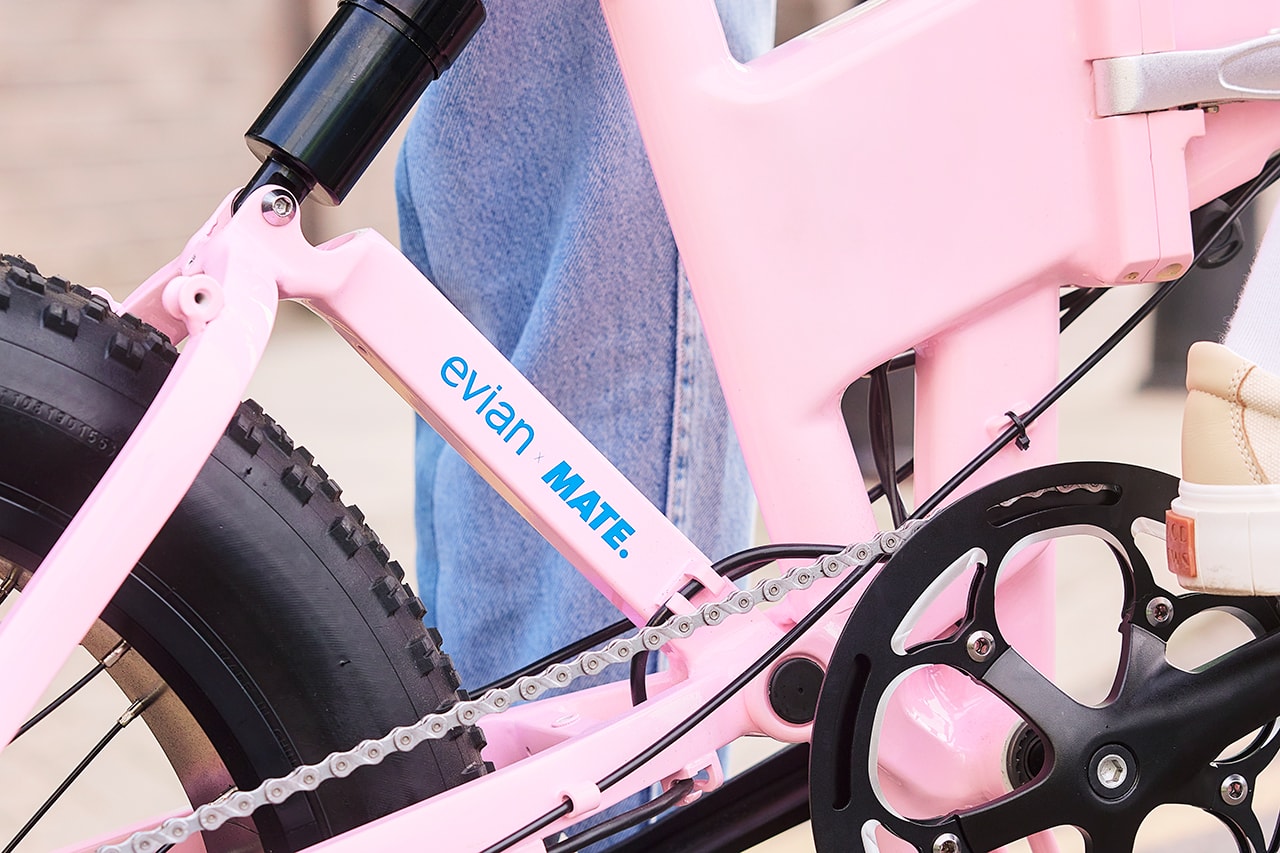 2 of 3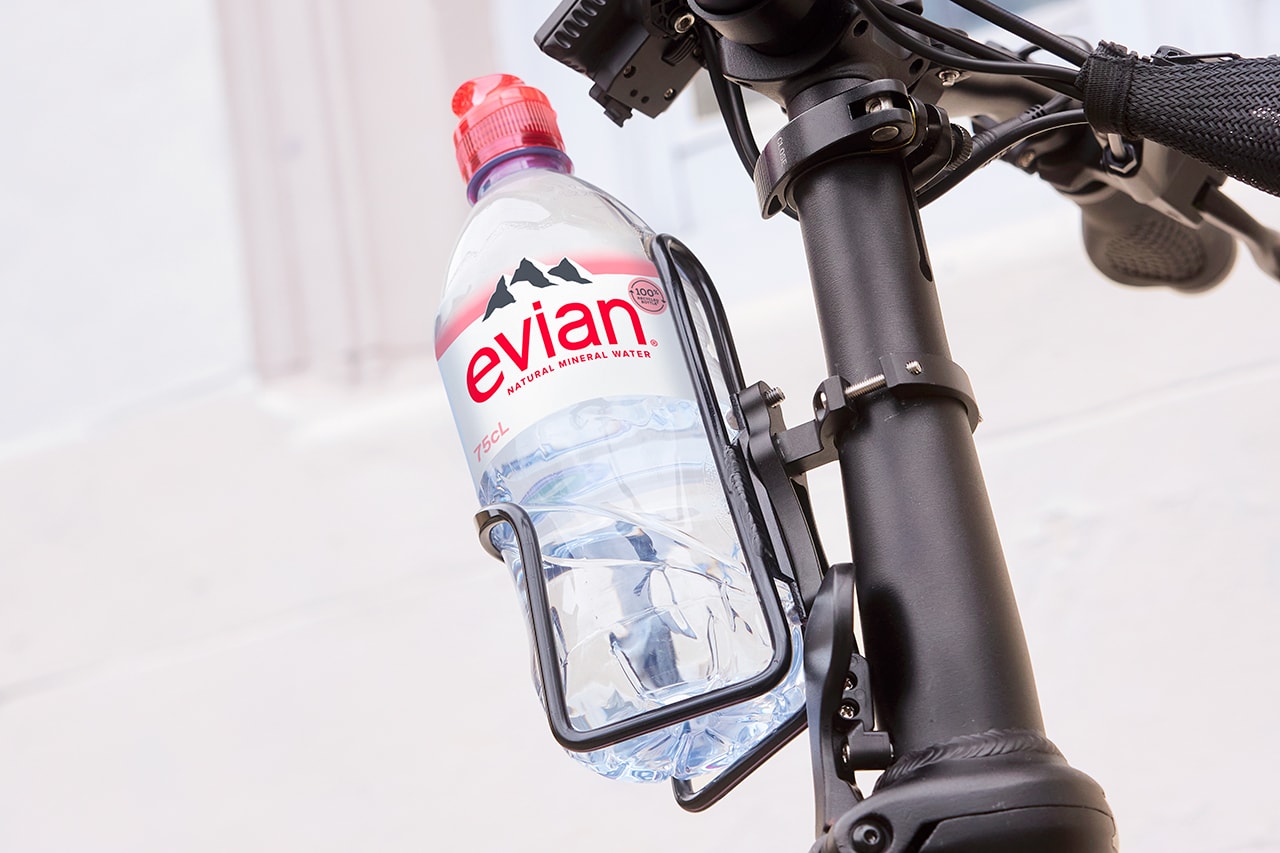 3 of 3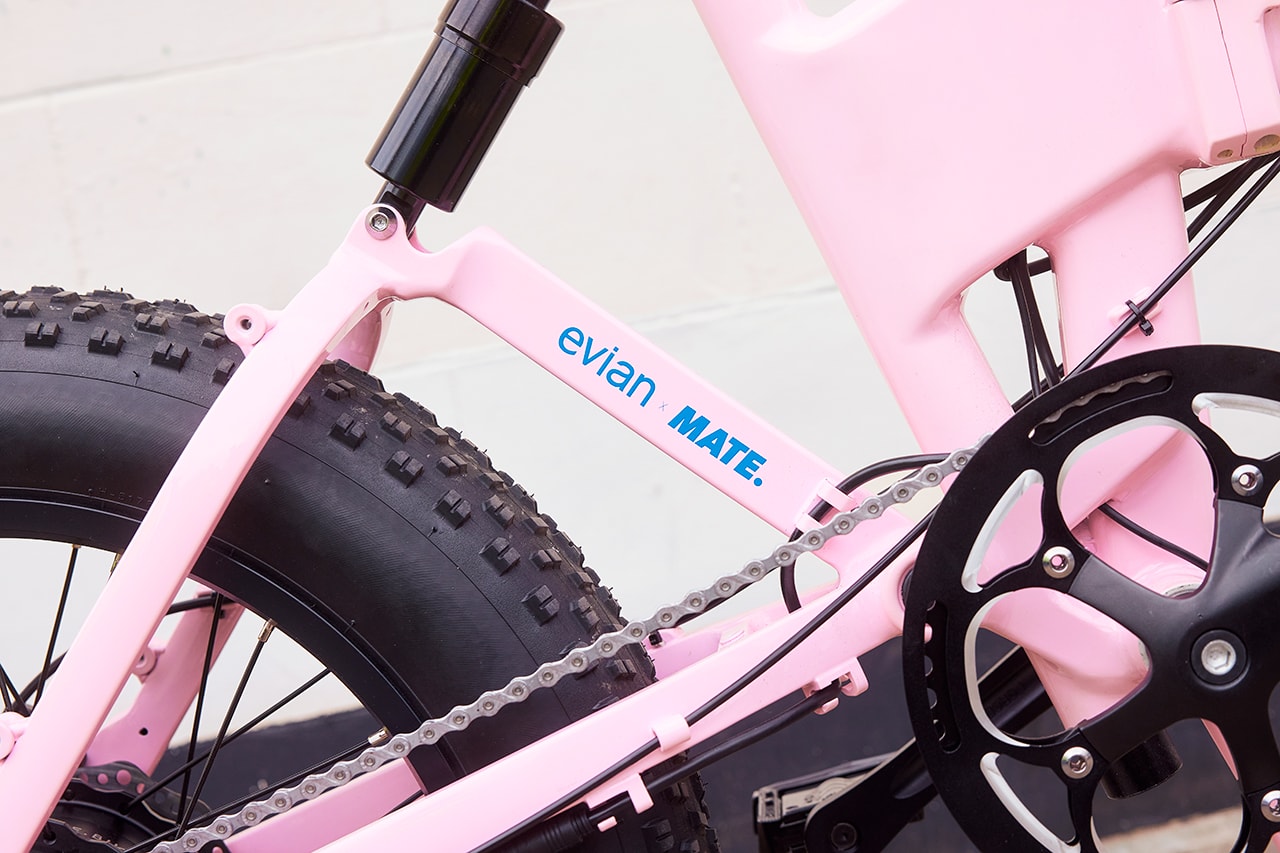 Are you more of a city or nature person?
As a born and raised South Londoner hailing from Streatham, the city will always be home for me — I crave the buzz of the city and everything is on your doorstep. I do like to get out of the city sometimes though, just to switch off and embrace nature to reset. In terms of my music, the hustle and bustle of the city provides me with lots of material. Having said that, the calm of the countryside really allows me to collect my thoughts and be at one with nature.
What is your favorite thing about cycling?
Riding a bike, for me, is a great way to slow down the hectic pace of city life, while also reducing my environmental impact, and is an affordable way to get around! I love having the chance to explore different areas of my own city, all at my own pace and direction – no stuffy commutes for me! Once you get into the flow, you feel like you are getting a bit of a workout and getting somewhere faster than walking. What's not to love!
Who's on your cycling playlist?
For the more chilled days and when I want to relax as I bike around — Tracey Chapman and Tori Kelly are my go to's. When I want a more upbeat anthem, it obviously has to be the goddard. remix of my latest single "Go" — really gets you in the ultimate feel-good mood.
Get a first-hand look at Cat Burn's experience on the evian x MATE e-bike in the video above. Visit @evianwater to be in with a chance to win the limited-edition collaborative bike on April 22.