Comfy Suits, Pearl Detailing and Luxe Street Style Were on Trend for the 2022 GRAMMYs Red Carpet
Stars including Justin Bieber, Lil Nas X and Jared Leto took part in the style action.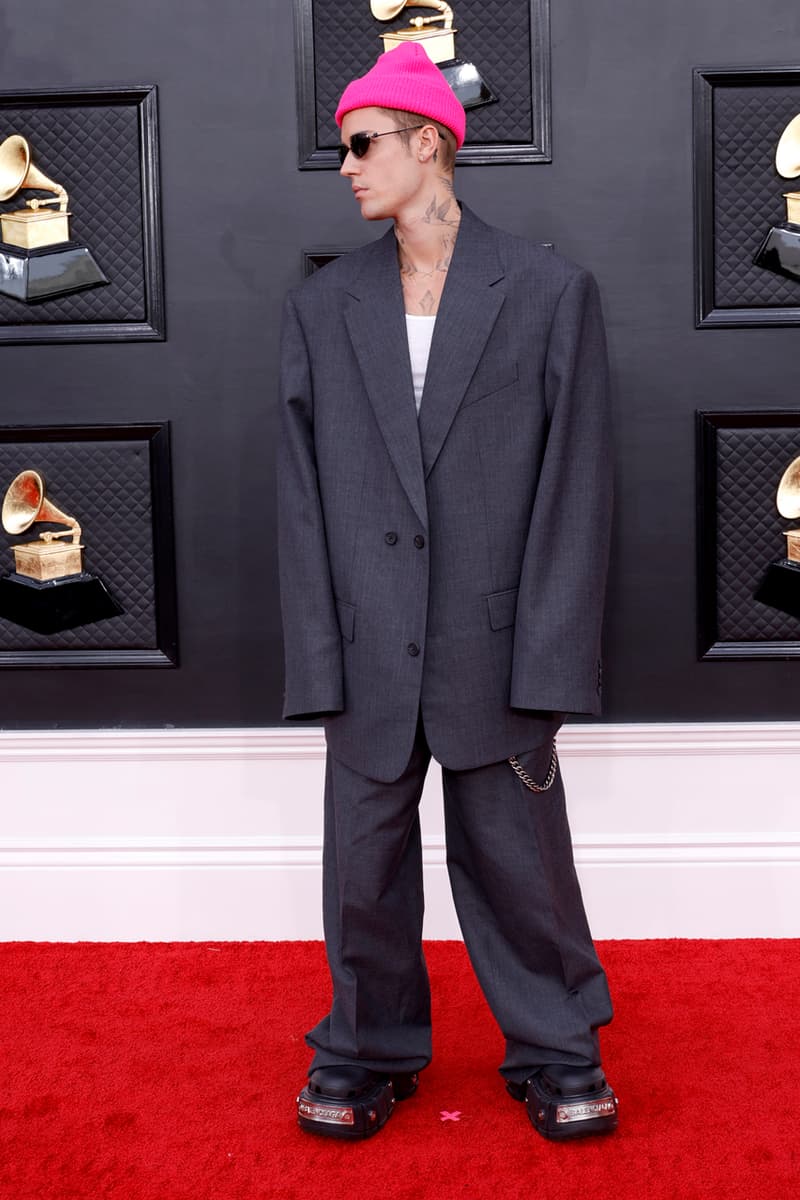 The 64th Annual GRAMMY Awards took place in Las Vegas for the first time in the Recording Academy's history. Industry icons celebrated the occasion in many Spring/Summer and Fall/Winter 2022 men's fashion trends.
Attendees provided a bevy of fashion moments on the red carpet with stars including Justin Bieber, Lil Nas X and Jared Leto wearing modern approaches to bare-chested suiting, pearl-dripped attire, refined tailoring, and luxe streetwear. Also, the event's host, Trevor Noah, donned multiple sleek tuxedo styles from Gucci.
Additionally, rapper Fivio Foreign, pop upstart The Kid LAROI, and rock legend Lenny Kravitz displayed their unique version of men's sartorial savvy while attending "music's biggest night."
Speaking about the various menswear trends spotted at the GRAMMYs, Saks Men's Fashion Market Manager, Reginald Christian, says, "The red carpet fashion at the 64th Grammy's did not disappoint."
"Jack Harlow looked incredibly refined and stylish in a sleek Givenchy padlock blazer, while Justin Bieber was effortlessly cool in his oversized Balenciaga suit, and Giveon looked like a glamorous rock star in a custom Chanel tweed suit," he added.
Swipe through the gallery below to see who made the list.
64th Annual GRAMMY Awards
Justin Bieber
Balenciaga campaign star Justin Bieber stayed the course with his designer choice at the GRAMMYs, opting for a voluminous, charcoal grey suit jacket and equally baggy trousers. A chunky pair of steel-toe shoes offset the look.
Giveon
R&B superstar Giveon took luxe street style to new heights with his chic Chanel tweed suit. The black and white-speckled boxed jacket and wide-legged pants were a refreshing look on the red carpet as the crooner added a string of Chanel pearl and diamond necklaces to complement his ensemble.
Jared Leto
Morbius and House of Gucci film star Jared Leto may have left an indelible mark on the silver screen with his two recent roles, but he consistently plays the role of style savant. He wore a luxe street style Gucci ensemble on the carpet, with an exposed chest under a sheer lace shirt, fur-trimmed overcoat, tapered pants, and white leather boots.
Lenny Kravitz
Rock and roll legend Lenny Kravitz electrified the GRAMMYs red carpet with bare chest and arms draped in a silver chain-detailed sleeveless knit top and black leather pants. The music star completed his look with a tall pair of black leather heeled boots.
Lil Nas X
Grammy-winning artist Lil Nas X was dressed in high style – as per usual – and chose a white, custom Balmain ensemble. The matching short jacket and wide-legged pants were adorned with all-over pearl embellishments and topped off with massive platform shoes.
Fivio Foreign
New York rapper Fivio Foreign was dripped in pearls for the awards ceremony. His cream motorcycle jacket was clustered in a natural tone with a matching helmet. His sleek cream-and-white tuxedo pants and white boots completed the adventurous look.
James Blake
English singer and songwriter James Blake wore a Dior Men's elevated tracksuit to the GRAMMYs. The look was all-black, fitted and casual with drawstring detailing, and topped off with black-and-white ankle boots.
FINNEAS
Oscar and Grammy-winning singer, songwriter, and producer FINNEAS opted for sheen and a roomy, tailored suit for this year's event. He arrived in a plum-colored Gucci tuxedo with a grey vest and black shirt with a contrasting white collar.
The Kid LAROI
Rising music artist, The Kid LAROI, stepped out in a sleek, all-black outfit by Saint Laurent. His lavender-dyed hair offset the dark monochromatic color palette.
Jack Harlow
Jack Harlow's monochromatic black suit stood out on this year's red carpet. Harlow cinched his modern Givenchy look at the waist with a sleek silver latch-hook closure complemented by patent leather monk-strap creepers.
Trevor Noah
64th Annual GRAMMYs host Trevor Noah performed double-duty inside and outside the event venue while wearing Gucci. His red carpet ensemble comprised a mauve pink silk faille double-breasted peak lapel evening jacket with black pants, a white dress shirt, black grosgrain bowtie, and black patent leather lace-ups. He opted for a navy blue silk jacquard jacket with black pants, a white shirt, a black bowtie, and black patent leather lace-ups on stage.