Kyrie Irving Plans on Re-Signing with Brooklyn Nets this Summer
Playing alongside Kevin Durant and Ben Simmons.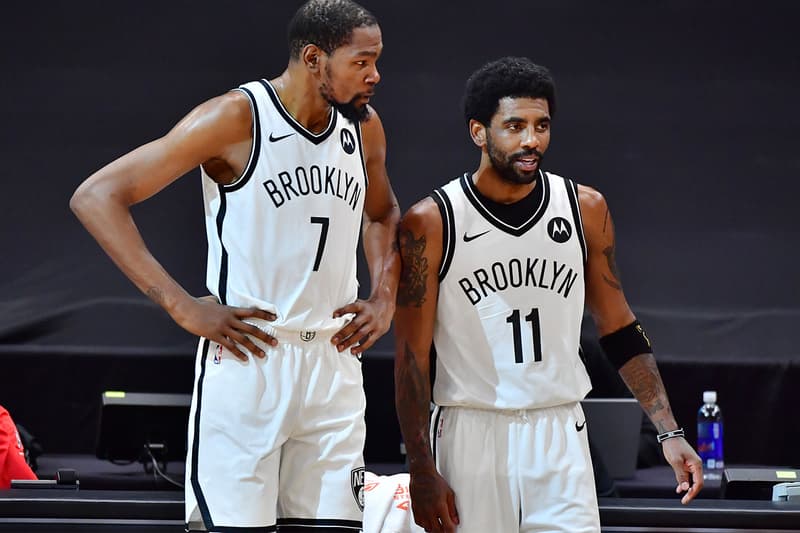 Following the lifting of vaccinations restrictions, giving way to his first home game at the Barclays Center since June 7, 2021, Kyrie Irving has announced that he intends to re-sign with the Brooklyn Nets for years to come.
According to the NBA, Irving currently holds a $36.5 million USD player option for next season, and assuming the Nets are on board, he could opt out and sign up to a five-year contract worth up to $246 million USD this summer.
"I love it here," Irving said in an interview. "Once summertime hits, I know that we'll have some conversations but there's no way I can leave my man 7 anywhere," referring to his teammate Kevin Durant.
"To be honest, I signed up for this for the long run," Irving continued. "I love this year. I'm grateful. It has not been the prototypical year. But when I look at my teammates and I look at what we have as an organization. I'm looking for the long run and what we can do, legacy talk."
"I think we all feel confident that we'll have Kyrie back," Brooklyn Nets head coach Steve Nash said. "But that's a front office discussion."
Durant's $194 million USD contract extension with the Brooklyn Nets begins next season, stretching through to 2026, and Ben Simmons should make his debut on the team later this season after recovering from his herniated disc injury to complete the new Big 3.
The Brooklyn Nets are currently seeded eighth in the Eastern Conference (39-35), with a much-needed win at home against the Miami Heat on Saturday. Irving recorded 11 points, 6 assists, 4 rebounds, and 2 steals over 30 minutes in his home game debut.
Kyrie Irving says his plan is to re-sign with the Nets this summer:

"I love it here… there's no way I could leave my man 7 anywhere" pic.twitter.com/Xvhx77Myqq

— Nets Videos (@SNYNets) March 26, 2022
Elsewhere in sports, Formula 1 will debut a Las Vegas Grand Prix in 2023