Kanye Refusing to Perform at Coachella Unless Billie Eilish Apologizes to Travis Scott
Ye references a headline making the rounds.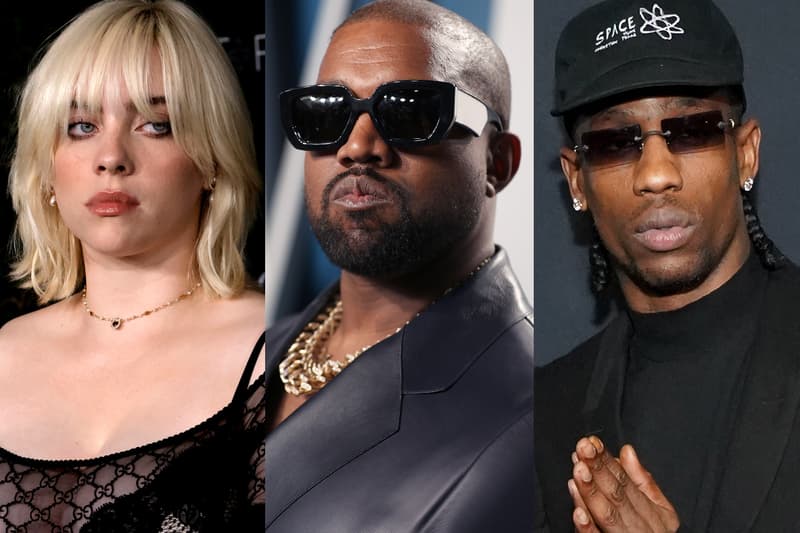 Shortly after a headline reporting a recent situation where Billie Eilish stopped a show to help a fan, Kanye West has now asked for the 20-year-old artist to apologize to Travis Scott. The instance took place at Atlanta's State Farm Arena during a stop for Eilish's Happier Than Ever the World Tour. The artist briefly paused the show for a fan that needed an inhaler and said, "I wait for the people to be okay before I keep going." Shortly after media outlets began reporting that the statement was directed towards Travis Scott, in reference to last year's Astroworld Festival tragedy.
Kanye West took to Instagram, posting a screenshot of a headline along with a caption. "COME ON BILLIE WE LOVE YOU PLEASE APOLOGIZE TO TRAV AND TO THE FAMILIES OF THE PEOPLE WHO LOST THEIR LIVES NO ONE INTENDED THIS TO HAPPEN TRAV DIDN'T HAVE ANY IDEA OF WHAT WAS HAPPENING WHEN HE WAS ON STAGE AND WAS VERY HURT BY WHAT HAPPENED."
Ye went on to reveal that Travis Scott will be with him at Coachella, where the two are headlining, and requested an apology before his performance. "YES TRAV WILL BE WITH ME AT COACHELLA BUT NOW I NEED BILLIE TO APOLOGIZE BEFORE I PERFORM."
Billie Eilish has since commented on Ye's Instagram post noting that she did not direct her statement towards Travis. "Literally never said a thing about Travis. Was just helping a fan."
View this post on Instagram
In case you missed it, Gunna recently immortalized "Pushing P" with a tattoo.