Deb Never Just Wants To See the Flowers Grow
As she talks creating her expansive new EP during lockdown in London.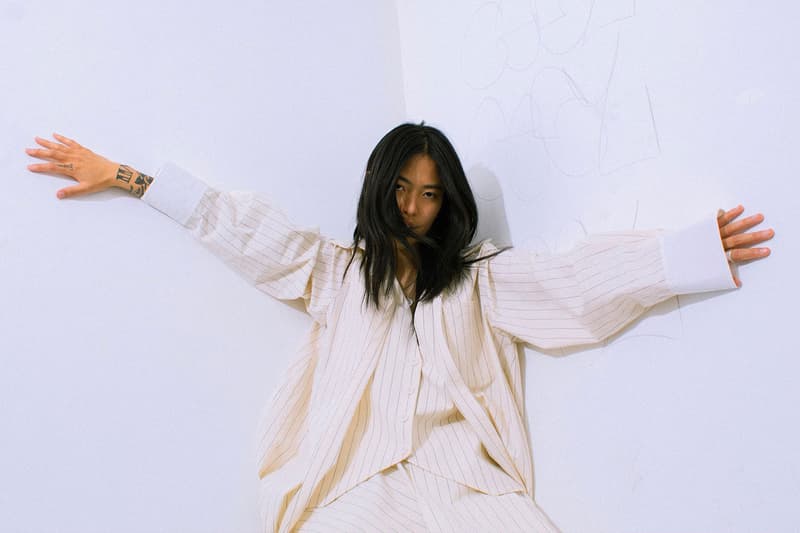 Deb Never is in London and her faded teal blue hair is ever so-present. For the reclusive 20-something, Asian-American musician, who watches her words carefully as to not reveal too much about her personal life, Never's energy feels rather inviting today. "I'm so excited to play shows again and it's funny because the one thing I never wanted to do was play shows really," she says eagerly over a Zoom call in late-November. "Because I'd be so nervous and now it's the one thing I'm looking forward to most. I think everyone has this pent up energy and having an in-real-life experience with people again would go along way. You can't recreate that feeling of shows and now I miss that the most."
Raised largely, and still living, between Spokane and Seattle, Washington, Never kept mostly to herself growing up in the isolated Northwest pacific, with humble beginnings as the child of an immigrant nurse mother and Presbyterian missionary father. Fast forward a few years, and she'd turn this self-discovery into a slippery, carving-out of space in the Los Angeles beat scene, first cooking up as a session guitarist and then as a fixture in the WEDIDIT collective, with members DJ D33J and Shlohmo. Eventually being pressured enough by her friends to post songs on Soundcloud, ones of which would eventually become the tracks to her 2019 breakout EP, House on Wheels, a project that experimented infusing alt-pop, hip-hop and R&B. It was just what the doctor ordered for DIY and Gen-Z internet dreamers but more importantly, it came from a greatly-underrepresented source amongst industry upstarts, in the form a queer, AAPI, grunge queen, Deb Never.
Since then, things have moved fast, as she's collaborated with the likes of soon-to-be-broken-up BROCKHAMPTON, Euphoria star Dominic Fike, producer Kenny Beats with their Augustin Vita-directed "Stone Cold" Steve Austin homage and an icy-eyed visual for Disassociate, paired with a Matthew Williams Givenchy outfitting. In September, she released her all-new EP titled, Where Have All The Flowers Gone, featuring production from Jam City, Jim-E Stack, Michael Percy, Luke Wild and more. "This EP was mostly about growth— it was about exploring more sounds and just the full body of what can be done. It's the melancholy of beauty, finding something in the most mundane things," Never explains about the project themes. "The overall vibe of it has a feeling of not giving into being depressed almost and sort of flipping the perspective that there's beauty in the darkness."
Never talked to HYPEBEAST about what she's been listening to lately, how living in London re-inspired her project direction, collaborating with producers and her latest EP, Where Have All The Flowers Gone.
What have you been up to lately? 
Lately, it's just been me running around New York and now London, doing sessions, playing shows, celebrating the EP release. It's been busy but I can't even remember my days, I can't even tell you specifically what I've done [laughs], just generally busy. Constantly on the go but I don't even know for what. Just traveling around mostly.
Have you been listening to anything specific or going back to anything?
I've randomly been revisiting Lil Uzi Vert's, Luv Is Rage 2. That's been on loop for me.
I only ask because I think the way we consume music has changed over the last few years. What we're listening to, what has replay value and what sticks, etc. all of it. 
I'll say it is interesting because I feel like a lot of people have been going back and listening to old music, it's a comfort thing maybe, a lot of nostalgia as well. I thought it was just me like, oh maybe I'm just not inspired by anything that's out now currently, and not in a shade way. I feel like I don't have as much time to go out and discover new music. I still listen to new artists but I don't have as much time to sit with it and relate or sit in my bedroom so I find myself going back to nostalgic music, things that give you a feeling. Almost like a memory, it takes you back and it's just a comfort thing.
Things have felt out of place so any familiarity or things that make us feel good, we've leaned into— You see it with brands and nostalgia-based collabs, and even artists with sampling.
Yeah there's even old stuff I'll listen to now and it's almost like I'm listening to it with a new ear. It somehow stills sounds fresh, even though I associate it with a certain time period in my life.
Getting into the EP you just released, Where Have All The Flowers Gone, I'm curious about the creative process and differences from say when you made House on Wheels? 
House on Wheels was the first thing I ever made truly so it was a lot of me experimenting and still finding my footing, where as I feel this EP [Where Have All The Flowers Gone] is more growth. And even going into it there was more of a feeling that I could deliver more and I can play with more musicality in it so there was that sort of approach. It all came to be during lockdown though. I swear for this EP, there were three different tracklists, three whole different projects, basically. Because I had an EP done before covid happened and then lockdown occured and I'm like, there's no way I'm going to release music right now in the midst of a global apocalypse. Like 'hey, it's me, new EP guys.'
So I was like scratch that, I'll take time to sit with it and see if I really like it. During lockdown, I had also made sort of a bedroom project and then had a new perspective like okay I'm going to really dig into the fact that I play guitar and show that more. So when I had come back to London, I got very re-inspired. I had started working with my friend and producer, Michael Percy, because he was stuck in London at the time and I had wanted to work with him but he couldn't come to the U.S., so I'm like if you can't come here, then I'm going to come chase you, and somehow the UK lets me in and I end up getting stuck there for four months. But it shaped a lot of the sound of this EP because I was able to take in the new environment and just what I'd hear new things, new sounds. People listen to a lot of different things in different countries here too, so that all played into my inspiration for the project.
Those 'sounds' you mention, how does it differ being there, as opposed to L.A., or Seattle, or New York?
It's like a grittiness to it and this is also not in a bad way because there's a part of this, that I love too, but something about making music in L.A., you can just hear that it's sunny when you made it. Do you know what I mean? Like it just has a brighter tone for some reason. Look at House on Wheels, most of the songs sound like it's [made there]. It's not even a conscious thing and I feel like that environmental shift changes your mindset and your mood and that translates into the shit you make. There's also these almost cathartic moments, even in "Stupid," where that bridge becomes wide and opens up, or in "Someone else," there's like relief. There's this constant battle taking place on the project between feeling really closed up and feeling free.
On that tip, looking at a song like "Sweet & Spice" with Jim-E Stack, there is that expansive element you speak of to it where's there's way more happening sound wise, but it still has that writing that feels very you. How'd that record come about?
That record actually happened in about a three hour session. I'd already known Jim-E [Stack] because we'd worked on things in the past so we went in and he's like, "what should we make?" I'm like, "I don't know we can just figure it out [as we go]," and we ended up making that synth on the guitar. He looked at me and said, "before we add onto it, I'm going to save the session, what should I save it as?" and I had this lollipop, the Mexican candies with the spice and it was called "Sweet & Spice." And  by the way, I've literally never been able to find that candy again, but yeah anyway we named it that and that inspired this song. It just kind of happened. That's the thing, it's little, but I love those moments because it really is like magic. You sort of pull flowers out of a hat when you make something like that on the spot and its that special.
Do you find you enjoy more working with someone else or do you prefer recording alone?
I used to like working alone more but I think that was more of a confidence thing where I feel like now I appreciate working with somebody because I see making music as more of a conversation now where you bounce off of one another and that sparks something and you leave feeling like you just had a good talk almost. It's the same thing with music, I feel like 'damn, we made something sick.'
You know when you just had a good conversation.
Yeah exactly! That's what it's like. It's very refreshing working with someone, you could've just met and by the end of it, you feel you have some common ground and you just birthed something in that moment.
How'd you meet Kenny Beats and how'd the song, "Stone Cold" happen?
I can't remember exactly how we met but it was through mutual friends. It was Halloween night and I was kind of bummed because Halloween is my favorite holiday and I really wanted to dress up but he was like "let's work!" so I'm like okay let's do the session. I started playing guitar and as a complete joke, just saying shit like, I go "Stone Cold, Steve Austin" and he's like, "Yo we need to run that!" and I'm like, "I'm literally saying 'Stone Cold, Steven Austin,' like what do you mean?" And he's just goes, "No it's sick, it's sick, keep going." We started building around that pretty much and Kenny's the type of producer where it's like, you aren't leaving the room until you finish it. And at the time, I'm thinking,'I just want to go celebrate, why are you making me do this?' [laughs] but I'm so glad he did because that's how it got to where it is. That was a really fun one to make.
How do you feel going forward? Are you optimistic, maybe pessimistic, what's the vibe?
Imagine, if I was pessimistic. Imagine, I'm just like, 'I'm quitting right after this [interview]. I'm no longer Deb Never [laughs].' Nah man, I'm excited! I'm all here for the ups and downs. I'm ready for anything to be thrown at me at this point. I'm excited to make more music and keep doing my thing. I love what I do, so I think whatever happens, happens. I'm happy Where Have All The Flowers Gone is out. I've got in mind what I want to do next so I'm hoping it'll be a fun next couple of years.