Coca-Cola Unveils its Global Innovation Platform with Space-Inspired Beverage
The iconic drink purveyor captures a journey in space through a refreshing, red-hued soda.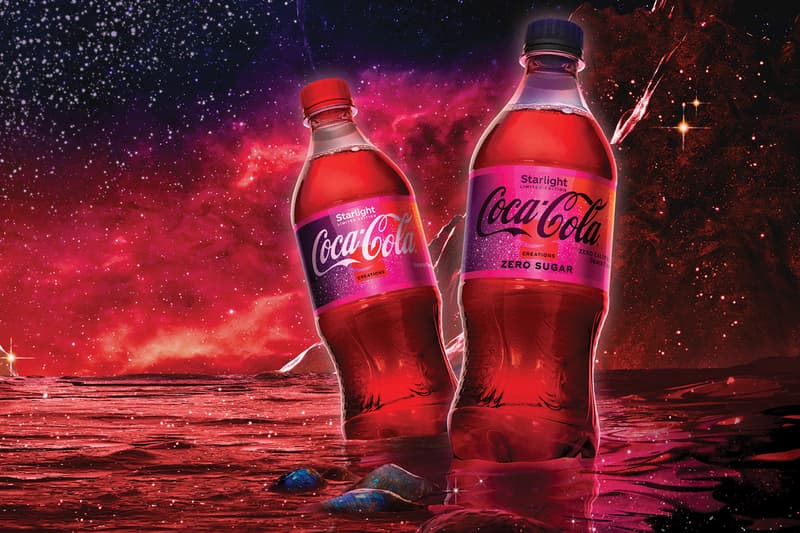 To bring a more youthful energy to its iconic brand, Coca-Cola is launching a global innovation platform for collaboration, creativity and cultural connections. Named Coca-Cola Creations, the dynamic initiative brings ideas for new flavors and designs like Coca-Cola Starlight to life in digital and physical realms. Releasing on February 21, Coca-Cola Starlight is a new, limited-edition flavor that evokes the mystery and wonder of space exploration.
Inspired by the idea that "somewhere in our universe, another kind of Coca-Cola… might exist," Coca-Cola Starlight adds a cooling sensation and reddish hue to its well-loved taste. Infusing innovation to its packaging design, the drink features a multi-dimensional light-filled star field and an augmented reality "Concert on a Coca-Cola" experience with popstar Ava Max. After scanning a Coca-Cola Starlight can or bottle, Ava Max will perform hits like "Kings & Queens" in an AR-holographic private concert that uses the can as an anti-gravity space station.
"Coca-Cola Starlight takes people on a journey in the same way that music has the ability to transport listeners to new worlds with each song," said Ava Max. "It's been exciting to collaborate with Coca-Cola on this project. We wanted to create an other-worldly experience – through technology." As the first of several limited-edition sequential releases under Coca-Cola Creations, the beverage brand aims to engage with their fans by imagining new ways of connecting with one another. Other partnerships to look out for include an upcoming collaboration with streetwear brand Staple and social filters across Instagram and Snap.
Coca-Cola Starlight is available for a limited period beginning February 21 in stores across North America, and in select countries globally in the coming months. Coca-Cola Starlight will be available in 20-ounce individual bottles as well as a 10-pack of 7.5-ounce mini cans in the U.S. Coca-Cola Zero Sugar Starlight will also be available in the same configurations. For more information about upcoming news and unique innovations from Coca-Cola Creations, head to the brand's website.