Best New Tracks: Rosalía x Cardi B, Ab-Soul and More
Dive into the weekend with these 10 music projects.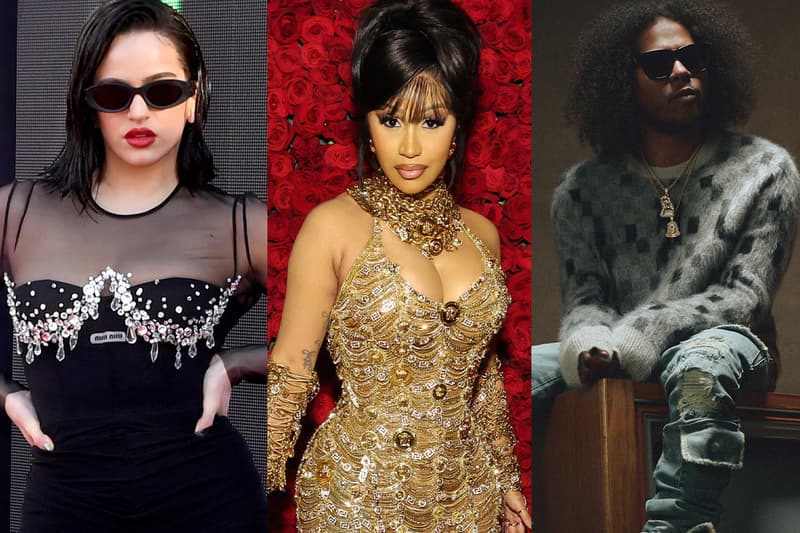 As the week in music comes to a close, HYPEBEAST has rounded up the best projects for the latest installment of Best New Tracks.
This week's lineup is led by Rosalía x Cardi B and Ab-Soul, who released the "DESPECHÁ (Remix)" and the long-awaited Herbert album, respectively. Also joining this selection are offerings from the late Juice WRLD, Lil Durk and his Only the Family collective, Azekel, Leon Thomas and Jacquees, and collabs from Diddy with PARTYNEXTDOOR, 24kGoldn with Bandmanrill and Meechy Darko with Flatbush Zombies and Col3trane.
Ab-Soul - Herbert
After a long, six-year wait, Ab-Soul's Do What Thou Wilt. followup Herbert is here. The 18-track record features guest verses from Big Sean, Russ, Joey Bada$$, Jhené Aiko, SiR, Punch, Zacari, Fre$h, Ambré, ALEMEDA and Lance Skiiiwalker and production from the likes of Sounwave, DJ Premier, James Blake, Hit Boy, Boi 1da, DJ Dahi and more, and is a vulnerable effort from the TDE rapper as he offers a space to heal for those who have suffered.
Listen: Spotify | Apple Music
Rosalía x Cardi B – "DESPECHÁ (Remix)"
Rosalía enlists the help of Cardi B for a remix of her viral single "DESPECHÁ," which she debuted live during her MOTMAMI world tour and was included in the album's deluxe edition. "I always wanted to work with her. Since long time ago, I wanted to make music with her. And she knows I love her music, and she always supports me too," Rosalía tells Apple Music of Cardi B. "So I was like, 'This song is inspired in Mambo, it's inspired in musica Dominicana'  And she's Dominican, so who else is going to understand this better than her? You know what I mean? And she knows it's inspired in this type of music, inspired in Omega, this type of song is inspired in Omega… So she understands all of that is, it's part of her."
Listen: Spotify | Apple Music
Juice WRLD – "Face 2 Face"
The estate of Juice WRLD closes out 2022 with the new single, "Face 2 Face." Released after last month's "In My Head," the cut arrives just shortly after the 2nd Annual Juice WRLD Day in Chicago, which brought together his closest family, friends, collaborators and more than 18,000 fans to the event that celebrated his life and music.
Listen: Spotify | Apple Music
Diddy x PARTYNEXTDOOR – "Sex in the Porsche"
Diddy and PARTYNEXTDOOR join forces for "Sex in the Porsche," a sultry and melodic offering that serves as an example of the former's evolving style. The track is the second single from Diddy's long-awaited new album, which will be released early next year via his LOVE RECORDS imprint. "Sex in the Porsche" also features an accompanying music video that stars rapper and model Rubi Rose, and helmed by Lauriann Gibson.
Listen: Spotify | Apple Music
Leon Thomas – "Breaking Point"
Shortly after producing SZA's "Snooze" on her latest album, GRAMMY nominee Leon Thomas shares his latest heartfelt single "Breaking Point." The track is also featured in the latest Beats By Dre spot starring LeBron James and his son Bronny, with Thomas saying of the cut, "When we're at a crossroads, it's important to have the courage to follow the path that needs to be taken despite the flood of conflicting emotions. Love is fragile, and sometimes nourishing a relationship is the toughest challenge."
Listen: Spotify | Apple Music
Only The Family - Loyal Bros 2
Lil Durk and his Only The Family collective drop off their latest compilation tape, Loyal Bros 2. The project features OTF signees like Doodie Lo, Booka600, C3, Chief Wuk and more as well as features from Kodak Black, Future, PGF Nuk, Icewear Vezzo and Lil Zay Osama.
Listen: Spotify | Apple Music
Azekel – "Chocolati"
Azekel treats fans to a COLORS performance of his unreleased track "Chocolati," as well as with the announcement of his upcoming mixtape Analyze Love, which is set to drop in early 2023. The upcoming 15-track project was recorded across London and Ghana during the lockdown and is the first of a three-part trilogy. "It was good to tap into these emotions, I think it's something that isn't done often and needs to be done more, it's a specific nuanced emotion that isn't regularly explored", Azekel shares.
Meechy Darko x Flatbush Zombies x Col3trane – "Sliders"
Meechy Darko teams up with Flatbush Zombies and Col3trane for his new single "Sliders," produced by Powers Pleasant, JULiA LEWiS and Callan. "Wanted to release a fun song with my brothers before the year was done… Since you think all my music is scary, how's this for a change?" he shares in a statement. "Sliders" marks his first track since Gothic Luxury and is released while he's on tour in Europe supporting Joey Bada$$.
Listen: Spotify | Apple Music
Jacquees - Sincerely For You
Jacquees delivers his highly-anticipated third studio album, Sincerely For You. Executive produced by Future, the record features guest appearances from Future himself along with 21 Savage, Summer Walker, 6LACK, Dreezy, John P. Kee and more. "This is sincerely for you, you, you, you and you and everybody who been there for me along the way! Thank y'all so much, thank you God my family, friends and FANS. This journey has been nothing short of incredible and we got way more to go! Get ready for some Real R&B. Let's Win," he says in a statement.
Listen: Spotify | Apple Music
24kGoldn x Bandmanrill – "Checkers"
24kGoldn wraps up his eventful 2022 with the Bandmanrill-assisted cut "Checkers." Produced by Einer Bankz (Polo G, Travis Scott, 21 Savage), Jaasu (Coi Leray, SSGKobe, Trippie Redd, $NOT) and Alex Oso, the cut hears the artist vent his frustrations about his current relationship.
Listen: Spotify | Apple Music