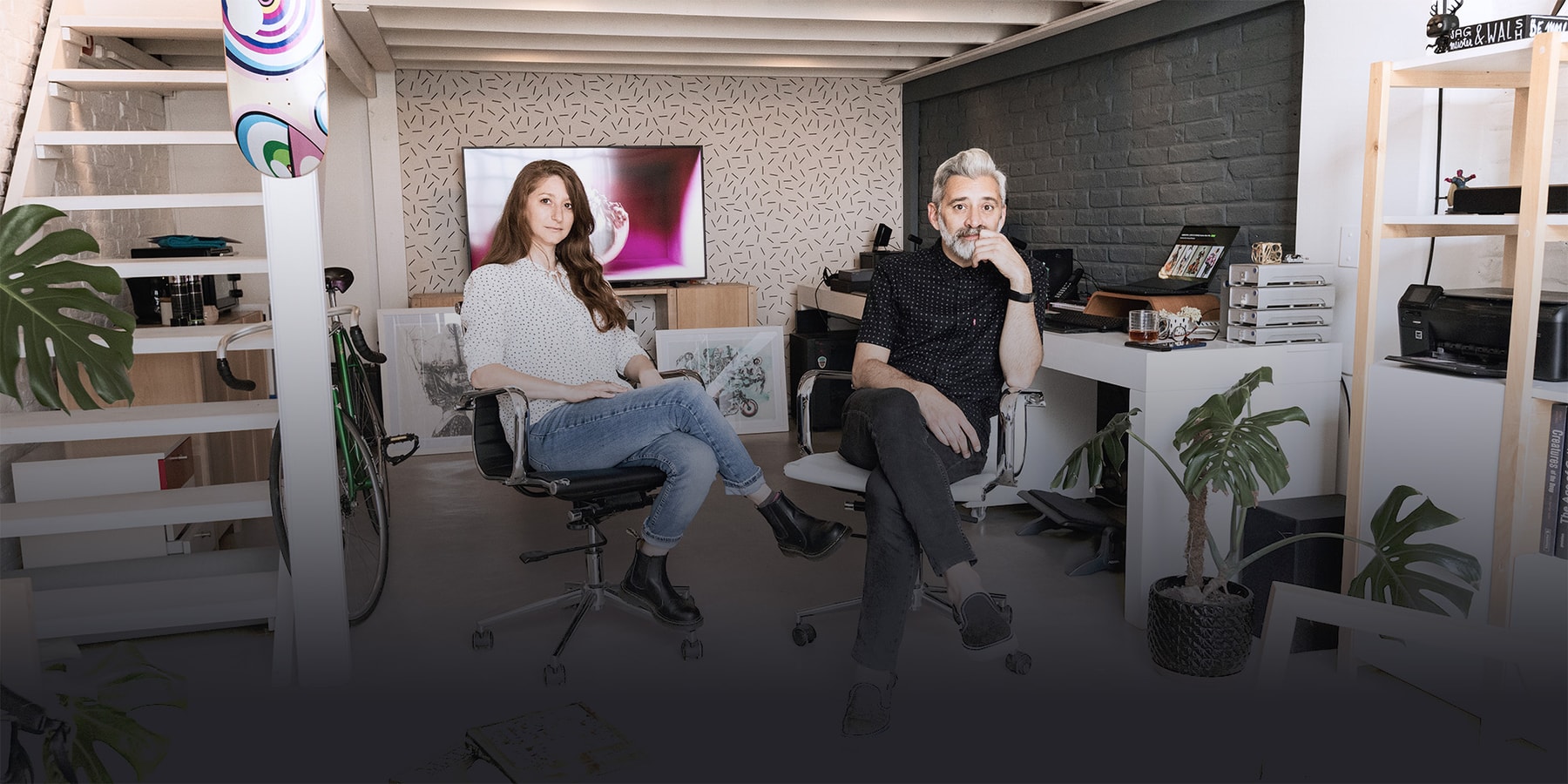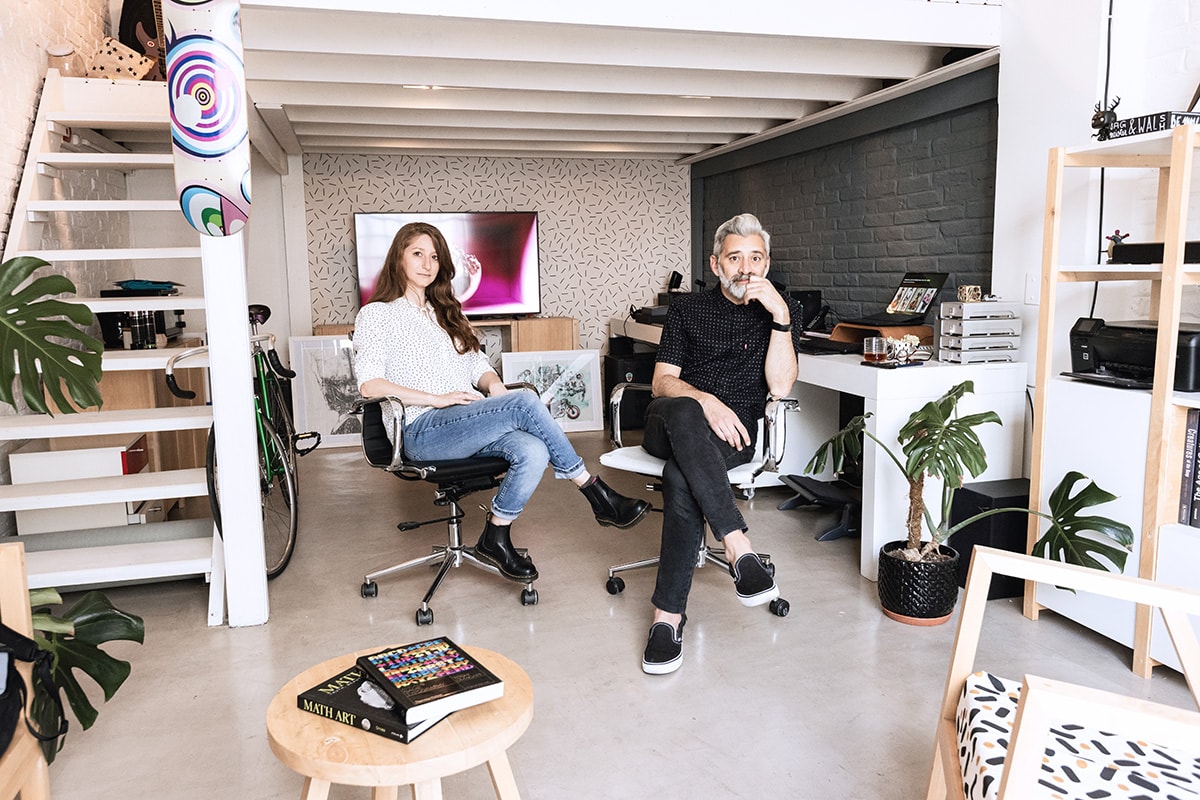 Studio Visits: Esteban Diácono
Creating extraordinary and eccentric animation experiments with a whole lot of personality.
Argentinian motion graphics designer Esteban Diácono has made a name for himself producing slick digital treatments for his impressive list of well-known clients. But outside of brand campaigns, art collaborations and music videos, he enjoys spending his free time working on weird and wonderful animation experiments that he shares through his Instagram account. "I've always been fascinated by the human body, by kinetics and, above all, by the absurd," Diácono says. "I try to depict the human body and behavior in ways that are funny to me and elicit a reaction from the viewer. I'm not interested in the quest for beauty or illumination; I just want people to react — with laughter or disgust, that's not important."
Operating a creative studio with his wife and partner Abigail Kurejwowski, Diácono has no formal studies in his professional field but is instead self-taught with over 20 years of experience. His rubbery 3D renderings of human bodies and mo-cap generated shapeshifting forms are all ways through which he learns new animation tools and techniques, while expressing his creative sense of humor free from commercial constraints.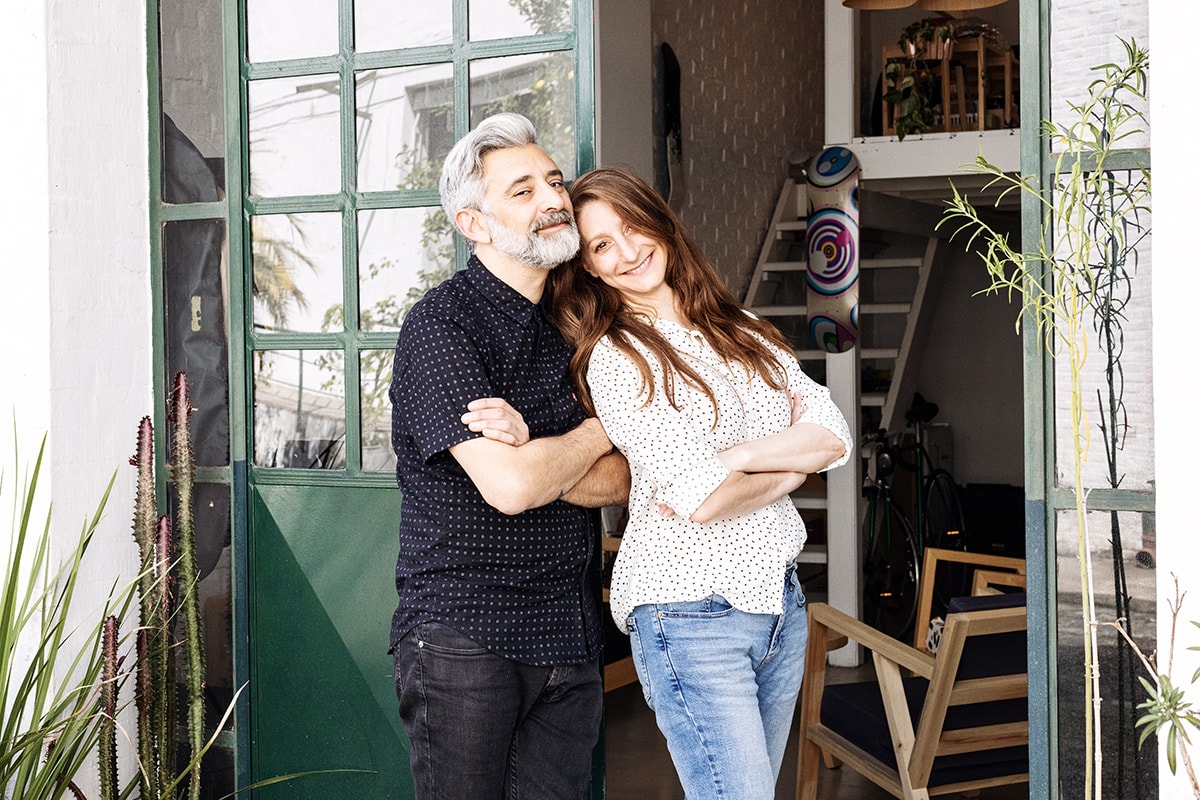 It's this self-determination that resonates so strongly with ASUS, who is a proponent of independent creative spirits with their latest "Incredible Comes From Within" campaign and ProArtist initiative. Recently, both parties have come together to work on an exclusive NFT project featuring two digital artworks powered by the Zenbook Pro Duo 14 OLED and ProArt Studiobook 16 OLED laptops.
Titled "Hyperlaxity" and "Electric Dreams", both NFTs were brought to life thanks to the comprehensive and complementary features of the creator notebooks. "What we found thrilling was these two models in particular work pretty great together," Diácono explains. "Considering how Abi and I usually split our tasks, making the most out of each laptop's distinctive features was quite organic."
For this Studio Visits feature, we caught up with Diácono at his animation studio to get a closer look at his visual craft as well as discuss his NFT collaboration with ASUS.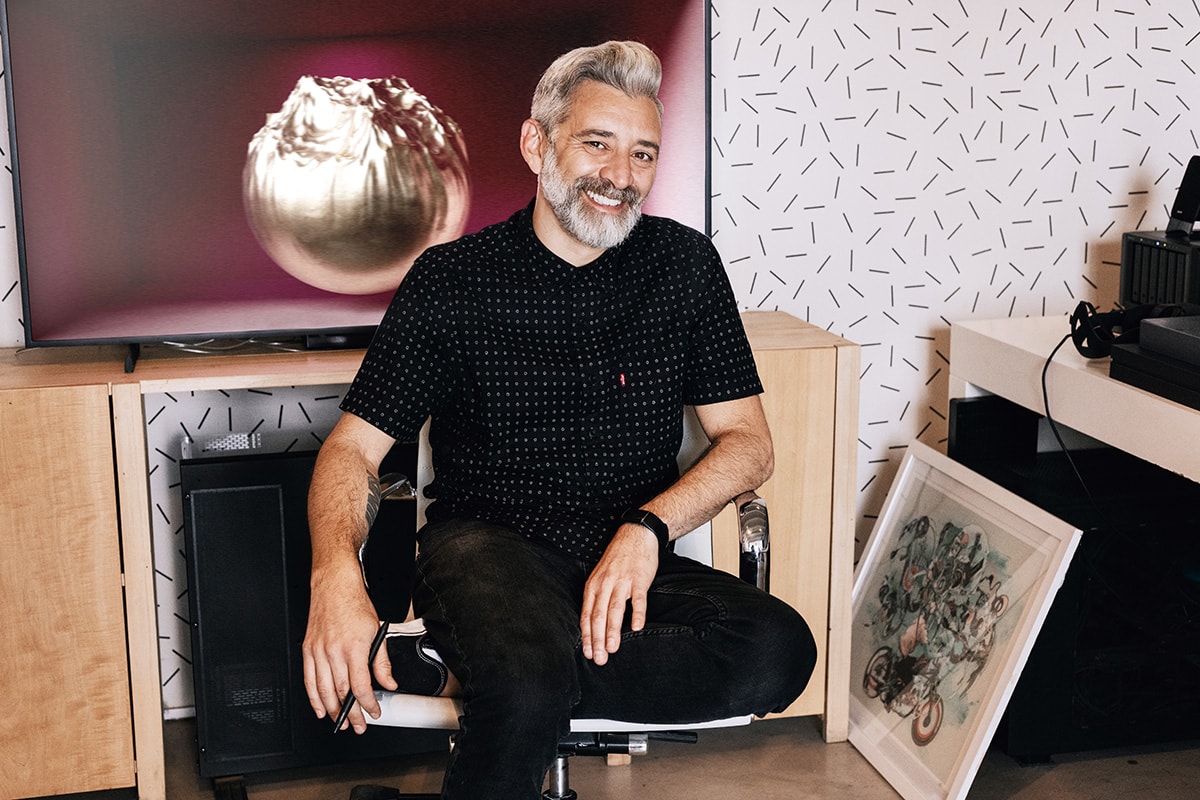 "Every creation starts from within, a unique point of view that's molded by each individual's experiences and ideas."
As a self-taught creator/designer, how did your creative journey begin?
My creative journey started when I found myself completely in love with and fascinated by movies and art. Some of the clearest memories of my childhood are related to experiences like going to see the original Star Wars trilogy with my parents at the theater, discovering my mother's art books, or being gifted a copy of The Lord of the Rings. That fascination with sci-fi and fantasy worlds led to a very active imagination, and an early appreciation of art and pop culture in general.
Subsequently, I wanted to pursue a career in Graphic Design, which felt like a combination of the things I loved but with a professional perspective and formation. Unfortunately, life had other plans and I had to drop out of my first year of college due to unforeseen family circumstances. Thankfully, I was able to convince my mother to lend me the money to buy my first computer, and I started teaching myself using the tools that were available to me. This was around the time when Graphic Design was slowly moving into the digital age, so I found myself in a good position as an early prototype of what we today call "digital natives".
What does "Incredible Comes From Within" mean to you?
I truly believe in this core spirit that ASUS carries through their Zenbook series. I don't consider myself a particularly talented person, but I'm extremely passionate and curious about what's possible, and finding ways to translate thoughts and ideas into visible, moving images.
Digital professionals, artists and creators never had the power and mobility we have today at our fingertips. But no amount of technology can help if there's no passion, curiosity or drive. Every creation starts from within, a unique point of view that's molded by each individual's experiences and ideas.
So what drives you to make art?
Curiosity and a love for experimentation. Our industry is evolving all the time — look at what's happening with AI right now! — so I'm always motivated to learn and try new things. But I often find the exercise itself boring. For example, if I wanted to learn and understand how to create a water or fire simulation, I could render endless variations of a fluid tank or an explosion and bore myself to death in the process. To keep things fun and engaging, I like to instead apply the iterative nature of learning and testing to an idea or goal that's a little more challenging than the technique itself.
1 of 4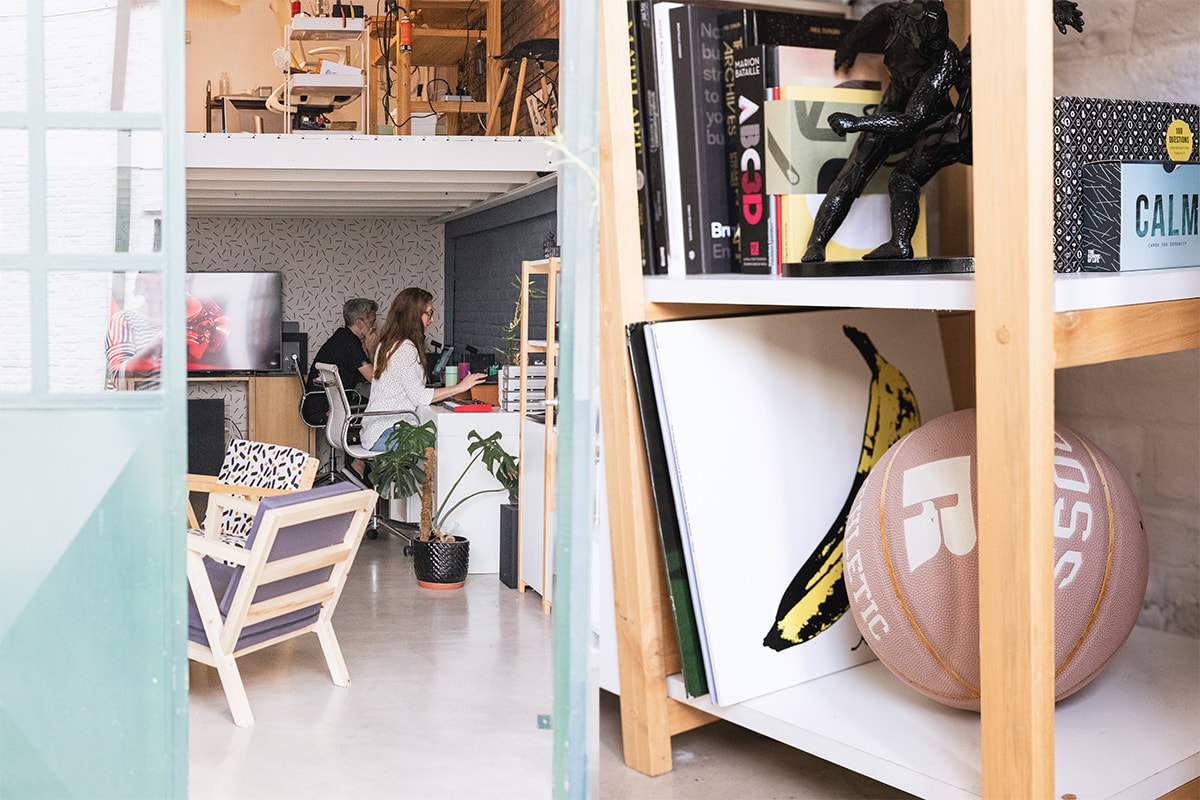 2 of 4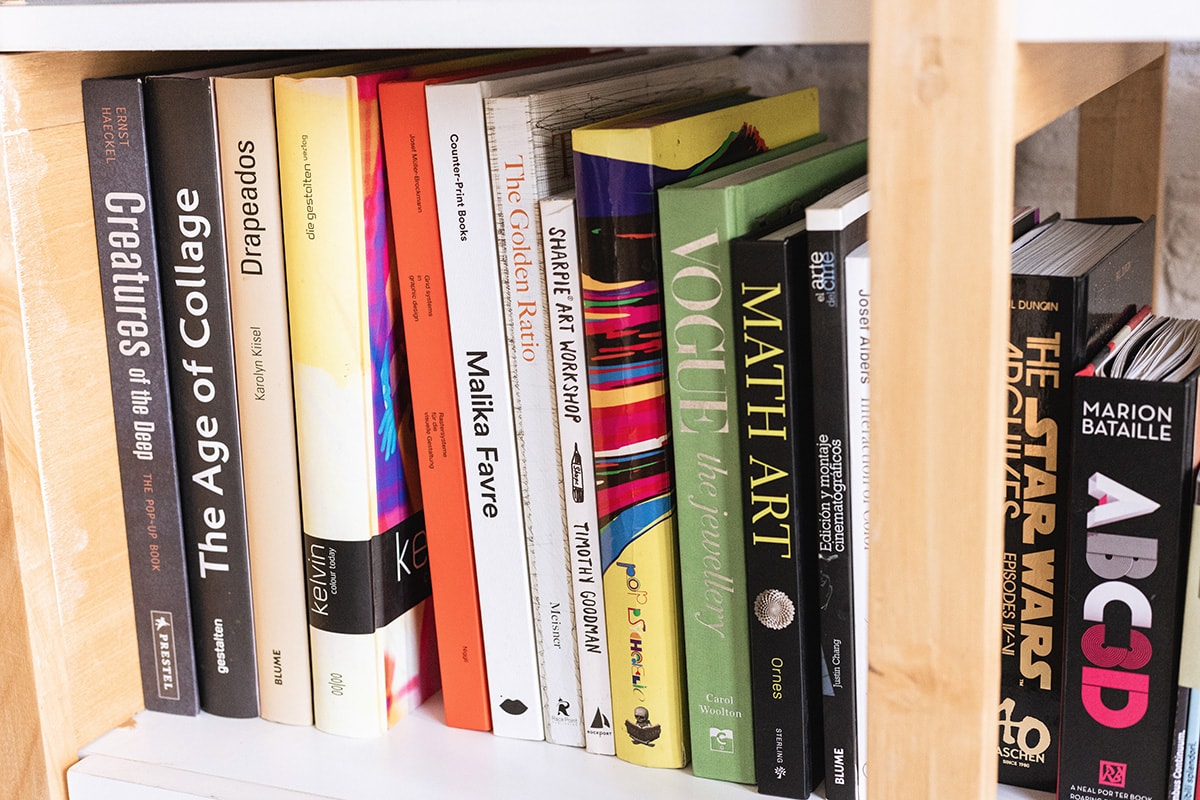 3 of 4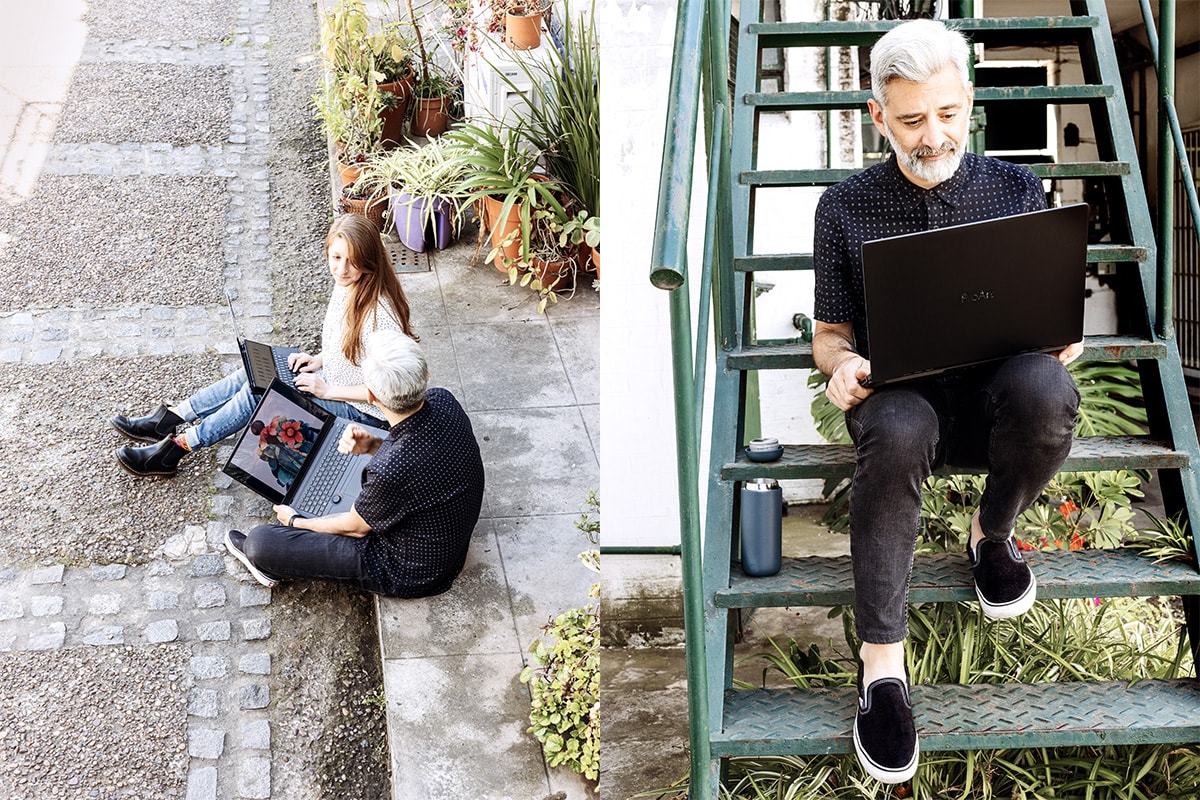 4 of 4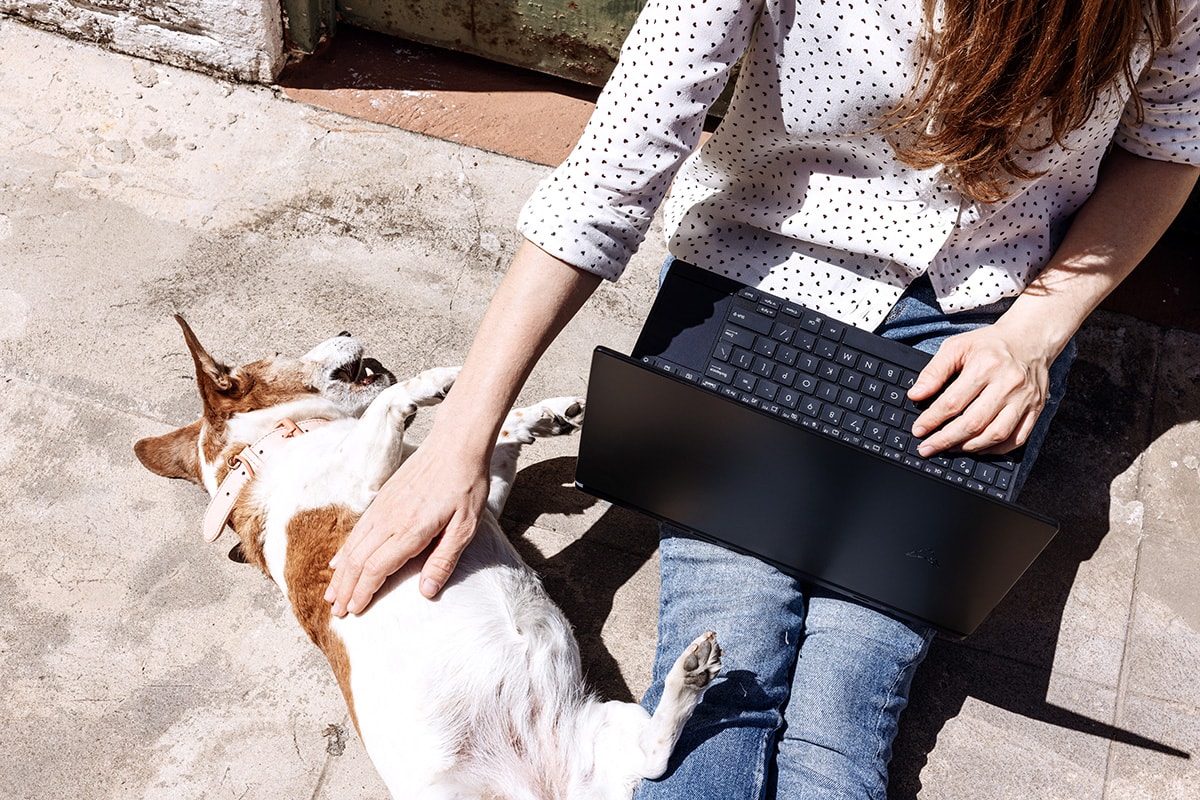 "The goal is to be as far away from the crunch as possible."
Describe a typical day in the studio.
I like to start early in the morning; it's my favorite time of day because it's calm and there are minimal distractions. I'll answer minor emails while making a light breakfast. Some days I'll even grab the Zenbook and connect it remotely to my main studio computers to see if the night tasks went well.
I'm normally in the studio by 8.30am, after morning coffee with some friends. I used to spend long hours at the studio. But after the pandemic, we decided to re-evaluate our work-life balance and drastically cut studio hours. For me, I'm usually ready to head off at around 1 or 2pm. After having lunch with Abi, I'll do a bit more work at home or at a cafe, using the ProArt Studiobook to make quick iterations of whatever I'm currently working on.
These changes have resulted in a more relaxed atmosphere and healthier approach to our work. I'm cycling a lot more and Abi is practicing yoga and working on her jewelry line, so this search for balance has been pretty satisfying so far. Of course, there are still times when we get caught up in the client's demands, but the goal is to be as far away from the crunch as possible.
Are there any special items you like to keep in the studio?
Sure! I like to keep as many mementos and souvenirs as possible. I've been lucky enough to have wonderful and meaningful experiences, so having these small memorabilia is a constant reminder to be grateful for the opportunities I've had.
I have a set of three skateboards designed by Takeshi Murakami that was gifted to me after Complex Con in 2017, along with a handwritten note and some oversized clothing that Takeshi-san sent this year. I have a box designed and hand-painted by Stefan Sagmeister; this particular item is precious to me as Stefan has been a personal hero of mine for years. Other curiosities include: a Hugo Boss basketball (we're not sure why it was sent to us), my Cinelli bicycle that's around but not always in the studio, and the first electric guitar I bought 35 years ago.
1 of 4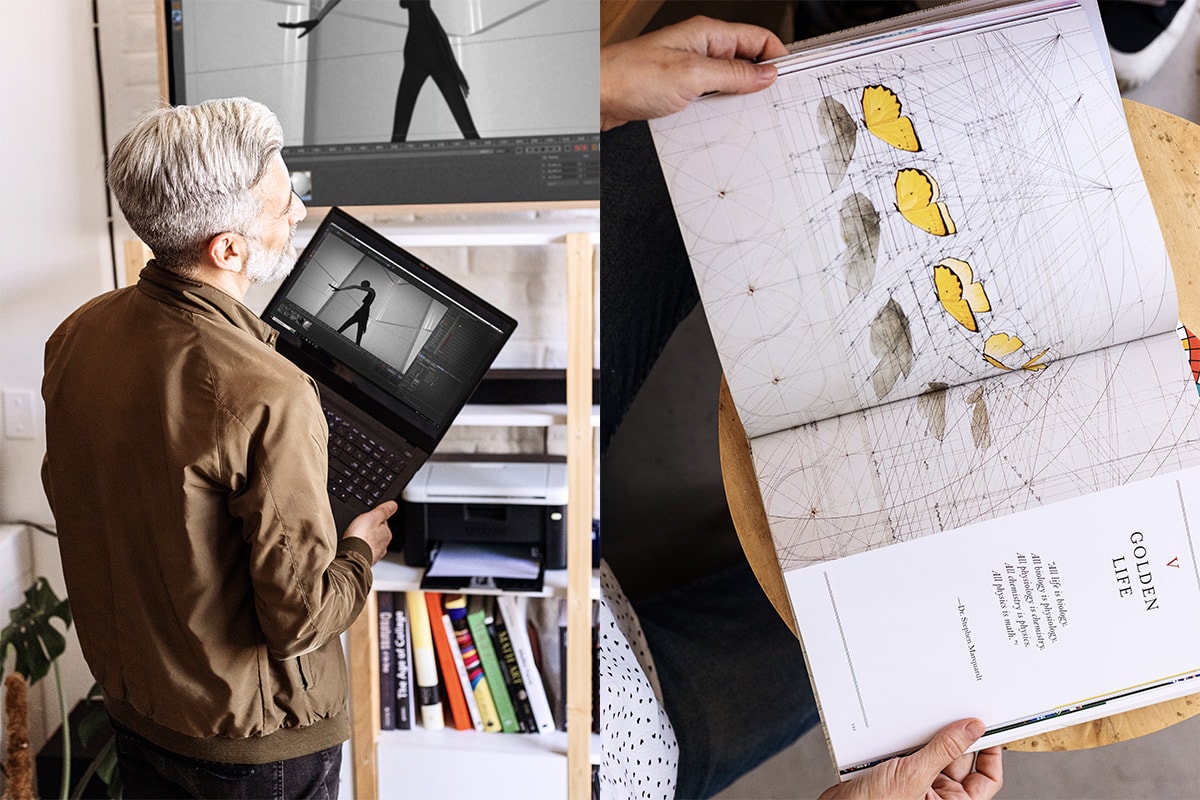 2 of 4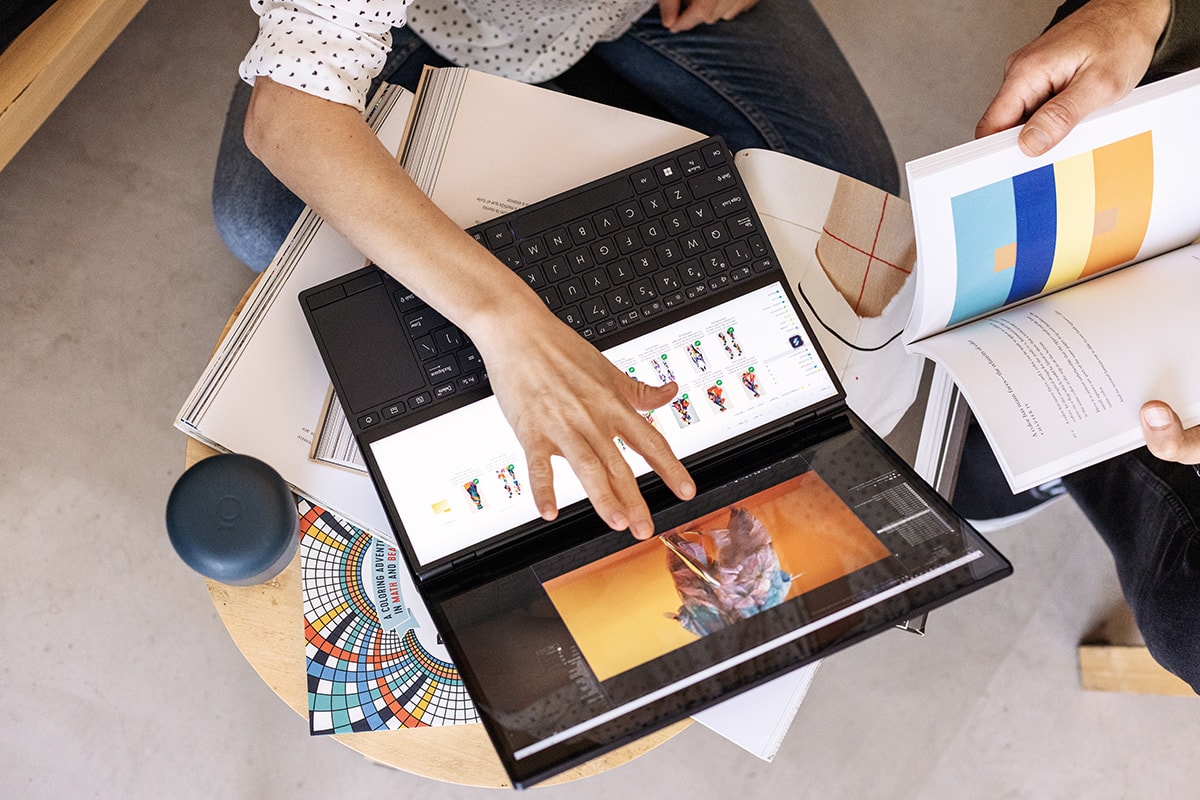 3 of 4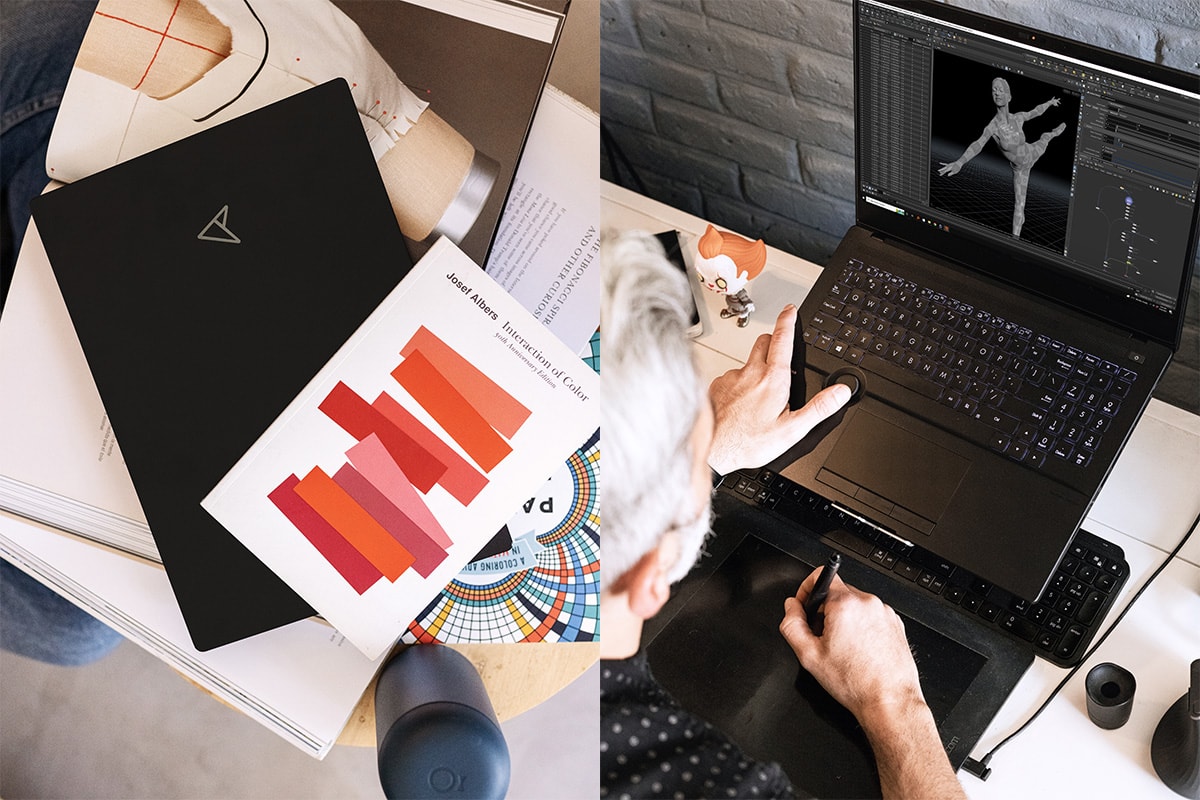 4 of 4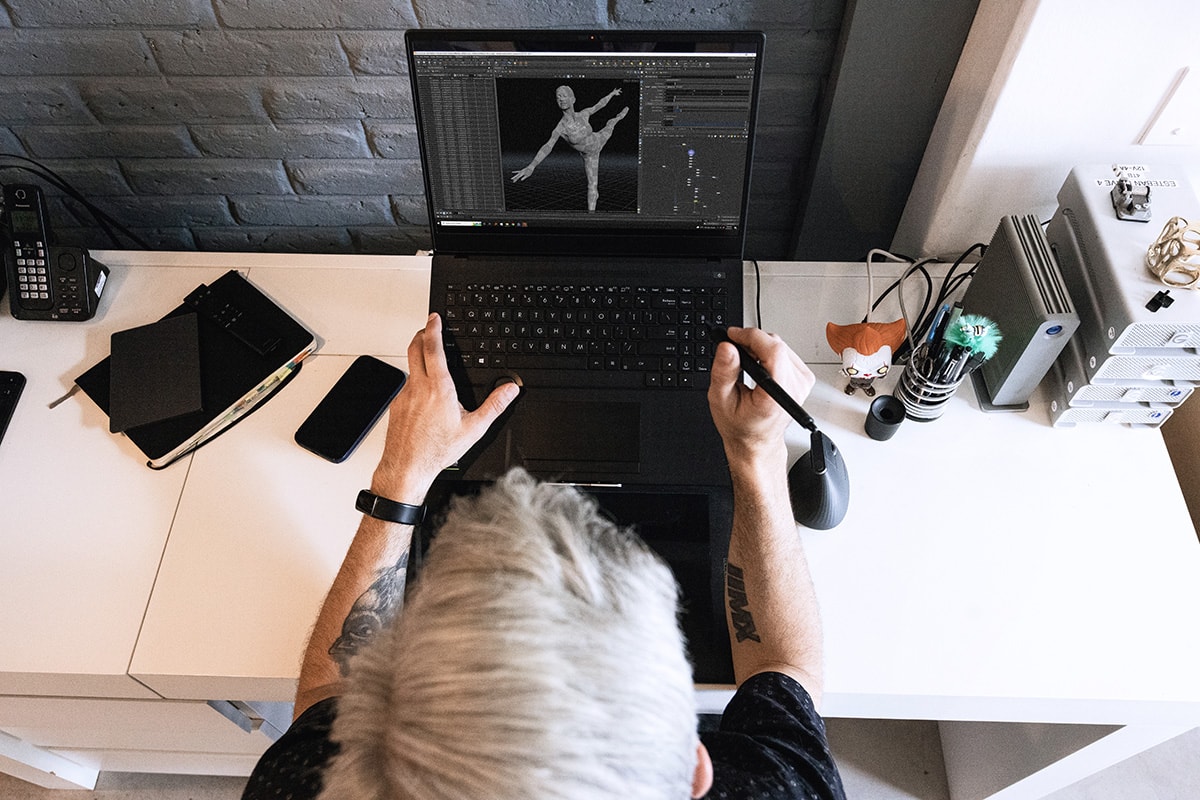 "It was almost utopic when I first started participating in NFTs."
Tell us about your NFT artworks with ASUS, "Hyperlaxity" and "Electric Dreams".
It's been a while since we last did something for ourselves, so this was the perfect opportunity. We created a ton of content during the Instagram boom, but they were little more than quick vignettes. I particularly missed working on a project that had time to develop and marinate.
The idea for "Hyperlaxity" came from over 10 years ago. I remember logging onto Facebook and seeing a post from a friend. It was a picture of her dressed like a ballerina when she was younger, and the caption read "The hyperlaxed ballerina". That got me curious, but I forgot about it until a variation of the concept appeared in my head while I was experimenting with a certain kind of simulation. Over the years, I've developed good relations with a UK-based 3D scanning facility and they've been kind enough to let me use their wonderful models to fuel my animations. "Hyperlaxity" is the realization of that original idea, with an added sense of humor and playful absurdity.
"Electric Dreams" is more of an experimental playground, where I used the opportunity to try out some of the new AI tools that have been popping up. We first took a motion-captured performance of a character inside a dream-like house of mirrors. Then we processed the entire base render using AI, resulting in a super wild layer that shifts frame to frame based on different prompts. To create a final composition that is mesmerizing to look at, I threw on a bunch of color corrections and post-effects like distortions and displacements. It was definitely a fun process, and the most difficult part was knowing when to stop playing with the possibilities and not let the AI overwhelm the animation.
What are your thoughts on the new wave of digital art and collectibles?
It's interesting, but we're still seeing it in its infancy. The movement needs time to grow and mature in order to build a solid foundation so that it can be taken as seriously as it deserves.
It was almost utopic when I first started participating in NFTs. Digital provenance and verifiable authorship are something we as content creators have wanted for a long time, particularly in this age of hyper-sharing and dissolution of attribution. But the digital art landscape quickly became unrecognizable due to the wave of profiteering newcomers that were attracted to the promise of quick money and huge sales. NFTs ended up gaining the reputation that many fought to avoid.
Having said that, there are still many amazing projects to explore and develop within the space. I'm not sure if there'll ever be mass adoption, but it'll eventually purge itself and continue to grow. I'll just enjoy the view from the back seat for now.
1 of 3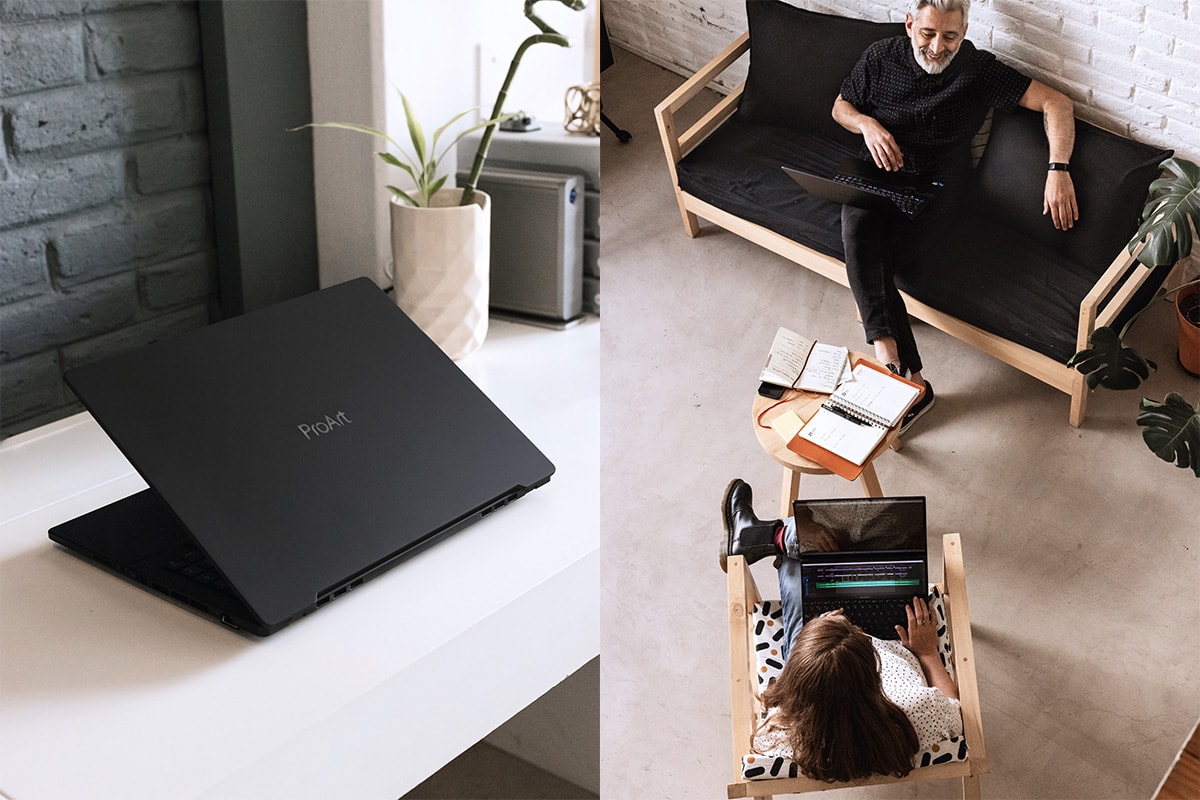 2 of 3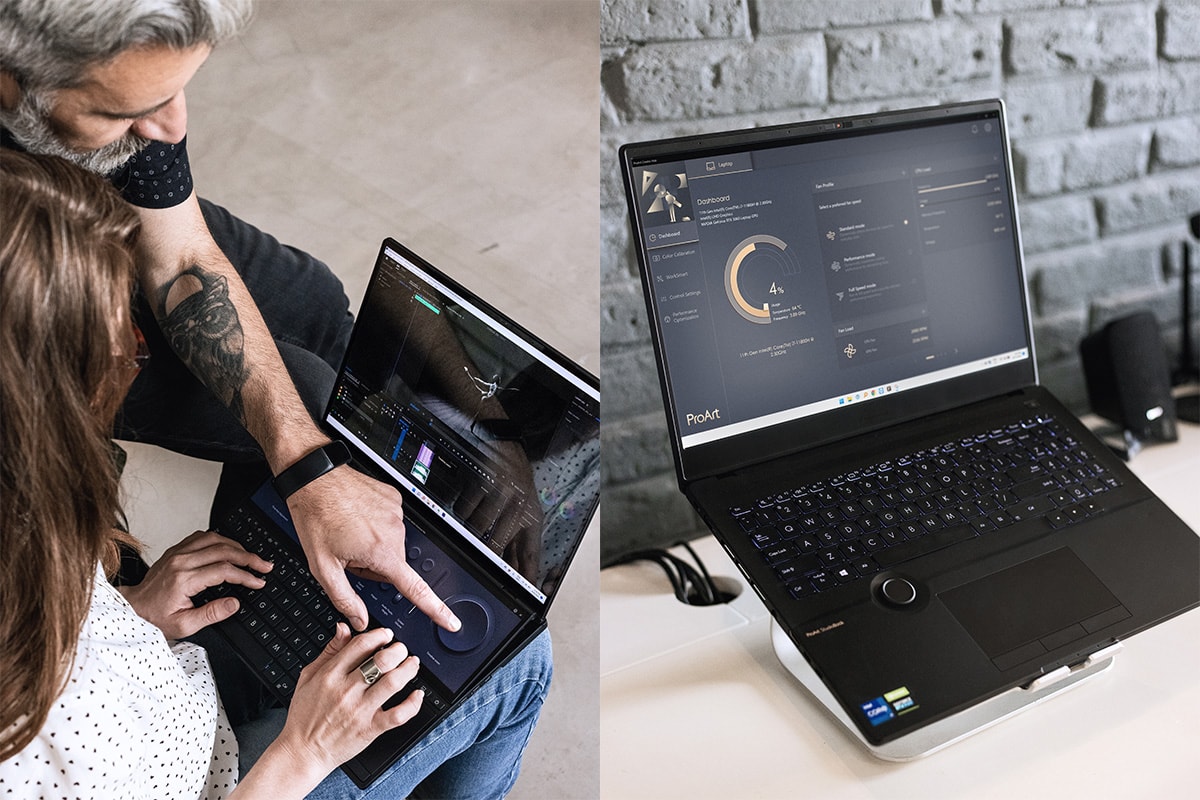 3 of 3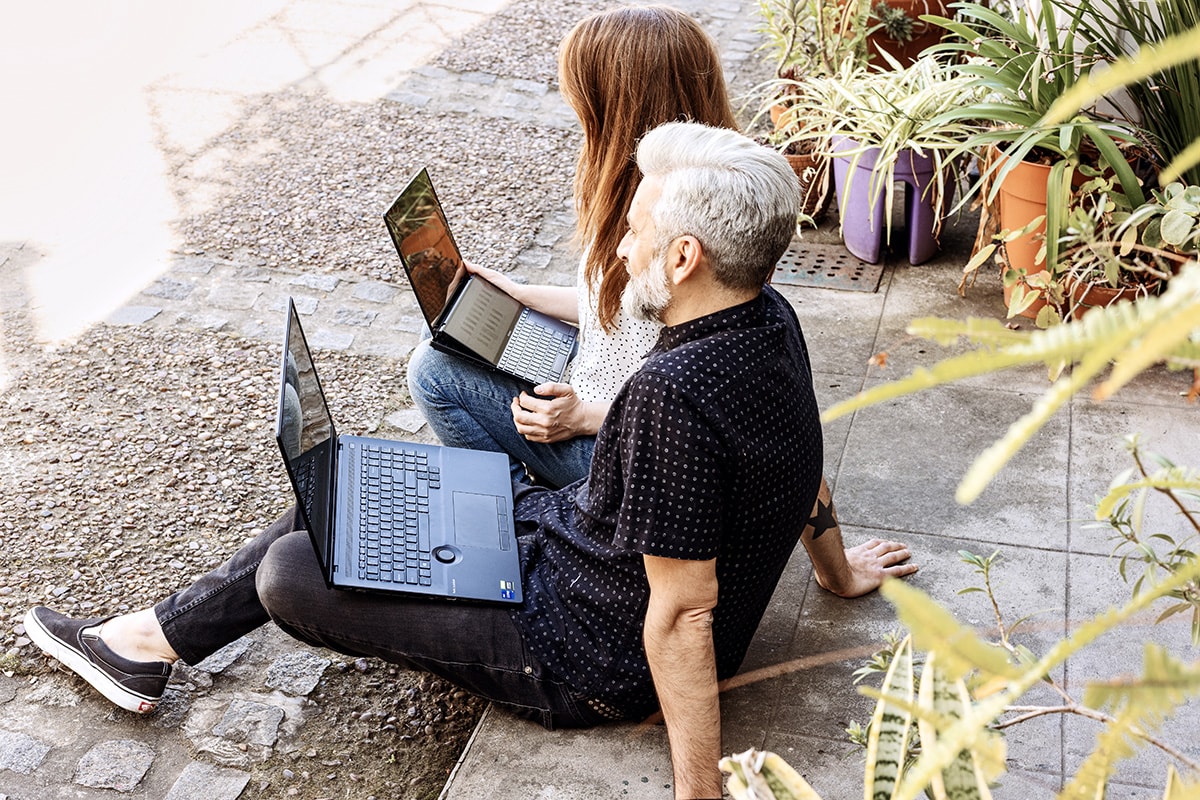 "I've become extremely fond of the specific productivity tools my ASUS laptops provide."
Do you often work on one piece or multiple pieces at once?
I enjoy multitasking, so I'm always working on different things. Of course, it helps that much of the work I do involves a decent amount of computing time, so whenever I have to wait for a simulation or render, I'll turn around and do something else in the meantime.
I've become extremely fond of the specific productivity tools my ASUS laptops provide. We've been doing our editing work on one of our desktop computers for years, but the ProArt Studiobook has challenged that position as the Creator Hub has proven to be extremely useful and time-saving. Abi, who has worked as a professional editor for many years, is fascinated by how the ASUS Dial and customizable commands have changed the way editing feels, and how much faster and intuitive the workflow has become.
As a motion graphics designer, what are the most important features when it comes to choosing laptops for yourself?
While we always look for power, both in the CPU and GPU departments, these days one of the most important things we look for are great screens. Not only are the Zenbook Pro and ProArt Studiobook powerful enough, their new OLED screens are so pleasant to look at that we can't imagine going back to any other kind.
As a lifelong desktop PC user, I've always missed and longed for the wonderful colors and smoothness other systems' screens have enjoyed. Now I can finally have them to carry around with. The smooth motion, true-to-life colors and incredibly pleasant brightness of these screens have been a real step-up for us, to the point where I'm sometimes more comfortable remote-controlling my desktops from the laptops, just because of how easy on the eyes the OLED displays are!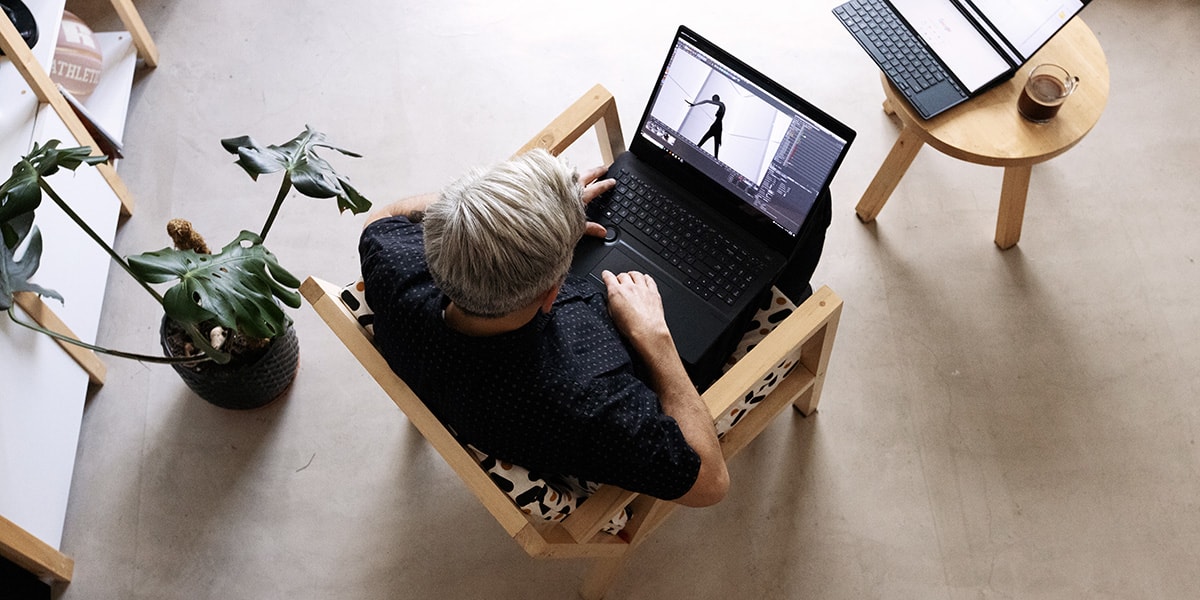 "I hope they'll have a laugh, be surprised or at least smile a little."
What do you want people to feel or take away from your new NFT artworks?
Oh I hope they'll have a laugh, be surprised or at least smile a little. I don't expect people to change their lives or question their beliefs, but perhaps some will be amused, and a few may be inspired to pursue their own ideas and find ways to bring them to life.
Photography by Florencia Mazza Ramsay for Hypebeast.
---