Aston Martin Unveils the AMB 001 Pro Track Hyperbike
The Brough Superior-built machine will cost more than $120,000 USD.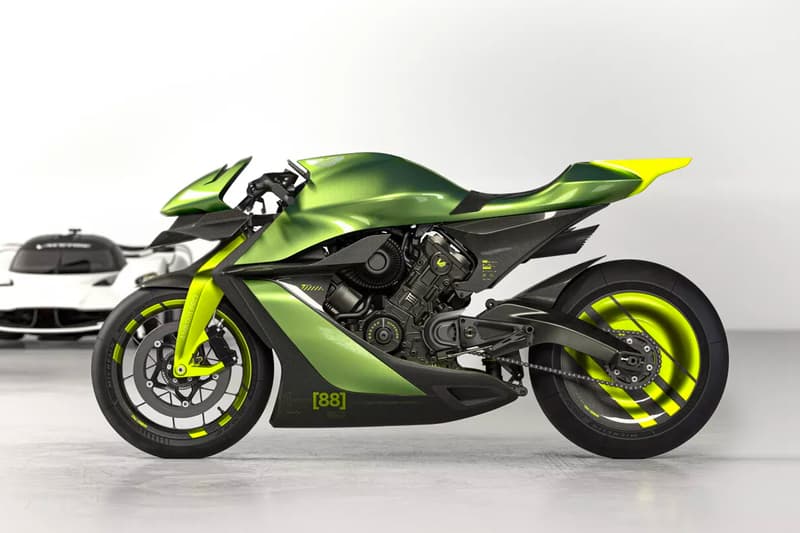 1 of 5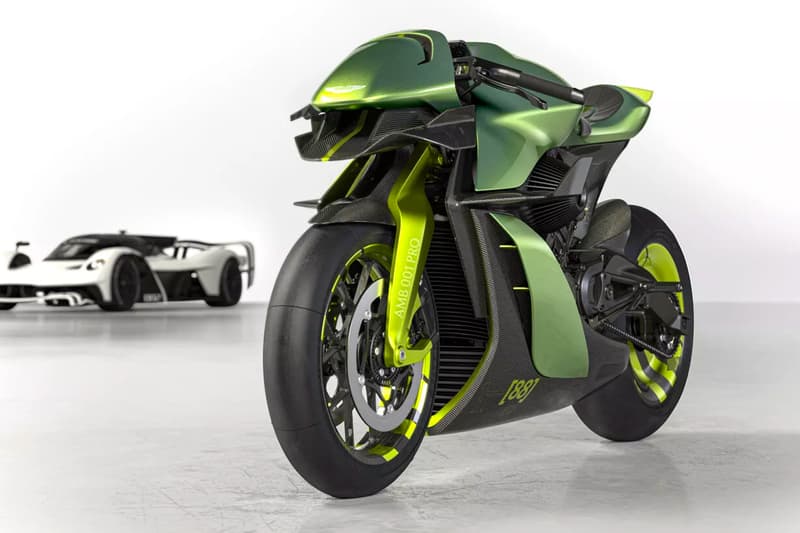 2 of 5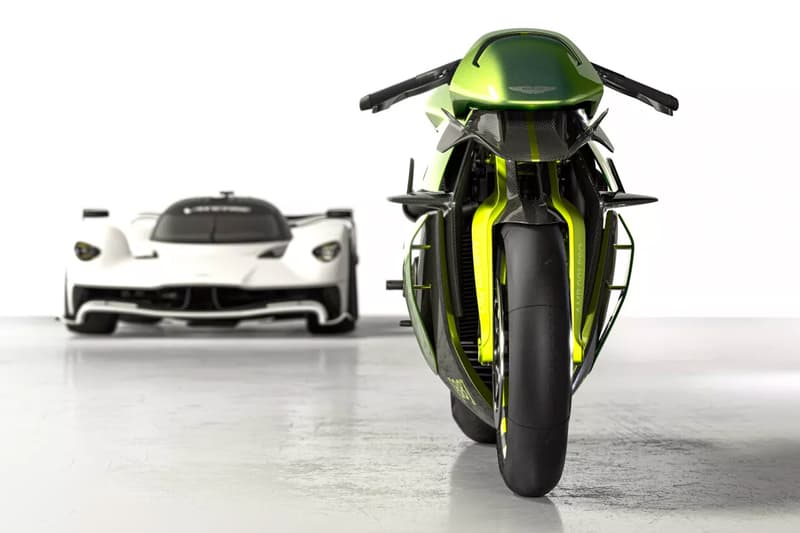 3 of 5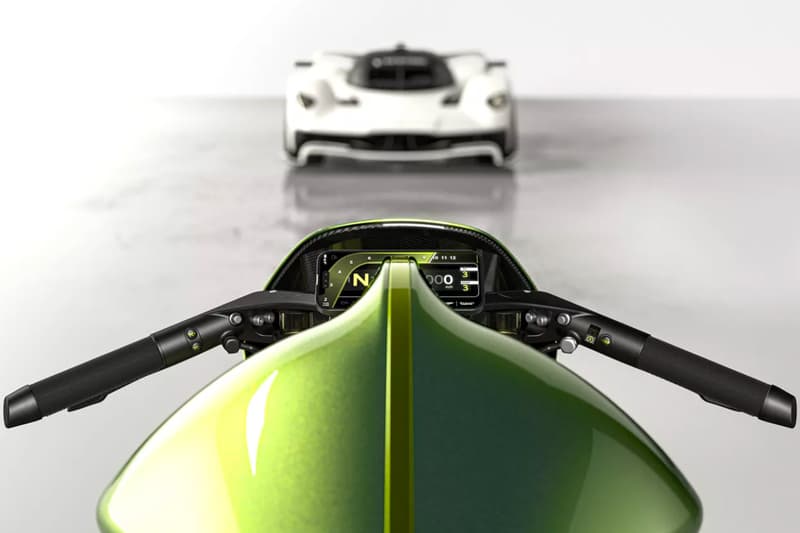 4 of 5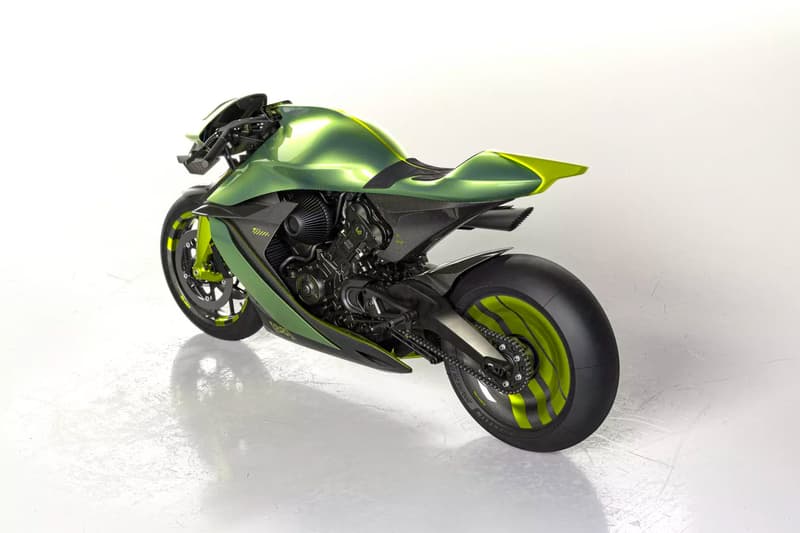 5 of 5
In 2019, Aston Martin broke the Internet with the unveiling of its AMB 001 motorbike made in collaboration with Brough Superior, and now the two juggernauts have come together again to reveal the next iteration: the AMB 001 Pro.
Strictly built for the track, the AMB 001 Pro superbike takes everything Aston Martin and Brough Superior learned and delivered with their formative motorbike and dials it up to eleven. The result is a 25% power increase on its predecessor to 225 HP, coming courtesy of a new fully-machined AL 5000 solid billet CNC-machine dual-cylinder 997cc engine. In total, the bike weighs in at just 175kg dry, meaning the power-to-weight ratio is 1.28 hp/kg — to put that into perspective, a Formula 1 car has a power-to-weight ratio of 1.4hp/kg, so don't mistake the AMB 001 Pro for a slouch on the track.
Racing infiltrates every inch of the new motorbike as it draws inspiration from the British marque's own Valkyrie AMR Pro hypercar, and we suspect these two machines will look perfect sat next to each other in one's dream garage set-up. Like the Valkyrie, the motorbike is super limited, with only 88 units being produced.
Speaking on the project, Thierry Henriette, Chief Executive Officer of Brough Superior, said: "We are excited to reveal the AMB 001 Pro at EICMA today. The success of its predecessor, coupled with the incredible Aston Martin Valkyrie AMR Pro, inspired us to get together again to create a new superbike; one that we know will excite our customers. We are particularly proud of the new engine type, with a crankcase fully machined from solid billet aluminum, which is a unique feature for a production motorcycle. With the marked increase in power, this takes AMB 001 Pro into the hyperbike sector."
Marek Reichman, Executive Vice President and Chief Creative Officer of Aston Martin, added: "It's a beautifully simple formula. Form plus technology equals performance. When you push something to the very edge of capacity, and do it seamlessly, the resulting experience can have you breathless. There is no separation between the advanced materials, design, and technical capabilities of the bike. We've achieved this fluidity again with Brough Superior for those who desire a track superbike like none other. The rider is part of this moving sculpture and will literally feel as though they are part of the track when laying atop the AMB 001 Pro."
Touching on Reichman's points, Aston Martin and Brough Superior have revised the AMB 001's architecture to make it the most formidable track weapon. The front wing and spoiler now delivers increased downforce, while tunnel effect air blades direct air over the rider as they become a part of the machine. Likewise, the rear fin with an aero stabilizer allows air to be channeled over the bike and out at the rear, making sure the piece sticks to the tarmac.
To further denote this as the AMB 001 Pro, the bike will only come in "Aston Martin Verdant Jade" with satin-finished carbon fiber and black Cerakote engine and suspension, accented by "Photon Lime" detailing. Each machine is hand-built and orders have already taken place. Expect it to cost a fair bit more than the Aston Martin AMB 001's initial $120,000 USD starting price.
For more masterpiece creations, check out A$AP Rocky's Need for Speed Mercedes-Benz 190E EVO in real life.