Victor Wembanyama Called "2K Create-A-Player" After Stunning Las Vegas Exhibition
The 7-footer is projected to be the first pick in the 2023 NBA Draft.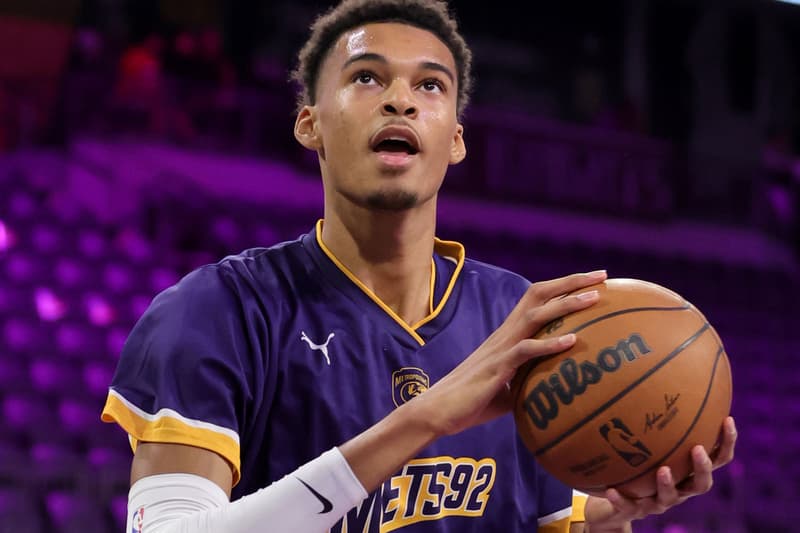 18-year-old NBA prospect Victor Wembanyama has players on high alert and fans in awe after two consecutive monster performances against the G-League Ignite. Standing 7'3 without shoes, Wembanyama is the same height as Boban Marjanovic and Kristaps Porzingis who are the two tallest players currently set to appear this upcoming season.
Wembanyama, who currently plays for the French professional basketball club Metropolitan 92, averaged a  stat line of 36.5 points, 7.5 rebounds, and 4.5 blocks in the two games, showing his prowess on both ends of the floor. In his first game, Wembanyama scored 37 points, including 7 3-pointers, 4 rebounds, and 5 blocks, and in his second game, he totaled 36 points and 11 rebounds with 4 assists and 4 blocks.
While towering over his teammates and opponents, he shows impressive ball-handling abilities and hits consistently from deep. Wembanyama is currently projected to come first in the 2023 NBA draft and many including Steph Curry, are calling him a maxed-out "2K Create a Player."
"Everybody's been a unicorn over the last few years, but he's more like an alien. No one has ever seen anyone as tall as he is but as fluid and as graceful as he is on the floor," said LeBron James who was there to watch Wembanyama in person. "I mean at 7'4 or 7'5 or 7'3, or whatever the case might be. His ability to put the ball on the floor, shoot step back jumpers out of the post, step back threes, catch and shoot threes, block shots."
Take a glimpse of Wembanyama in action below.
7'4" 18-year-old Victor Wembanyama

37 Points
11/20 Shooting
7/11 Threes
5 Blocks
4 Rebounds

— Ballislife.com (@Ballislife) October 5, 2022
Non mais…. SERIEUSEMENT ?!
?

Hugo Besson pour Victor Wembanyama !!!!! pic.twitter.com/OocejXaI0m

— NBA France (@NBAFRANCE) October 6, 2022
Steph Curry on Victor Wembanyama: "He's like a '2K create a player.'"

— Mark Medina (@MarkG_Medina) October 6, 2022
Victor Wembanyama is a one-of-a-kind hooper!

? 37 PTS, 4 REB, 5 BLK, 7 3PM pic.twitter.com/jc3Jz6SLio

— NBA (@NBA) October 5, 2022
Elsewhere in sports, Rhuigi Villaseñor appointed creative head of NHL's Arizona Coyotes.