Rick Ross Shows off Iced Out $1.5 Million USD Jacob & Co. Mystery Tourbillon
Delivered with a fully armed security team.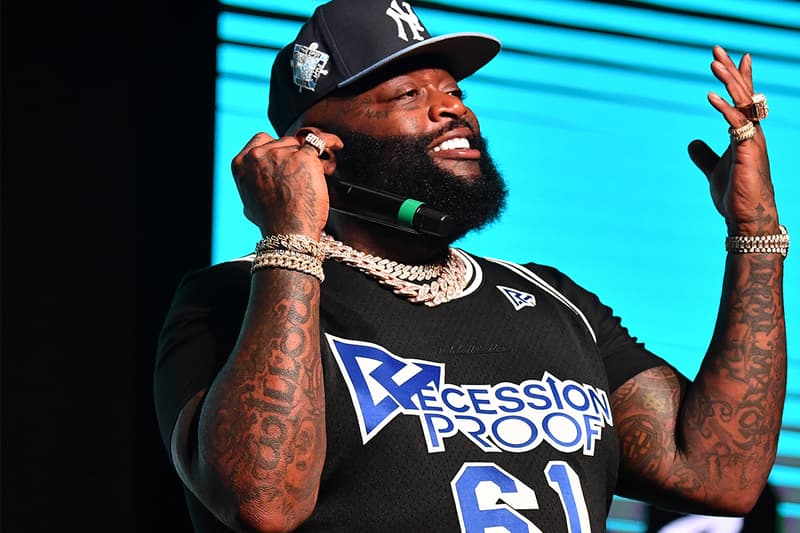 Rick Ross has made yet another showstopping timepiece purchase from the bespoke watch jeweler, Jacob & Co.
Earlier last week, the rapper purchased the seven-figure Jacob & Co. Mystery Tourbillon with special customizations, sharing a video of the heavily armed delivery to his home. In the video shared to his Instagram Story, Ross films a video of the van pulling up to Ross' driveway. Two armed-delivery personnel emerge from the van and give Rozay a large box that contains the $1.5 million USD wrist piece.
In the video, Ross can be heard confirming, "This that Jacob delivery. Heavyweight." He later explains the armoury stating, "They gotta be heavily armed when they making a Rozay delivery from Jacob. It ain't normal. It ain't regular." According to Jacob & Co's website, the watch features invisibly set baguette hexagonal diamonds, while the dial is set with hexagonal, overlapping diamonds. The company goes on to state the features of the watch, "The minute disk is set with 119 white diamonds (≈ 6.80 ct.) and one ruby (≈ 0.18ct.) to indicate the exact minute. The hour disk is also set with 119 white diamonds (≈ 7.93ct.) and one red ruby (≈ 0.28ct.) to show the hours. The outer ring is set with 108 white diamonds (≈ 4.56ct.) and 12 blue sapphires (≈ 1.49ct.) for the hour markers."
Jacob & Co. also took to Instagram to note that the watch features "hundreds" of diamonds that have been "cut in bespoke shapes." While the watch Ross has does not appear to feature sapphires due to its red-tone makeup, it is certain Ross' watch is not short of any high quality, expensive stones.
[/embed]
In case you missed it, Asphaltgold x Sinn Speizialuhren has dropped a limited edition chronograph.