Heinz's Tomato Blood Ketchup Bottle Is Back for Halloween 2022
Toby, a 280-year-old vegetarian vampire, urges his fellow vampires to spare the necks of humans this October.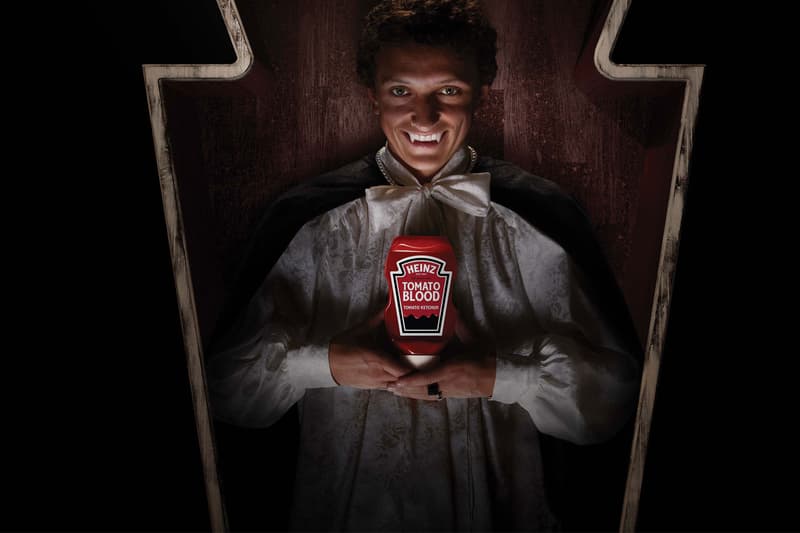 Heinz is celebrating Halloween with the return of its limited edition Tomato Blood Ketchup bottle.
The seasonal offering sees the classic bottle redesigned to read "Tomato Blood" in a big font while the words "Tomato Ketchup" is stated underneath. The bottle's traditional tomato image is also replaced with imagery of blood, while the "57 Varieties" phrase is replaced with "57 Blood Types." Heinz's spokesperson Toby, a 280-year-old vegetarian vampire, also promoted the bottle in a PSA in order to spare the necks of humans. "Being a vegetarian vampire and only eating Heinz Tomato Blood comes with a lot of misconceptions," Toby shared in a statement. "I hope that by issuing a PSA, vampires nationwide will consider that humans can be more than just food and give friendship a chance while enjoying a tasty alternative."
"Whether dripped on a dinner plate or used as a creepy accessory, Heinz has been helping people make memories for years, and this Halloween is no exception," added Alyssa Cicero, Brand Manager, Communications, Heinz. "The limited-edition Heinz Tomato Blood Ketchup bottle features the iconic ketchup people know and love in a design even vampires can appreciate."
The Heinz Tomato Blood Ketchup is available now at select retailers nationwide.
In case you missed it, Pusha T reunited with Arby's for another diss track aimed at McDonald's.