CASETiFY Now Lets You Verify and Display NFTs in Your Phone Case
So you can flex your collectibles in the real world.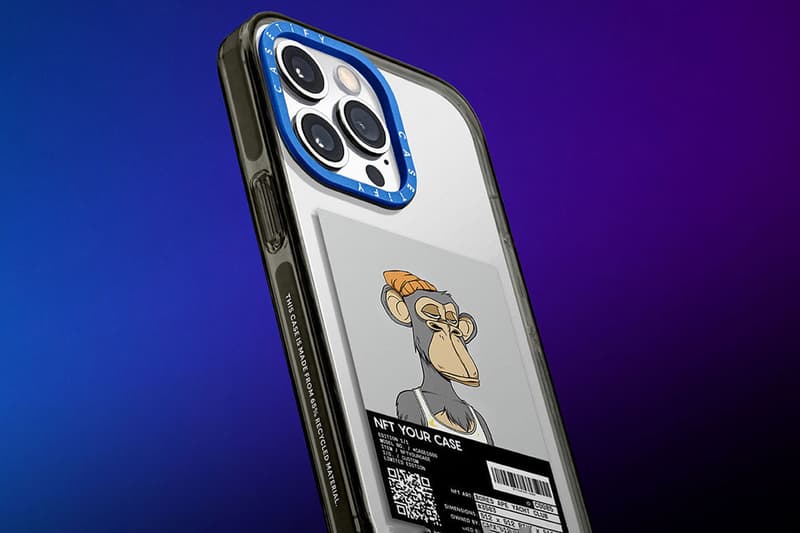 Phone accessories brand CASETiFY announced on Wednesday the launch of NFT Your Case, a digital store that allows collectors to authenticate their NFTs.
The new project allows people to display NFTs on their phone cases. To verify NFT ownership, users can connect to their wallet, choose an NFT art to print on the case and purchase through the brand's dedicated NFT site. The platform uses MetaMask and WalletConnect to link to a user's digital wallet and verify NFT ownership. Each phone case will feature a printed QR code linked to the NFT's origin and metadata alongside a printed image of the NFT itself.
Certain blue-chip NFT projects, like Bored Ape Yacht Club, will come with a blue verified camera ring. All other non-verified NFT projects come with the brand's signature black camera ring.
According to the site, cases can be made for any iPhone 8 and newer devices, or Galaxy S20 and S21 models. They are made from 65% recycled materials and feature 10-foot drop protection, bezel screen protection, a flash-absorbing camera ring, 360-degree all-around impact protection, wireless charging and MagSafe compatibility.
"Proving authentication is everything to an NFT owner, and our platform eliminates those worries by decentralizing the verification process for creating phygital goods," said CASETiFY CEO and co-founder Wes Ng in a press release. "The launch of NFT Your Case allows the community to flex their digital artworks right in the palm of their hands, while opening the door to endless creative possibilities in the Metaverse."
The new platform follows CASETiFY's recent purchase of Bored Ape #3583 for 83.4 ETH, (approximately $260,000 USD).
Phone cases are priced starting at $45 USD and can be purchased in ETH or USD.
In other news, CASETiFY recently released a collaboration with Peanuts.