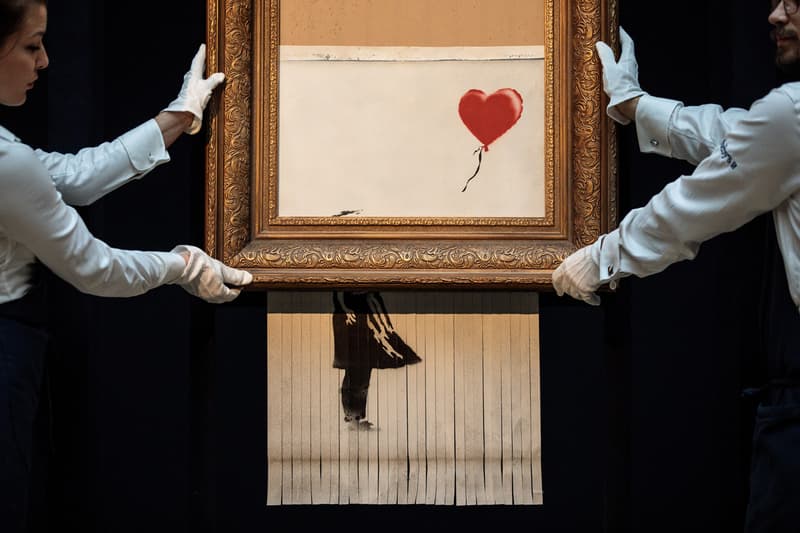 Banksy's Shredded Artwork Will Hit Auction Yet Again
The world is watching.
---
Banksy stunned the world nearly three years ago when he deliberately shredded his famous Girl with the Balloon artwork seconds after it sold for $1.4m USD at Sotheby's. Having been renamed by the artist to Love is in the Bin, Banksy has reiterated that the artwork was fully intended to be shredded had the self-destruction gadget worked properly.
Low and behold, Love is in the Bin will hit Sotheby's yet again after being reauthenticated by the auction house. The work was bought by an anonymous European collector who is pitching the latest sale as "the first work in history ever created during a live auction." Despite being nearly destroyed, Love is in the Bin is expected to fetch around $5.5m to $8.3m USD — nearly quadruple the amount it sold for initially. How about that for a return on investment?
There are some who believe that the auction house was in on the charade — perhaps a means to amplify the whole spectacle that surrounds any Banksy work to emerge. The artist himself wrote in a 2018 Instagram post: "Some people think the auction house was in on it, they weren't." Alex Branczik, a senior director at Sotheby's noted in a past statement that the event was "a global sensation that has since become a cultural phenomenon." In hindsight, "Banksy did not so much destroy an artwork by shredding it, but instead created one," he added.
Love is in the Bin will embark on a world tour going from Hong Kong, Taipei and New York to eventually hitting auction at Sotheby's in London on October 14.
Also in the news, Future Fair will finally debut this month in Chelsea.
Sotheby's
34-35 New Bond St,
London W1A 2AA,
United Kingdom