Lil Nas X and Tony Hawk Controversy Over Blood-Infused Skateboards Sparks 'Nah He Tweakin' Meme on Instagram
The phrase has since taken over the site.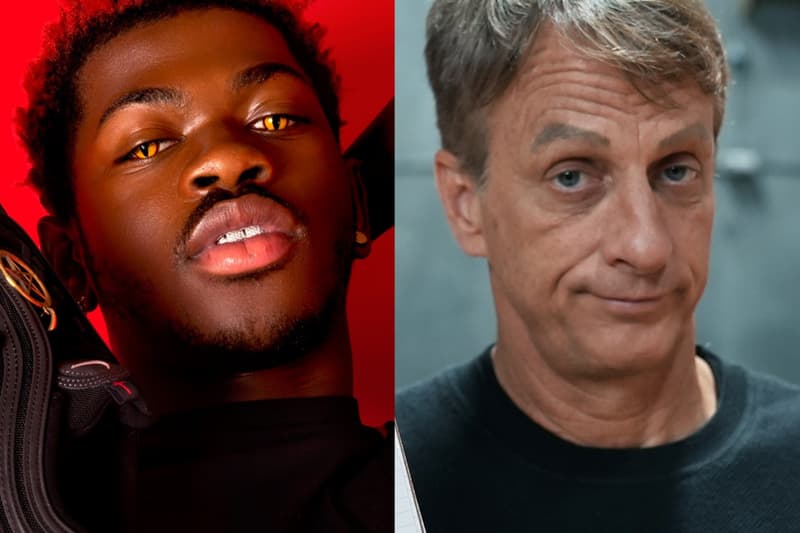 A feud between Lil Nas X and skateboarder Tony Hawk sparked a bizarre meme that has since gone viral on Instagram.
The controversy stems from a collaboration between Hawk and beverage company Liquid Death released this week that included a skateboard deck painted using Hawk's actual blood. The limited-edition boards have since sold out.
On Wednesday, Lil Nas X took to Twitter to comment on the similarities between his previously-released Nike Air Max 97 "Satan Shoes," which featured a drop of human blood, and Hawk's recent launch. The artist's controversial shoe sparked conservative backlash and even led to a lawsuit between Nike and Lil Nas X.
now that tony hawk has released skateboards with his blood painted on them, and there was no public outrage, are y'all ready to admit y'all were never actually upset over the blood in the shoes? and maybe u were mad for some other reason?

— nope ?? (@LilNasX) August 25, 2021
Lil Nas X then took to Instagram to express his sentiments on Hawk's blood-infused boards, commenting on a news post published to RapTV's feed.
"Y'all rockin with it!?" RapTV asked in a caption alongside its post.
View this post on Instagram
"nah he tweakin," Lil Nas X responded in the comments, thus sparking a meme that has since taken over Instagram. His original comment has garnered nearly 35,000 likes so far, and led to scores of people commenting on other popular Instagram posts with the phrase "nah he tweakin."
In addition, some of Hawk's most recent posts have been flooded with commentators perpetuating the meme response.
View this post on Instagram
Neither Hawk nor Lil Nas X has directly responded to the proliferation of the meme.
In a tweet late Wednesday, Instagram acknowledged the meme.
Yeah we tweakin, but only a little bit. We're aware that some people are having issues loading their comments (we're fixing that) and that some are seeing a bunch of comments saying "nah he tweakin" (what is that?). More soon! pic.twitter.com/eek6t2qE40

— Instagram Comms (@InstagramComms) August 26, 2021
In other news, Lil Nas X will serve as Taco Bell's chief impact officer.