Nike Wins Restraining Order Against Lil Nas X's "Satan Shoe" But It Already Sold Out
MSCHF, which produced the sneaker, was "honestly surprised."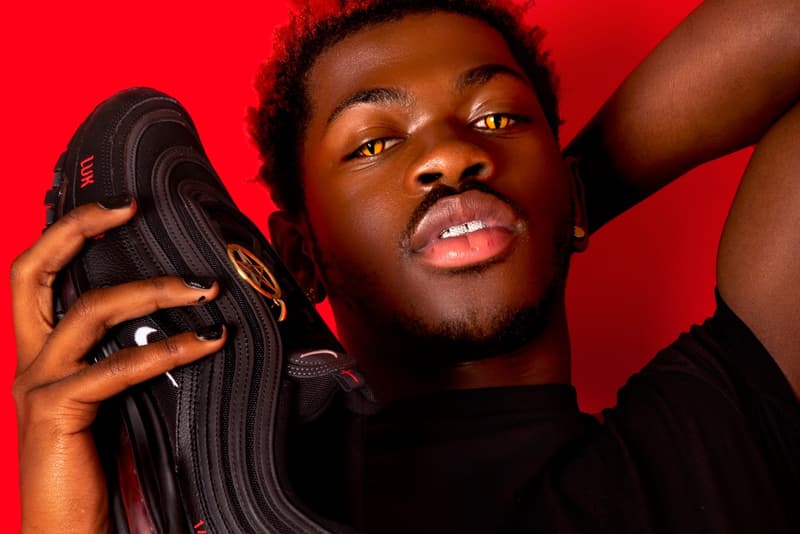 As reported by The Business of Fashion and confirmed by Lil Nas X himself on Twitter, Nike's lawsuit over the rapper's "Satan Shoes" has been decided in favor of The Swoosh, at least for now. Although the sneakers, priced at $1,018 USD, sold out immediately, a federal judge in Brooklyn awarded Nike a restraining order against MSCHF, the makers of the controversial shoes.
On April 1, three days after the initial suit was filed, US District Judge Eric Komitee agreed with Nike's complaint that Lil Nas X and MSCHF's Satan Shoes, so named for a variety of devilish detailing, infringing upon the Oregonian sportswear brand's trademark. Lil Nas X isn't a defendant in the case, but the court's ruling — which granted Nike a temporary restraining order against MSCHF, preventing the Brooklyn-based company from fulfilling 665 orders for the sold-out sneakers — does affect him, as the rapper may no longer give away the 666th pair.
On March 28th, Lil Nas X issued a satirical apology video related to the controversy stirred up by the shoes, which were made available for purchase through MSCHF's site the next day.
Ostensibly, the sneakers are a complement to the video for Lil Nas X's new single, "MONTERO," which saw the rapper sliding down a pole from Heaven to give the devil a lap dance. America's lingering "Satanic Panic" all but ensured that the firebrand video and accompanying Satan Shoes would garner huge headlines.
This is par for the course for MSCHF, the anonymous design collective that previously courted controversy and headlines with its "Impossible" patchwork T-shirt, $76,000 USD "Birkinstock" and even a pair of "Jesus Shoes."
"Nike filed a trademark infringement and dilution complaint against MSCHF today related to the Satan Shoes," Nike told CBS News in a statement on April 1. "We don't have any further details to share on pending legal matters. However, we can tell you we do not have a relationship with Lil Nas X or MSCHF. The Satan Shoes were produced without Nike's approval or authorization, and Nike is in no way connected with this project."
sorry guys i'm legally not allowed to give the 666th pair away anymore because of the crying nerds on the internet https://t.co/URoj0kGnRq

— nope ? (@LilNasX) April 1, 2021
i haven't been upset until today, i feel like it's fucked up they have so much power they can get shoes cancelled. freedom of expression gone out the window. but that's gonna change soon.

— nope ? (@LilNasX) April 1, 2021
However, this attention from Nike is much less desirable. "We were honestly surprised by the action Nike has taken, and immediately after Nike's counsel sent us notice we reached out but received no response," said MSCHF in a public statement.
"Over a year ago we released the Jesus Shoes. As a manifested speculative artwork Jesus Shoes conflates celebrity collab culture and brand worship with religious worship into a limited edition line of art objects. Last week's release of the Satan Shoes, in collaboration with Lil Nas X, was no different. … Heresy only exists in relation to doctrine: who is Nike to censor one but not the other?"
Here's the #MSCHF and INRI customized #Nike Air Max 97s based on the miracle of Jesus walking on water. The pair has been filled with water from the River Jordan and then blessed, meaning wearers are able to theoretically walk on Holy Water: https://t.co/7e3PrAGQxN
Photo: … pic.twitter.com/p07RFs8r2N

— HYPEBEAST (@HYPEBEAST) October 11, 2019
In court, MSCHF's lawyer made a similar argument, explaining that the Satan Shoes, like the "Jesus Shoes," are art rather than mere sneakers and thus those who purchased the Satan Shoes wouldn't believe that they were affiliated with Nike. They also pointed out that most of the shoes have already been shipped to buyers and the order cannot be observed.
However, counsel for Nike argued otherwise. First, they cited a recent Instagram post of Miley Cyrus wearing the sneakers as proof that the shoes would be treated no differently than a conventional pair of Nikes, bolstering claims of infringement. Furthermore, according to CBS, Nike's lawyer expressed "some serious doubts" that all 665 pairs of Satan Shoes had been shipped and delivered in the past few days — even if MSCHF has accomplished this, Nike's lawyer asserts that "irreparable harm" had already been done.
The lawsuit between MSCHF and NIKE is ongoing. In the meantime, HYPEBEAST has reached out to MSCHF for further comment.
It's been a challenging week for Lil Nas X, to say the least, as the creative's "MONTERO" video was recently called out as imitative by another music video director.