Jake Paul Defeats Tyron Woodley Via Split Decision in Eight-Round Boxing Match
Paul was able to survive a massive left hook in the fourth round.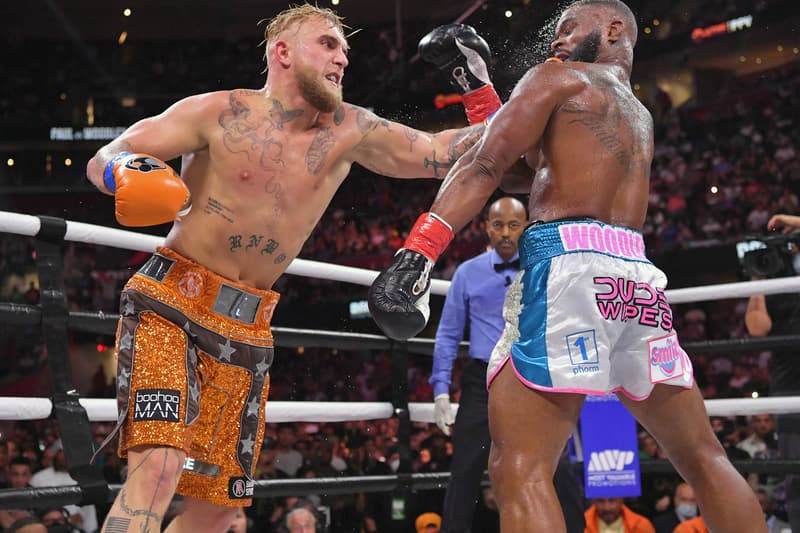 After months of promotion, the results are in for the Jake Paul versus Tyron Woodley boxing match. MMA fans will be disappointed to learn that Woodley, aka The Chosen One, has lost the fight via split decision (77-75, 75-77, 78-74).
The fight began slowly for Woodley as Paul started the fight off as the aggressor finding his range with a number of quick jabs. It could have been the pressure from the MMA community of not wanting to get KO-ed like his friend Ben Askren in the previous boxing match, but Woodley took things very slowly with little volume and pressure. Things changed in the fourth round when Woodley landed a massive left hook that staggered Paul back, only to be saved by the ropes. This gave Woodley the boost of confidence he was looking where it shifted him into offense mode.
The forward pressure from Woodley was short-lived as the later rounds saw Woodley's volume drop, giving time for an exhausted Paul to recover. The fight slowed drastically for both boxers in the last two rounds as neither of them had the power nor the energy to piece together a finishing combo.
With this win, Paul now moves 4-0 in boxing, fighting his toughest opponent to date. He not only proved that he can survive in the ring with a world-class athlete/fighter but showed that he can also take a hard shot. As for Woodley, he has already expressed interest in a rematch, although he will need to get the "I Love Jake Paul" tattoo before Paul even considers it.
Jake Paul defeats Tyron Woodley in a split decision! He's now 4-0 in his boxing career. Tough night for Woodley bettors! #JakePaul #tyronwoodley #paulvswoodley #boxing #showtimeboxing pic.twitter.com/ms9YPeVTam

— The Bosox Bombas (@thebosoxbombas) August 30, 2021
For anyone asking how Jake won this fight this is why!!! This ain't the ufc ??? if you don't know boxing just say that #JakePaul #tyronwoodley #TyronWoodleyvsJakePaul pic.twitter.com/uWF80TLijn

— ❤️‍? (@valion_j) August 30, 2021
JAKE PAUL ALMOST GETS KO'd !! #jakepaulvstyronwoodley #JakePaul pic.twitter.com/JzuYaKr4gF

— Kellen Rodriguez (@Suckafree_TV) August 30, 2021
"dawg relax did you forget i'm paying you to let me win" #jakepaulvstyronwoodley pic.twitter.com/PP5uR4RBZk

— Ben ??????? (@whubenbagged) August 30, 2021
In other sports news, Cristiano Ronaldo is returning to Manchester United.