This Barilla Pasta Box-Shaped Bag Was Inspired by the Early Months of the Pandemic
Nik Bentel told HYPEBEAST that inspiration struck while he was cooking pasta in quarantine.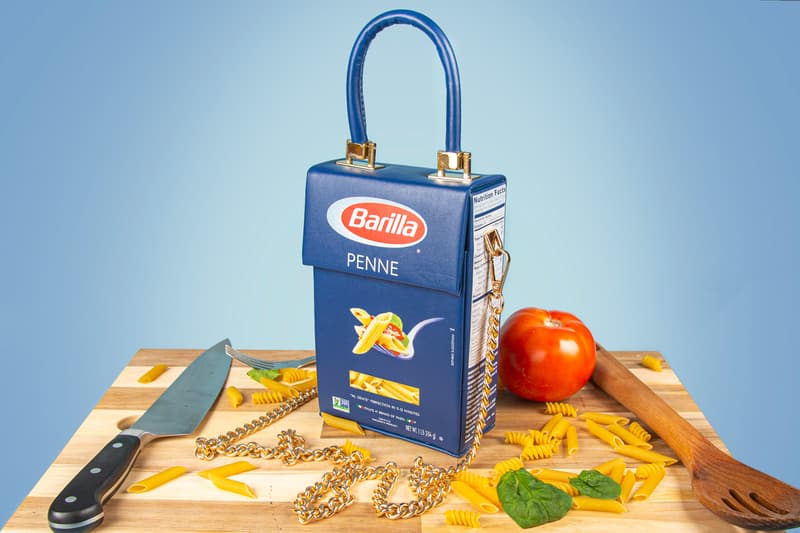 Nik Bentel says inspiration for his most recent project struck as he cooked his "100th bowl of penne pasta." Back in the early months of quarantine at the height of the COVID-19 pandemic, the New York-based artist and designer reverted to buying largely non-perishable food items and wanted to immortalize the familiar feeling of staring at the back of the blue Barilla pasta box.
The result of this experience is a tongue-in-cheek take on spending a year indoors: a meticulous rendering of the classic pasta box as a leather purse aptly named The Pasta Bag. Adorned with a handle and gold chain shoulder strap, the purse features all of the details of the original box, including its nutrition information panel and cooking instructions. While the project isn't affiliated with Barilla, Bentel's design is strikingly accurate to its cardboard counterpart.
The designer described to HYPEBEAST the year-long process of creating the bag. "I started with talking to bag and leather experts who knew what materials and manufacturing processes I should use," said Bentel. "From there, I went to a number of bag makers to collect samples."
He described UV printing on the leather's surface as "key to making the bag look as realistic as possible," during which a layer of ink is laid down and bathed in UV light to leave a bright, long lasting pigment.
Though the bag marks Bentel's foray into accessory design, it certainly embraces what he calls "a constant theme in [his] projects" of "a bit of humor." It arrives as the third installment in his Storytelling Projects series, preceded by a loopy chair made out of steel bike racks and a flowered dress straight out of Sandro Botticelli's masterpiece "The Birth of Venus."
"The idea with the series is to reimagine daily objects that really tell a story, almost like episodes in a TV series," said Bentel. He plans to release a new project every month for the next year, teasing that the next project will be a "very loopy-looking candelabra."
Along with leading the vanguard of quirky product design, Bentel is working towards a master's degree in architecture from Columbia University, a clear influence on the element of construction that goes into his creative projects. "I like to think that my practice is somewhere in the middle of pure utility and pure aesthetic," said Bentel.
Priced at $199 USD, a limited run of 100 units of The Pasta Bag drops tomorrow, August 11, at 10 a.m. EDT on Bentel's website.
In other art news, Fenimore Art Museum is showcasing an extensive collection of work from Keith Haring.