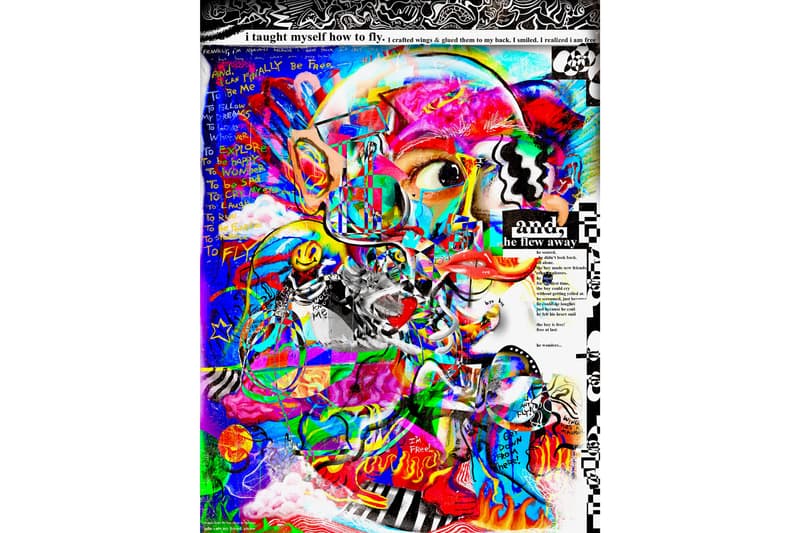 Christie's Celebrates Pride Month With Colorful NFTs by Digital Artist FEWOCiOUS
Capturing the transgender artist's journey from Victoria to Victor.
---
In honor of Pride Month this June, Christie's New York is currently hosting an online auction for a collection of NFTs by boundary-pushing digital artist, FEWOCiOUS. At only 18-years-old, the artist has broke the mold of traditional art by creating pieces of varying mediums that speak to his personal experiences as a transgender artist. FEWOCiOUS is known for his otherworldly compositions in vibrant tones, often including writings that reflect his worldview while touching on themes such diversity and inclusivity.
FEWOCiOUS' NFT collection encompasses five unique creations that commemorate the last five crucial years of the artist's life as he enters adulthood. "Art has become my best friend. Growing up Trans, i had no one to support me in my family, i hid in my room making art. When i felt scared, alone, dysphoric, and unheard, art was the only place i could vent about it. I cried when i first found out I have a Christie's drop. I get to finally come out to the world and share my story via my collection at an amazing auction house," said the artist in a statement.
Each of FEWOCiOUS' NFTs are accompanied by a physical painting alongside doodles, drawings and journal entries. The worsk in the series "captures his growth and the transformation of both his artwork and his inspiring journey from childhood life in Las Vegas to Seattle, and from Victoria to Victor."
The works are currently being offered online at Christie's until June 30.
In other art news, F2T Gallery recently opened in Milan with a group show featuring works by a selection of LA-based artists.