The Secret to Salomon's Success
How did a 75-year-old skiing label become a major footwear player?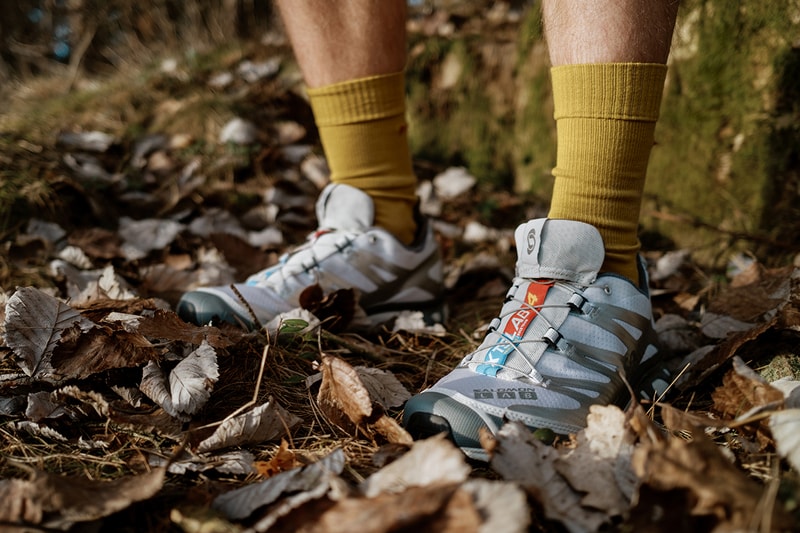 When COMME des GARÇONS revealed its Spring/Summer 2021 collaboration with Salomon last year, Rei Kawakubo spoke about the French brand's "openness" as well as its "passion for creation, and the good will to invest the time and huge effort needed to achieve it." As well as praising her new collaborative partner, Kawakubo also revealed that she had been a long-term fan of the brand, and had been wearing Salomon sneakers for years.
Kawakubo's remarks, made in late 2020, perfectly showcase how Salomon has taken a central position in the fashion and footwear industry. When the brand was founded by Georges Salomon in Annecy in 1947, it specialized in skiing hardware and, particularly, ski edges. Nowadays, Salomon is equally known for its fashion-forward approach which saw it continue its longstanding relationship with 11 by Boris Bidjan Saberi, debuted a Fall/Winter 2021 capsule with ERL and release the aforementioned COMME des GARÇONS collaboration in just the first three months of 2021.
Over the decades that followed, the brand moved into other outdoor sports categories, eventually focusing on apparel and footwear that was designed for trail running, hiking, skiing and snowboarding. More recently, however, Salomon has found favor with a crowd more used to fashion weeks than trails. This newfound audience is partly due to the rise of 'Gorpcore' — a name given to the trend for outdoor-wear, coined by The Cut in 2017 — but it also stems from Salomon launching its Sportstyle program and working with brands that share its vision and values.
""This is what has driven the whole Sportstyle category, having shoes that are true and authentic to performance, but have been recontextualized."
A big step forward came when JP Lalonde joined Salomon to lead its Sportstyle division in 2016. "At that point, there was no Sportstyle program," he explains, "there had been one project with The Broken Arm, and another with Boris Bidjan Saberi." These two collaborators have been mainstays for Salomon ever since, and helped reframe the brand when it was still seen as a pure performance label.
Those early days of Salomon Sportstyle have also shaped what it would go on to become. "In those days, the flexibility was just applying colors to existing styles," continues Lalonde."This is what has driven the whole Sportstyle category, having shoes that are true and authentic to performance, but have been recontextualized through the simple fact of changing the color application and being available to a different market."
This approach is central to how the Sportstyle division operates, with performance-oriented silhouettes repositioned through subtle adjustments rather than compromising any technical elements. A key example of this is Salomon's Advanced line, which Lalonde describes as "a statement to design and culture, but one that is deeply rooted in performance." It's these roots that lie at the heart of Salomon, and its popularity. "The foundation in functionality has really appealed to our end consumer," says Mark Macdonald, buying director at Sevenstore. "The brand has over 70 years of provenance, which our consumer buys into as they look for product with history and meaning. Their products are highly functional and they use progressive materials that are fit for purpose."
While changing the color options may seem like a relatively small change, it has been key to moving Salomon Sportstyle forward. "During all the performance life of the shoe, there were only two colorways, one for the soft ground, one for the hard ground," says Footwear Design Manager Benjamin Grenet of the XT-6 silhouette. "When we proposed this shoe in the Sportstyle range, everything was possible. You free the same design, you transform it and propose a new vision, to magnify it and propose it in a totally different way."
Celebrating this freedom with the first Sportstyle releases, the team took the XT-6 from its race colors of black, red and white, and dressed the silhouette in a bright, multicolored design. As Grenet says, "we switched from the S/Lab color palette of three colors to one hundred colors for the same product."
As well as using new colorways, Salomon has also recontextualized its footwear through a range of collaborations. "What's amazing about collaborations is that they allow us to push the creative envelope on products," says Lalonde, "whether that's colors, materials, and also design minds." Two consistent collaborators who have done a lot to shape Salomon are Paris-based retailer The Broken Arm and German designer Boris Bidjan Saberi, both of whom have been working with Salomon for a long time. "Both have very specific backgrounds to how we work with them," Lalonde continues. "The Broken Arm puts a mirror before us and says, 'What you're doing is absolutely stunning, the story we want to tell is the story of the French Alps, the story of Annecy, the story of what makes Salomon Salomon.' They've put Salomon on a pedestal through the position they have, but also by sublimating the heritage of Salomon."
"Before brands, we're all human beings. If we're not connecting on values and who we are as people, you'll feel it in the end product."
Boris Bidjan Saberi, however, comes to the brand from a very different perspective. "Boris has a totally different approach," Lalonde says, "to take ownership of our product and transform it with his own creative insight and to bring it to the market." Grenet agrees with Lalonde on Saberi's approach to the brand, which has previously seen him fuse silhouettes and styles to create new designs. "What is interesting with Boris is the capacity to recreate something from our products," Grenet adds, "but to recreate something very timeless, very powerful."
While collaborating with world-leading designers and labels — also including Palace, and wander and Beams in recent years — might seem like a new direction for Salomon, the brand sees it as a continuation of how it has always worked. Telling the story of the company's origins, Salomon's Head of Brand, Damien Chirpaz, explains Georges Salomon's approach. "The whole motto was 'I'm an engineer, a crafter, I'm going to connect with people who know the sports, because I don't know. They're going to tell me what to bring into that product to make it accessible and something that most people could play with.'"
"There was always a connection with others, to make sure the product is bringing something," Chirpaz continues. "It's the same idea with fashion. We're communicating with communities that could help us enrich ourselves with a contemporary vision, to make something appealing for a new community." Expanding on this theme, Lalonde also sees links to the way that Salomon has previously worked with the sports industry. "The shoes are designed exactly for an athlete's needs," Lalonde says, highlighting the brand's work with world champion long distance runner and ultramarathon winner Kilian Jornet. "On the other end, with Sportstyle we're also building shoes for the top athletes of the fashion world, like Rei Kawakubo or Boris Bidjan Saberi. The energy of the design, whether you have a top athlete or a top fashion designer, is as strong, but it trickles down very differently in how the product is being expressed."
Collaborations have obviously been an important part of Salomon's journey, and the collaborative partners have to be a suitable fit. "Before brands, we're all human beings," continues Lalonde. "If we're not connecting on values and who we are as people, you'll feel it in the end product." For Salomon, driving all of these connections and collaborations are the same ideas on which it was founded. "One of the main things is authenticity," explains Lalonde. "If The Broken Arm, Boris Bidjan Saberi, Rei Kawakubo and Palace have all come to work with us, it's because we've been staying true to our proposition."
Fans of the brand, including SEVENSTORE's Macdonald, are keen to stress that Salomon's collaboration strategy is only part of the story. "The collaborations add the icing on the cake to the brand," he adds. "But for me, it's all about the inline product and the iconic franchises such as the XT-6, XT-4 and XT-Wings. The brand is exceptionally good at colorways and each they reinvent classic silhouettes with innovative colors and fabric mix-ups."
As well as the popularity that has come from new colorways and collaborations, the Salomon team believes people are attracted to the brand through a combination of the brand's performance credentials and aesthetic approach. "In terms of comfort and control, the performance aspect brings the basics," Chirpaz adds. "We approach performance with a progressive mindset, so it has generated technologies, features and designs that are progressive."
"One of the main things is authenticity. If The Broken Arm, Boris Bidjan Saberi, Rei Kawakubo and Palace have all come to work with us, it's because we've been staying true to our proposition."
Both Lalonde and Grenet have another way of looking at this, pointing to the XT-6's origins. "It was designed for pure performance, comfort and efficiency," says Grenet. The sneaker was originally produced for the Ultra-Trail du Mont-Blanc, a 170km race around the trails of Mont Blanc, the highest mountain in Western Europe. "So if you're just wearing it for two or three kilometres of walking in the city," Lalonde says, "you're going to be fine."
The XT-6's origins in the Alps, and Salomon's home in Annecy, are also reflected in the aesthetic appeal of the brand. "I like to present our Sportstyle project as a gateway to the outdoors," Lalonde continues. "When you're looking at the XT-6, it propels you around the Mont Blanc, it propels you around the trails. If you're in Paris or London, this is nowhere near your daily routine, but it brings you to a beautiful place."
While the brand's heritage is central to what it does, Salomon is also moving beyond being just an outdoors label. "We are not attached specifically to outdoors," Chirpaz says. "We are attached to progressiveness and performance." These values are at the front of the brand's next chapter, which will see it take on one of the biggest issues of the present moment, beginning with the sustainable and recyclable Index.01 sneaker. "We are in traditional sports that are not the most sustainable, and it's something we really want to approach," Chirpaz adds. "We don't want to make it a claim, but making sure we have a sustainable approach to the outdoors."
Salomon's progressive outlook is driven by its Alpine roots in Annecy, and an outward looking approach to collaboration and cooperation it has had since the early days. "Our heart is Annecy, but our position has always been international and about hybridization," Chirpaz says. "We are in the heart of the Alps, which is a core place for core sports, this is our testing area and I think that's important. But we are in touch with a lot of international communities, and that's almost as important as maintaining our heart in the Alps."