Krispy Kreme Is Offering Its First-Ever Oreo-Glazed Donuts
Alongside a mouth-watering Oreo Mocha Chiller.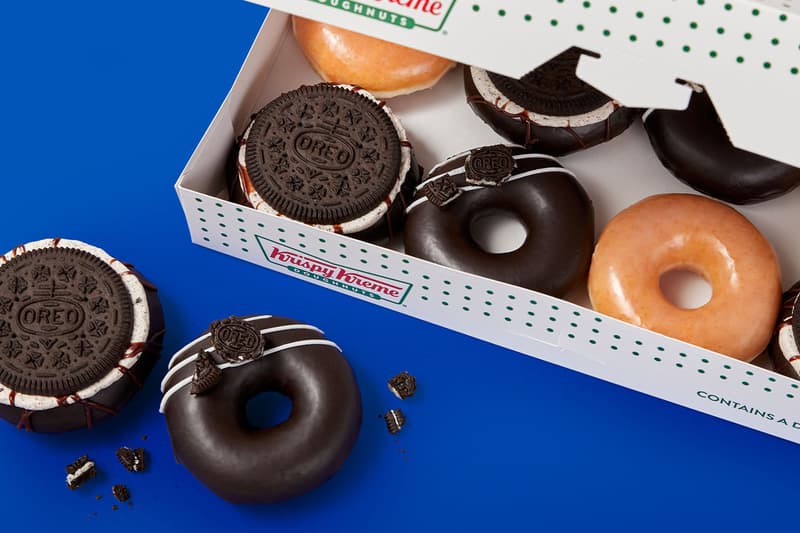 Krispy Kreme is now offering its very first Oreo-glazed donuts. This marks the first time in the donut company's 84 years of operation that it's let another brand collaborate on an all-new glaze.
There are two Oreo donuts on offer: "Oreo Cookie Glazed Donut" and "Oreo Cookie Over-The-Top Donut." The first one includes a "Cookies and KREME" filling, complemented by a mouth-watering rich Oreo cookie glaze that's topped off by a generous drizzle of icing and Oreo cookie bits. Oreo Cookie Over-The-Top Donut comes with the same ingredients, except it's finished with an Oreo cookie wafer.
Krispy Kreme's Chief Marketing Officer, Dave Skena, expressed his enthusiasm for the collaboration: "We've taken everything fans love about Oreo Cookies and 'glazeifed' it." Besides the donuts, Krispy Kreme is also offering an Oreo Mocha Chiller: "a frozen espresso-based beverage blended with Oreo cookie pieces and topped with whipped cream and Oreo cookie crumbs."
Krispy Kreme and Oreo's new donuts will be available from now until April 18 at Krispy Kreme locations.
You've had all the @OREO Cookies. You love our #doughnuts. But what happens when we combine them in a whole new way? Find out on April 5! ??? #KrispyKreme #OREO pic.twitter.com/Xasglv8rh0

— Krispy Kreme (@krispykreme) April 4, 2021
In case you missed it, NBA Dynasty Oreos will feature iconic team logos.