Supreme Teases New Gundam Release With Action-Packed Animated Video
"WHAT HOOD IS THIS!?"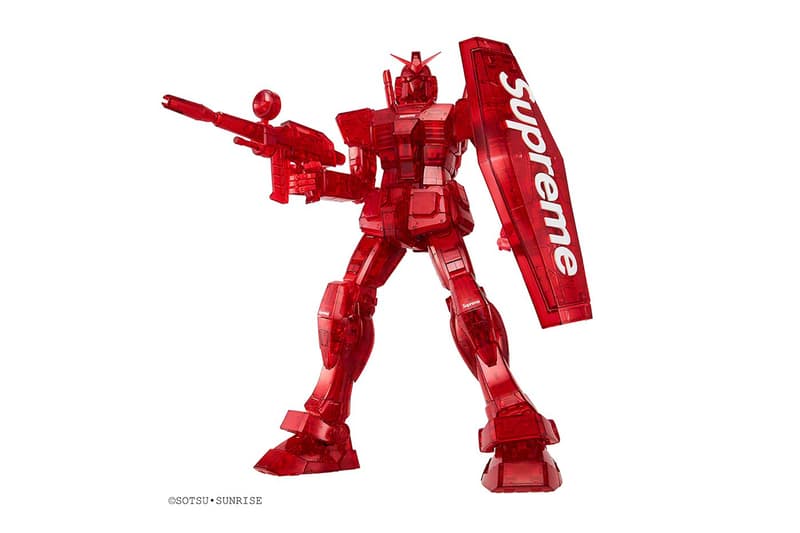 Ramping up its much hyped Fall/Winter 2021 release of the new Supreme®/MG 1/100 RX-78-2 GUNDAM Ver.3.0 plastic model kit, Supreme has teased an animated video featuring the coveted Gundam character engaged in a seismic stop motion battle.
Made in part with Gunpla and Bandai, the video includes voiceover by NY Instagram account @crimefacesx proclaiming the Japanese figurine's animated hood as "Gundam Town," describing itself as "a robotic Don Cheadle, dressed as a hot Cheeto!"
In the video, Gundam dons a brand new, fiery-red body armor with a Supreme logo arm shield, fighting against a competing Zaku that bows out in defeat. Also appearing in the video is a glass display case containing additional "handy" items like a Supreme-branded blowhorn, a red and yellow handsaw and a canteen, accessories that have all seen their release previously.
The Supreme®/MG 1/100 RX-78-2 GUNDAM Ver.3.0 will release initially tomorrow at official Supreme stores and online, followed by Japanese stores and online on Saturday, December 17. Tomorrow will also see the release of the Supreme x The North Face collaborative collection featuring a simulated bleached denim design.