Take a Sneak Peak at the HBX x Coinbase Pop-Up NFT Gallery
Exclusive works from FVCKRENDER, Henbo Henning, Rhymezlikedimez, Stickymonger, Bobby Hundreds and Eric Hu.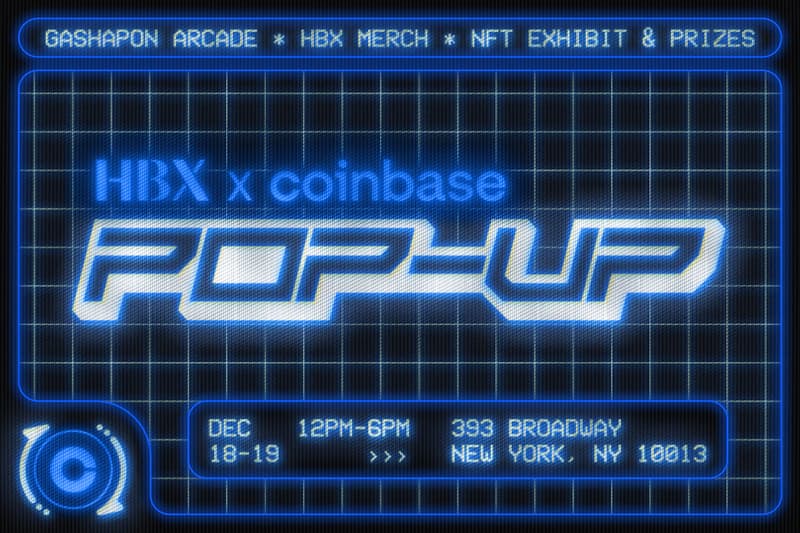 Drumming up excitement ahead of their recently-announced pop-up experience in New York City, HBX and Coinbase are offering a first look at the event's NFT gallery. The initiative will celebrate digital and physical collectible culture, and the series of thoughtfully-selected works and talents will serve as an emblem of the influence of crypto within both these spaces. It also helps to usher in a new era for Coinbase which will soon launch its own NFT marketplace. Located at the HBX x Coinbase Pop-Up, the NFT gallery will present a lineup of distinguished artists who with their creative talents are contributing to the explosion of NFTs. Take a sneak peak at the works from FVCKRENDER, Henbo Henning, Rhymezlikedimez, Stickymonger, Bobby Hundreds and Eric Hu, which will be on view at the event taking place on December 18 and 19, and are also available to purchase via the links below.
1 of 2
2 of 2
Available Via: Rarible
Bringing an emblem of streetwear history into the metaverse, Bobby Hundreds of The Hundreds continues to transform his iconic Adam Bomb character into a series of collectible NFTs. Owners of these NFTs — also known as the Adam Bomb Squad — enthusiastically collect their favorite Adam Bomb graphics while repping the brand in the digital space. These particular pieces, which will be a part of the pop-up, feature a winking red-lipped version of the signature character as well as the rarest, original Adam Bomb character with a shocked-looking expression.
Available Via: Rarible
Illustrator Henbo Henning is more commonly known for his work as a tattoo artist, but his distinct, colorful style lends itself to the digital realm quite seamlessly. His piece, titled "We Are the Amphibians," puts the fate of the world in its group of frogs, tadpoles, toads and axolotls. Known as the "Amphibian Art Collective," the members of the animated landscape exist in an alternative future where they set out to save the earth, according to Henning.
1 of 2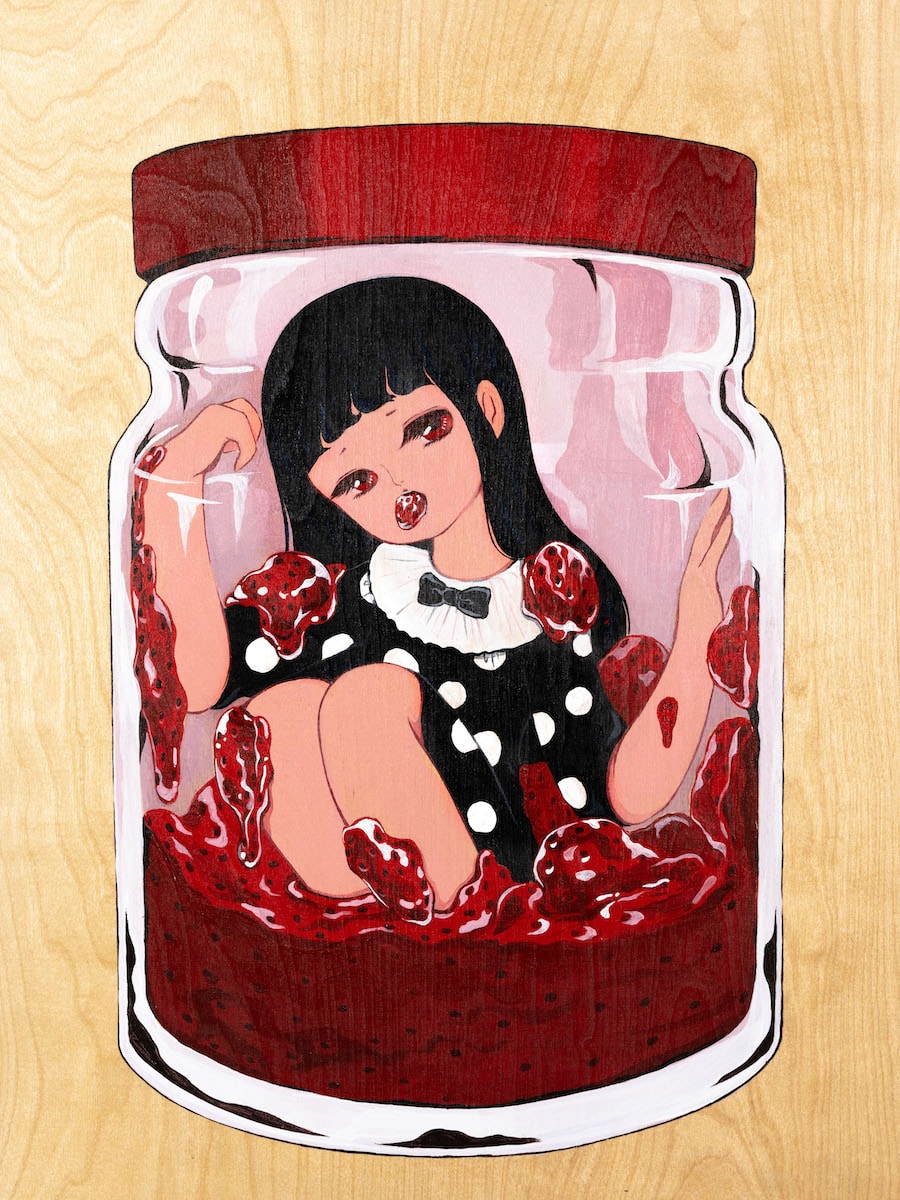 2 of 2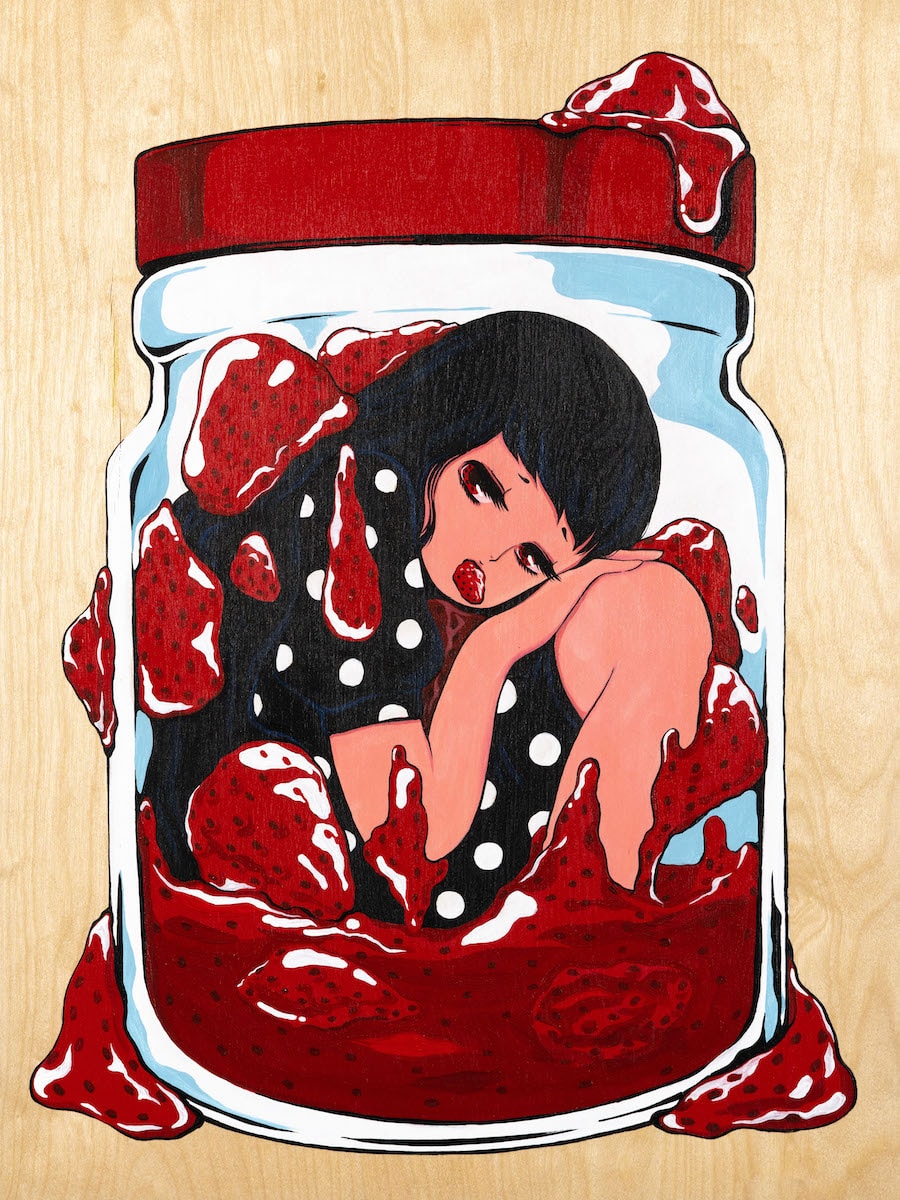 Available Via: Rarible
With her works "Strawberry Jammed I" and "Strawberry Jammed II," artist Stickymonger is asking if strawberries are actually cute. "Since when did you start to think that the strawberry is cute? Your brain must be jammed by the idea of strawberry as a cute object," she says. The duo of pieces feature her signature fantastical, expressive girls, uncomfortably squished, or possibly trapped, inside jam-filled jars. As the twinkly music loops, the girls inside of the jar blink and the remnants of strawberry jam glisten.
Available Via: Rarible
Rhymezlikedimez has ascended in the NFT space by combining visuals with custom music. The HBX x Coinbase Pop-Up will showcase the title work of his latest series, "Meet Me On Cloud 9." The animation acts as an accidental, pastel-hued Dali tribute where a character rides through a series of random thought associations, all set to the tune of music by Chad Hugo.

Available Via: SuperRare
True to form, FVCKRENDER took a futuristic, otherworldly approach to the piece "Adjusting to New Realities." Two opposing faces with meditative expressions appear in an almost yin-yang like form. Light reflects off of the chrome-like finish of both faces, and moves in sync with the veins running through the top and bottom of the work.
Available Via: Rarible
Building upon the intersection of technology and design, Eric Hu is showing a piece from his "Monarchs" collection, a series of 888 generative NFTs. Each work in the series features a unique, one-of-a-kind butterfly with different wing shapes, colors, bodies and patterns.
Through this curation of art, visitors can discover the varied ways that artists are applying their own specialties, aesthetic tastes and personal backgrounds to digital art. The NFT gallery will be located inside the HBX x Coinbase Pop-Up at 393 Broadway, which will be open to the public on December 18 and 19 from 12 P.M. to 6 P.M. ET.